Chapter 4
A GLORIOUS OPPORTUNITY
First Strike Force trained for the upcoming battle in the waters near Singapore, where their fuel supply was plentiful and the possibility of an American preemptive attack was considered relatively low. Emphasis was placed on night gunnery and torpedo attack exercises in hope, as in the old days, they could move in during darkness and strike the Americans quickly and effectively.


The absence of available Japanese airpower for SHŌ-GO, eliminated by ADM Halsey's Third Fleet, forced the Japanese to compensate for this loss in other areas. The Japanese had great respect for American carrier airpower and, in an attempt to offset that advantage, placed numerous new 25mm anti-aircraft guns on all their ships. The battleships received 120, the heavy cruisers 80, and the destroyers 40. This modification of their ships, combined with their circular anti-aircraft formation, would provide the fleet with an almost impregnable defensive fire against air attack.

The alert for SHŌ-GO was placed in effect on October 17 when the vanguard of the American landing forces were sighted in the waters of Leyte Gulf.

U.S. LEYTE
INVASION FORCE

Northern Force
Task Force 78
RADM Daniel E. Barby, USN

X Corps (MGEN Franklin C. Sibert, USA)
1st Cavalry Division
24th Infantry Division

Southern Force
Task Force 79
VADM Theodore S. Wilkinson, USN

XXIV Corps (MGEN John R. Hodge, USA)
7th Infantry Division
96th Infantry Division
Now alerted, VADM Kurita's First Strike Force patiently awaited the order to sail for Brunei Bay to meet up with their tankers, top off their fuel tanks, and execute the final sortie to Leyte. Unfortunately, by the time the initial American landing preparations were underway, SHŌ-GO was already seriously behind schedule. First Strike Force was in no position to arrive in Leyte Gulf before the American troops landed, therefore upsetting GHQ's entire schedule. Once the Americans were firmly ashore, the task of dislodging them from the island of Leyte would be considerably more difficult.
Behind schedule, vessels of the Japanese Fleet sortied from Lingga Roads at 0100 on October 18. They sailed to Brunei Bay on northern Borneo, arriving on October 20, where they fueled their ships and awaited the order for the final sortie.
On October 20 the first American troops landed on the island of Leyte. Two days later, at 0800 on October 22, the pride of the Imperial Japanese Fleet sailed from Brunei Bay, with super-battleships YAMATO and MUSASHI, under orders to repel the U.S. amphibious landings on Leyte. Thirty-two ships sailed, led by veteran warrior VADM Takeo Kurita embarked in his flagship, the heavy cruiser ATAGO. Seven hours after First Strike Force sailed, VADM Shoji Nishimura departed Brunei Bay with the Southern Force Van. At this time, VADM Shima's Southern Force Rear forces were coming down from the north, west of Luzon. As stated earlier, these two forces were to cooperate with each other and enter Leyte Gulf together from the south, via Surigao Strait.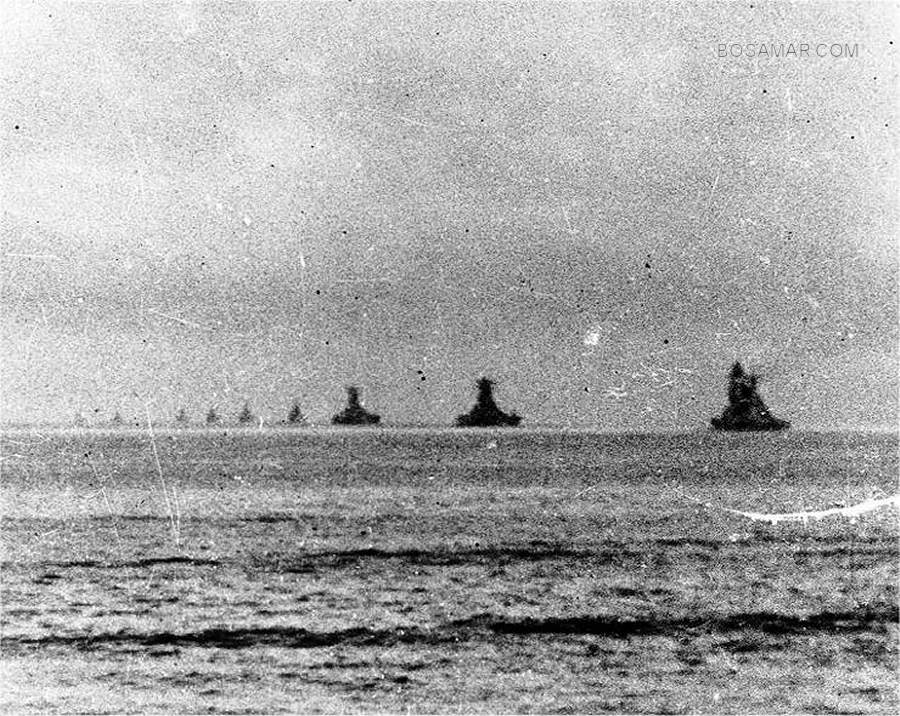 Courtesy of Lieutenant Tobei Shiraishi and the Naval Historical Center Online Library
The Japanese "Centre Force" leaves Brunei Bay, Borneo,
on 22 October 1944, en route to the Philippines.
Ships are, from right to left: battleships Nagato, Musashi and Yamato;
heavy cruisers Maya, Chōkai, Takao, Atago, Haguro and Myōkō.
The Battle Off Samar was preceded by First Strike Force's long journey to the Philippine Sea. By the time Centre Force reached the Philippine Sea, it was a much weaker force then that which had set out from Lingga Roads six days earlier. Their string of bad luck would start early.
Shortly after midnight on October 23, First Strike Force was located by the American Submarine USS DARTER (SS-227) in the relatively restricted waters of Palawan Passage in the South China Sea. DARTER, commanded by CDR David McClintock, was assigned to patrol the south entrance to Palawan Passage. Near this area was a series of shallows and reefs called the Dangerous Ground, which later became DARTER's ruin. DARTER tracked VADM Kurita's force throughout the night of October 22 and into the early morning of October 23. She was able to send several course, speed, and composition reports to alert the U.S. forces in Leyte Gulf. These were the first reports that major units of the Japanese Navy had been sighted.

That morning, DARTER and another submarine, USS DACE (SS-247), commanded by CDR Bladen Claggett, intercepted First Strike Force with a brilliant torpedo attack. Vice Admiral Kurita's ship's were sailing along in two distinct double-column formations at a leisurely eighteen knots when suddenly, several torpedoes slammed into the flagship. DARTER had engaged the heavy cruiser ATAGO and sent her quickly to the bottom with about 360 of her crew.

U.S. SUBMARINES
in the Pacific War

Less than two percent of U.S. sailors served in submarines, yet that small percentage of men and ships sank 201 Japanese warships. This included 1 battleship, 4 large aircraft carriers, 4 small aircraft carriers, 3 heavy cruisers, 8 light cruisers, 43 destroyers, 23 large submarines and 1,113 merchant ships of more than 500 tons.

In all, our submarines sank more than 55 percent of all Japanese ships sunk. More than surface ships, Navy air and the Air Corps combined. Additionally, our submarines laid mines, hauled ammunition, transported troops, rescued refugees, deployed secret agents, delivered guerrilla leaders, and rescued 504 fliers, including President George H. W. Bush. The worst statistic of all is that submarines had the highest loss rate of men and ships of any U.S. Navy unit.
Four out of six torpedoes struck ATAGO giving DARTER's captain "...the sight of a lifetime...." Vice Admiral Kurita luckily survived the attack and he and his remaining staff were picked up by the destroyer KISHINAMI.
Vice Admiral Kurita lost about half of his key communications staff when his flagship ATAGO went down. This event would hamper his efforts through the remainder of the mission.
Shortly after sinking ATAGO, DARTER successfully engaged the heavy cruiser TAKAO, causing serious damage to her shafts and propellers. The crippled heavy cruiser was sent back to Lingga Roads for repairs with two destroyers, NAGANAMI and ASASHIMO.
The other American submarine present, DACE, was on the opposite side of the on-coming Japanese warships. When DARTER shot the heavy cruisers, the remaining warships turned away from DARTER and swept past DACE. Two NACHI class heavy cruisers, MYŌKŌ and HAGURO sped past her before she chose her target, the heavy cruiser MAYA. Hit by four torpedoes, MAYA sunk in four minutes with a heavy loss of lives. DACE's captain had the luxury of a selection of ships. Had he waited for MAYA to pass and chosen the next in line, battleship YAMATO may have been hit!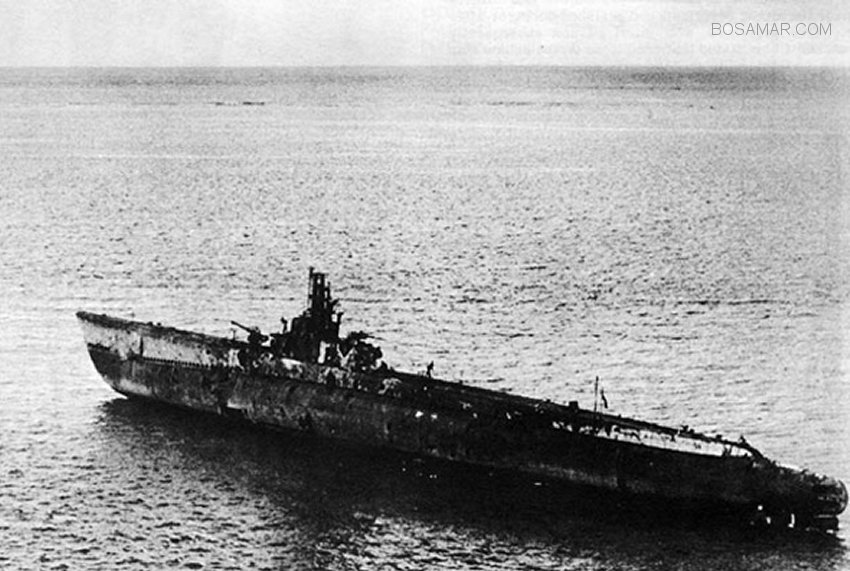 U.S. Navy Photograph
USS DARTER (SS-227) hard aground on Bombay Shoal, Palawan Passage
First Strike Force, now reduced by three heavy cruisers and two destroyers, was then taken under command by VADM Matome Ugaki, Commander Battleship Division 1, embarked in YAMATO. He immediately ordered the remaining ships to increase their speed to twenty-four knots and continued their sortie toward the Sibuyan Sea and Leyte Gulf. Later that afternoon when the threat of further submarine attacks appeared lower, VADM Kurita was transferred to YAMATO and once again assumed command of First Strike Force.
The American submarines continued to threaten First Strike Force when USS ANGLER (SS-240) sighted the fleet north of Palawan shortly after nightfall. Early the next morning, on October 24, the submarine USS GUITARRO (SS-363) also sighted VADM Kurita's warships. Both submarines reported their sightings, providing ample warning for Third Fleet's carrier strike forces.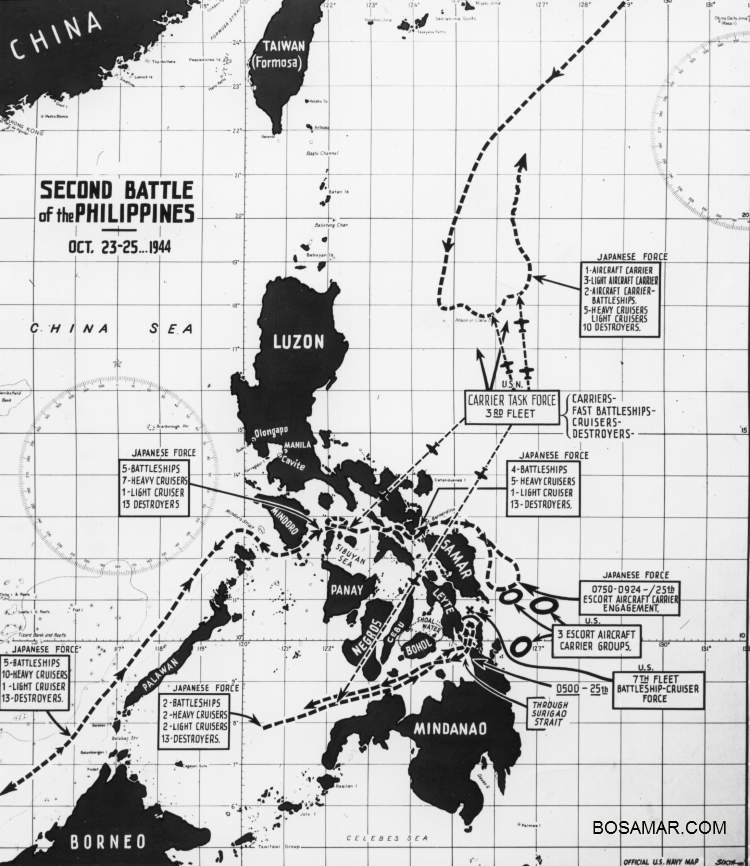 Official U.S. Navy Map
Operation SHŌ-GO
From Borneo, VADM Kurita's Centre Force was to strike Leyte Gulf via San Bernardino Strait, north of Samar.
Vice Admiral Nishimura's Southern Force Van was to attack via Surigao Strait, south of Leyte. The Southern
Force Rear, led by VADM Shima would arrive from the north to reenforce the Van. Vice Admiral Ozawa's
Northern Force would be used as a decoy to draw ADM Halsey's Third Fleet away from Leyte Gulf.
This official U.S. Navy map is fairly accurate in respect to Japanese force composition.

On October 24 Centre Force entered the Sibuyan Sea with high hopes of safe passage. From the information gathered by the submarines, the American Task Group 38 commanders knew First Strike Force would try to force its way into Leyte Gulf via the Sibuyan Sea, probably San Bernardino Strait, north of Samar. As this strait was located in the central Philippines, First Strike Force was from then on referred to by the American's as "Centre Force."
Acting on the submarine sighting information, Admiral Halsey ordered his task group commanders to send search planes out at first light on October 24. Shortly before 0800 a pilot from RADM Sherman's INTREPID discovered Centre Force south of Mindoro steaming in two groups. Shortly thereafter, Third Fleet's heavy carrier force aircraft were readied and attacked the Japanese ships at long range. Four strikes were launched against the Japanese, severely damaging several vessels. This engagement became known as the Battle of the Sibuyan Sea.

Rear Admiral Bogan's Task Group 38.2 was the first to hit Centre Force at 1020 with almost four dozen aircraft. They damaged the heavy cruiser MYŌKŌ so severely that, she was dispatched to Lingga Roads with one destroyer. The super-battleship MUSASHI was also hit hard, rupturing a fuel tank which left a tell-tale oil slick. Barring the leaking fuel oil, this giant was considered barely scathed and was in excellent condition to continue.

Rear Admiral Bogan's second strike arrived at 1245, this time with three dozen aircraft. Once again they concentrated on MUSASHI and against her best efforts to oppose, she was hit with four torpedoes and two bombs. This slowed her to 22 knots and caused her trim to be heavy forward, her bow dropping visibly lower in the water.

Next, RADM Sherman's Task Group 38.3 arrived at 1330 and inflicted further damage to MUSASHI.

Rear Admiral Bogan's TG 38.2

1 BB YAMATO: damaged, 3 torpedo hits
1 BB YAMATO: damaged, 1 torpedo hit and 2 bombs (possibly same)
1 BB NAGATO: damaged, 1 torpedo hit and 1 bomb
1 BB KONGŌ: damaged, 2 torpedoes and 6 bombs
1 CA MOGAMI: damaged, possibly sunk by torpedo
1 CA NACHI: damaged, 1 torpedo 1 CA TONE: damaged, 1 torpedo

Rear Admiral Sherman's TG 38.3
1 BB: damaged badly
2 BB: damaged
4 CA: damaged
2 CL: damaged

Rear Admiral Davidson's TG 38.4
1 BB MUSASHI: damaged by torpedo, down by bow, probably sunk.
1 BB YAMATO: damaged, 1-3 torpedoes, 2 bombs
1 BB KONGŌ: damaged, 1 bomb
1 CA: damaged
1 CL: damaged
1 DD: sunk
1 DD: probably sunk
4 DD: damaged

Damage to Centre Force claimed by Task Groups 38.2, 38.3 and 38.4 in Sibuyan Sea.
Four more torpedoes and four more bombs found their mark, causing significantly more damage. Her speed was now reduced to 12 knots to keep her bow from being inadvertently driven under. She soon fell behind the other ships and was left in the company of the heavy cruiser TONE. MUSASHI was not the only battleship to be hit that afternoon by the aircraft of TG 38.2 and TG 38.3. Battleships YAMATO, NAGATO, and HARUNA all suffered several direct hits or near misses.
The last group to attack Centre Force was RADM Davidson's Task Group 38.4. Most of the aircraft in this strike concentrated on MUSASHI, claiming eight torpedo and eleven bomb hits. Unable to absorb more damage, MUSASHI was doomed. The super-battleship, which became the focal point of the air attacks throughout the entire day, was sunk after receiving no less than seventeen bomb and 19 torpedo hits. MUSASHI lost her Commanding Officer, 38 officers, and 984 enlisted men.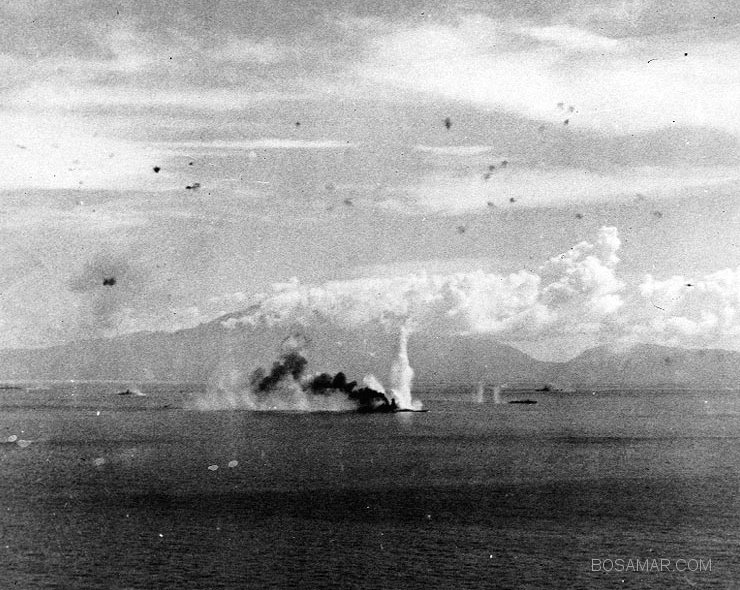 National Archives Photograph
Imperial Japanese Navy battleship HIJMS MUSASHI
under attack in the Sibuyan Sea, October 24, 1944
Several other of the capital ships in this force were also damaged by hits or near misses which greatly reduced their fighting strength. In less than two days, Centre Force had been reduced by one 18.1-inch gun super-battleship, four heavy cruisers and three destroyers, a significant number of ships, not to mention the damage sustained to the others still en route to Leyte Gulf. In all, over 250 sorties were flown against Centre Force by the three task groups for the loss of 18 American planes. Admiral Halsey's Third Fleet Commanders assessed the damage to Centre Force as crippling. This over confidence later led ADM Halsey to underestimate the potential of Centre Force as a further threat to the Leyte invasion.
The other major discovery of October 24, was the sighting of VADM Nishimura's Southern Force Van and VADM Shima's Southern Force Rear. At 0900 these forces were located south of Negros, preparing to enter the Mindanao Sea. Twenty-six aircraft from RADM Davidson's ENTERPRISE attacked the Van scoring two hits on the fantail of battleship FUSŌ and one hit on the destroyer SHIGURE. Shaking off the damage, VADM Nishimura's force sailed on and consequently was not attacked again. Vice Admiral Shima's Rear was not attacked at all and kept its pace behind the Van by about 60 miles, both forces continuing their sortie towards Surigao Strait.
By early afternoon of the 24th, VADM Thomas C. Kinkaid, CTF 77, in the amphibious command ship USS WASATCH (AGC-9) felt it was definite that the enemy intended to attack our naval forces covering the landings on Leyte Island, and dispositions were made accordingly. Thirty-nine PT boats in groups of three were stationed as reconnaissance and attack groups as follows: three groups between Southeast Bohol and Camiguin Island, and Sipaca Point on Mindanao. The remainder covered the southern entrance to Surigao Strait and Jinatuan Passage, and the passage between Mindanao and Southern Dinagat Island, with orders to remain south of Latitude 10°-10' North, and to report and attack enemey forces sighted. Task Group 77.2, under Rear Admiral Oldendorf, consisiting of 6 OBB, 4 CA, 4 CL, and 24 DD, took up initial station in the Latitude 10°-34' North, Longitude 125°-19' East, in a position to guard both the southern and eastern entrances of Leyte Gulf with orders to attack and destroy any enemy forces attempting to enter the gulf. The carriers of Task Group 77.4 with their escorts were disposed about fifty miles to the eastward of Homonhon Island in three Task Units within mutually supporting distance and from north to south as follows: 77.4.3; 77.4.2; 77.4.1.
That afternoon at 1512, ADM Halsey sent a battle plan to his task group commanders. The message was a contingency plan to guard San Bernardino Strait, should Centre Force continue their sortie eastward:

"BATDIV 7 MIAMI, VINCENNES, BILOXI, DESRON 52 LESS STEVEN POTTER, FROM TG 38.2 AND WASHINGTON, ALABAMA, WICHITA, NEW ORLEANS, DESDIV 100, PATTERSON, BAGLEY FROM TG 38.4 WILL BE FORMED AS TASK FORCE 34 UNDER VICE ADMIRAL LEE, COMMANDER BATTLE LINE. TG 34 ENGAGE DECISIVELY AT LONG RANGES. CTG 38.4 CONDUCT CARRIERS OF TG 38.2 AND TG 38.4 CLEAR OF SURFACE FIGHTING. INSTRUCTIONS FOR TG 38.3 AND TG 38.1 LATER. HALSEY, OTC IN NEW JERSEY."

Copies of the contingency plan were sent to ADM Ernest J. King, the Chief of Naval Operations/ Commander in Chief, U.S. Fleet, in Washington, DC, and also to ADM Chester W. Nimitz, the Commander, U.S. Pacific Fleet, at Pearl Harbor. Although ADM Halsey kept his superiors informed of his plans, he failed miserably at informing Seventh Fleet of his intentions.

COMPOSITION OF TASK FORCE 34
as planned by ADM Halsey's original
dispatch on 24 October 1944

Task Force 34 VADM Willis A. Lee, USN
Battleships
USS IOWA (BB-61)
USS NEW JERSEY (BB-62)
USS WASHINGTON (BB-56)
USS ALABAMA (BB-60)
Heavy Cruisers
USS WICHITA (CA-45)
USS NEW ORLEANS (CA-32)
Light Cruisers
USS MIAMI (CL-89)
USS VINCENNES (CL-64)
USS BILOXI (CL-80)
Destroyers
Eighteen ships
"a logical, perfect plan..." - Vice Admiral Kinkaid
Unknown to ADM Halsey, Seventh Fleet intercepted the broadcast and got a copy of the message. Although a non-addressee, VADM Kinkaid concluded "...It was...a logical, perfect plan...." Vice Admiral Kinkaid felt quite satisfied that his northern flank was secured by the mighty Third Fleet. This peace-of-mind allowed him to relax his guard to the north and concentrate all his forces on the approaching Japanese Southern Forces in Surigao Strait.
Misinterpreted by his superiors, including VADM Kinkaid, ADM Halsey's battle plan did not order the immediate formation of Task Force 34. In reality it was nothing more than a contingency plan for future planned operations, if deemed necessary at a later time by ADM Halsey.
After evaluating all available intelligence at the end of the day, Third Fleet knew there was a missing piece to the Japanese plan. All reports concerning the three Japanese forces sighted indicated there were no aircraft carriers present. True to their form, all previous major operations conducted by the Japanese had included their fleet carriers. Rationality would place the logical approach of this unknown force from the north or northeast of the Philippines, hence the missing piece of the puzzle. Accordingly, ADM Halsey directed his task group commanders to send reconnaissance aircraft searches to concentrate in these areas on the afternoon of October 24.
At 1640, northeast of Luzon, VADM Ozawa's Northern Force was detected by Third Fleet reconnaissance aircraft from the fleet carrier LEXINGTON. Admiral Halsey was now certain the main Japanese thrust would come from this "untouched force" of Japanese carriers. It was ironic that at this point VADM Ozawa's force was the last to be discovered by the Americans.

Of the four Japanese forces at sea, his was the only force the Japanese had intended to be discovered by the Americans. The eighteen escort carriers of Task Group 77.4 continued their operations as planned. On this, the seventh day of duty off the coast of the Philippines, all was routine with nothing out of the ordinary occurring.

VADM Matome Ugaki, IJN
Commander Battleship Division ONE
HIJMS YAMATO

"It is true, if we are attacked by planes as often as this, it will appear that we have expended ourselves before getting to the battle area, but our situation being what it is, we can't retire even if we chose to do so; there is a doctrine that in each and every instance the fastest means of settlement should be elected. My opinion at the time (of sailing) was that the only means available to us was to sortie determined to die. However, I am aware that to reverse course once until evening in order to deceive the enemy will be advantageous for tomorrow."
At 1645, the escort carriers CHENANGO and SAGINAW BAY of Taffy I were dispatched to Morotai for rest and replenishment. Task Unit mate DE EDMONDS was sent with the CVEs as screen, including DE OBERRENDER of Taffy II. This departure left each of the three Taffies with three destroyers and four destroyer escorts in their screens.
Late in the evening of October 24 after the Third Fleet air attacks were complete, Centre Force reversed course and was sighted heading west by reconnaissance aircraft. This information was immediately passed along to ADM Halsey and his staff. He was convinced they were retreating and would no longer pose a serious threat to Seventh Fleet and the Leyte invasion forces ashore.
Vice Admiral Kurita later gave this explanation to ADM Toyoda for his temporary retreat:
"Originally the main strength of (my) force had intended to force its way through San Bernardino Strait about one hour after sundown, coordinating its move with air action. However, the enemy made more than 250 sorties against us between 0830 and 1530, the number of planes involved and their fierceness mounting with every wave. Our air forces, on the other hand, were not able to obtain even expected results, causing our losses to mount steadily. Under these circumstances it was deemed that were we to force our way through, we would merely make ourselves meat for the enemy, with very little chance of success. It was therefore concluded that the best course open to us was temporarily to retire beyond the reach of enemy planes."
When General Headquarters in Tokyo heard Centre Force had reversed course, ADM Toyoda sent a stern message to VADM Kurita:
"WITH CONFIDENCE IN HEAVENLY GUIDANCE THE ENTIRE FORCE WILL ATTACK."
Vice Admiral Kurita would have no choice. Centre Force reversed course and once again proceeded toward San Bernardino Strait. Later that evening, VADM Kurita send General Headquarters a reassuring message:
"THIS FLEET INTENDS TO CHARGE INTO LEYTE GULF AT 1100 ON THE 25TH WITHOUT REGARD FOR ANY DAMAGE WE MAY SUFFER."
Braving what might be awaiting his ships in San Bernardino Strait, Centre Force continued its drive eastward.
Late in the day CTF 77 issued an evening warning to be prepared for a major surface engagement in Surigao Straits during the night. TG 77.4 (the escort carrier group) was ordered to be prepared to launch torpedo attacks early on the morning of the 25th
On the evening of October 24, ADM Halsey received a report from night reconnaissance aircraft from the carrier INDEPENDENCE which reported Centre Force was once again on the move eastward. He now knew VADM Kurita's Centre Force had indeed reversed course and was heading once again eastward toward San Bernardino Strait. He saw he had three options:

1) Divide his forces, leaving VADM Lee and the fast battleships of Task Force 34 to guard San Bernardino Strait while the carriers with two battleships, the cruisers, and destroyers headed north to attack VADM Ozawa's carriers.

CTU 77.4.3/COMCARDIV 25
Action Report
RADM Clifton A.F. Sprague, USN

After the air attack upon the northern group of enemy heavy ships by T.G. 38.3 on the afternoon of the 24th, it became quite clear that this group might attempt to sortie through San Bernardino Straits. This possibility was so apparent that there did not seem to be any reasonable doubt that our own forces would fail to guard the eastern mouth of the Straits, prevent the sortie of enemy units, and give timely notice of the enemy's attempt.
2) Maintain the integrity of the striking force of Task Force 38 and keep the entire fleet off San Bernardino Strait, to guard against all contingencies.
3) Attack the Northern Force with the entire fleet, leaving San Bernardino Strait unguarded. ...the alternative chosen by ADM Halsey was to be one of the most controversial decisions of the Pacific war.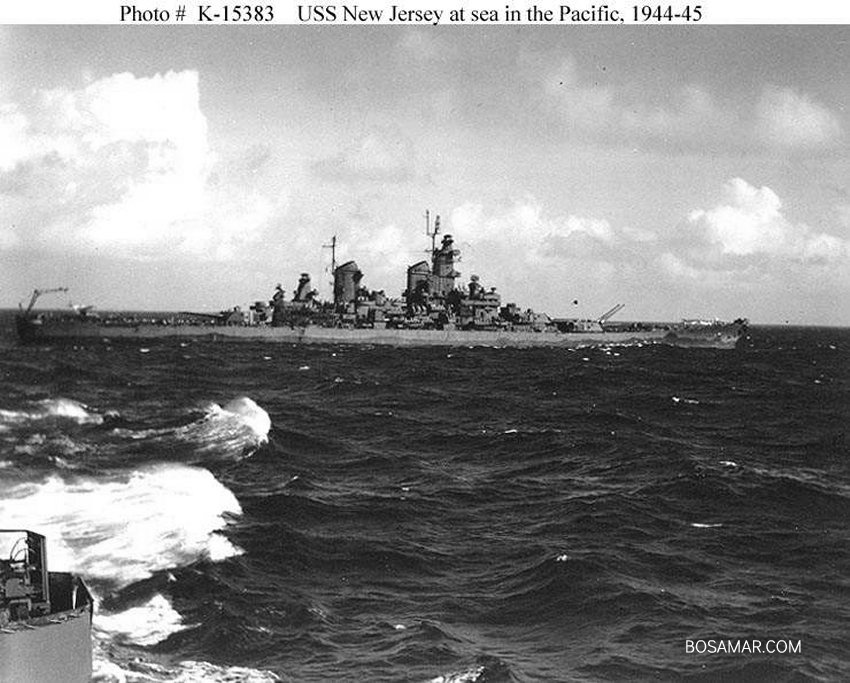 National Archives Photograph
Admiral Halsey's flagship, the 16-inch gunned, fast battleship USS NEW JERSEY (BB-62)
At 2022 ADM Halsey send another misinterpreted message to VADM Kinkaid which would, within eleven hours, place RADM Clifton Sprague's Task Unit 77.4.3 under total duress. The message read:
"STRIKE REPORTS INDICATE ENEMY FORCE SIBUYAN SEA HEAVILY DAMAGED. AM PROCEEDING NORTH WITH THREE GROUPS TO ATTACK ENEMY CARRIER FORCE AT DAWN."
This message, in the hands of Seventh Fleet, was misconstrued. Vice Admiral Kinkaid interpreted "...WITH THREE GROUPS...." to mean Task Groups 38.1, 38.2, and 38.3, minus Task Force 34. He was falsely assured by the receipt of ADM Halsey earlier battle plan which stated Task Force 34 (the fast battleships) "...WILL BE FORMED...." and thought the fast battleships were left on station to guard San Bernardino Strait.
The failure of Third and Seventh Fleets to understand each other's plans was their downfall. During the night, the ships of Centre Force, in single column, transited the narrow San Bernardino Strait, undetected by the American Third and Seventh Fleets. Battle off the island of Samar would soon be joined...