Chapter 9
0800 to 0841
HER FATE IS SEALED
Wednesday, October 25, 1944
Time-Line, Events, & Comments

What makes this book unique is the use of a time-line for all events, all listed in chronological, time-line order. The events in Chapters 5 through 13 are listed in the order in which the author believes they occurred. Entries listed simply as "EVENT" are also placed in a chronological, time-line order and are closely related in time to the last numbered "time" event. Comments by the author associated with events are often listed also. Entries are displayed as follows:
| | |
| --- | --- |
| 0708 | A time-specific event, in the order in which the author believes they actually occurred. |
| EVENT | A specific event, closely related in time to the last numbered "time" event. |
| A/C | Author's Comment. A personal explanation of events by the author. |

0800 TBS - Mercury 3 v Taffy 3, "SIGNAL EXECUTE UPON RECEIPT TURN SHACKLE GEORGE XRAY UNSHACKLE, OUT."
A/C Ships of the task unit are ordered to course 200° T.
0800 The six escort carriers of Taffy III are ordered to change course from south to southwest. They are steaming in two uneven rows abreast, nearly a circular formation. They are making their top speed of just over 17.5 knots.
A/C This single maneuver eventually leads to the sinking of GAMBIER BAY. Had they not changed course, another, or perhaps several other escort carriers possibly would have been sunk.
0800 Fifteen thousand yards now separate the fleeing escort carriers from the pursuing Japanese heavy cruisers. The battleships, coming up the center, are not far behind. All ships continue to fire on the escort carriers of Taffy III.
EVENT Escort Carrier WHITE PLAINS leads the task unit, in the center of the forward line, just ahead of the others. She is closely followed by CVEs KITKUN BAY and flagship CVE FANSHAW BAY. Trailing on the starboard flank is CVE ST LO; all are masked by the dense smoke screen put up by themselves and the screening ships.
EVENT The new course taken by Taffy III places escort carriers GAMBIER BAY and KALININ BAYon the exposed port flank, nearest to the Japanese cruiser line. Although they too are making smoke, the wind blows their smoke screen southward, exposing them both to the pursuing warships accurate 8-inch gunfire. The two unfortunate escort carriers now become the focal point of the Japanese heavy caliber gunfire.


EVENT With the range between the escort carriers and enemy cruisers closing drastically, RADM Sprague orders the escort carriers to "...open fire with the pea-shooters when the range is clear...", referring to the escort carriers single 5-inch gun. Shortly after observing the defensive gunfire, one old Chief Petty Officer on CVE ST LO was heard to say, "They ought to fire that thing underwater, we could use a little jet propulsion right now!"

USS KITKUN BAY (CVE-71)
Ship's History Chapter 10
1 October to 1 November 1944


Our hopes reached a new low when an enemy submarine's periscope was reported off our port bow, bearing 200 T, distance 3 miles. She was in a perfect position to pick off every carrier as they passed on their enforced course. The course was altered to 205 T, to present as small a target as possible and to ram if in position. One of the torpedo planes sighted the periscope and dove on it the pilot later expressing his belief that his depth charge sank the submarine. All that could be seen from this ship was a puff of reddish smoke over the spot and the water around it discolored with green dye marker dropped by the plane as this ship passed almost over the spot where the submarine had been sighted. No further evidence of the submarine was seen, and it may be assumed that it was sunk.
A/C In just over one hour, the heavy cruisers have closed the range on the escort carriers by nearly 20,000 yards (ten miles) from their initial contact point. Now, at a range of seven and one-half miles, 15,000 yards, they were well within their main batteries' effective range to eliminate the entire group with 8-inch gunfire.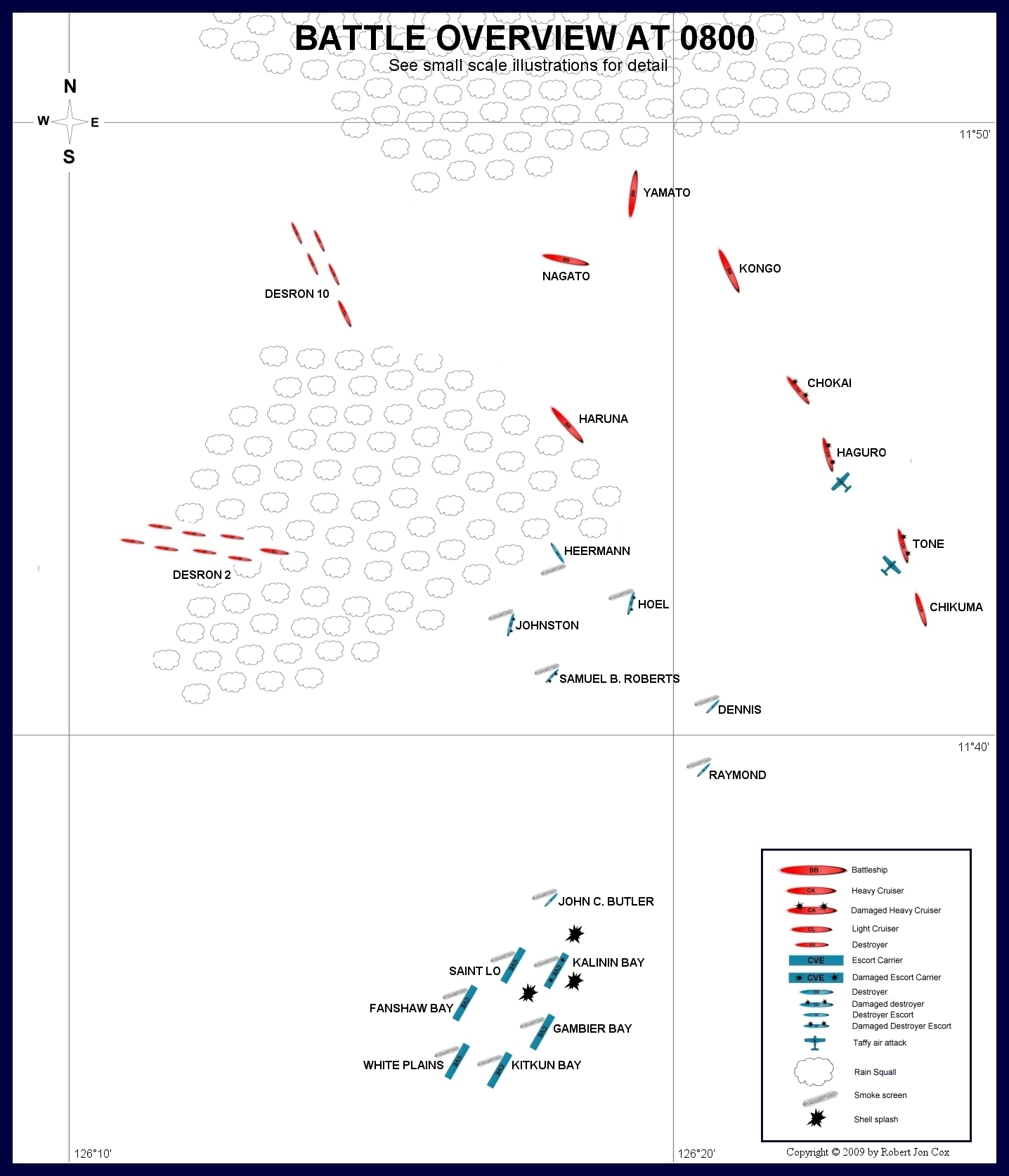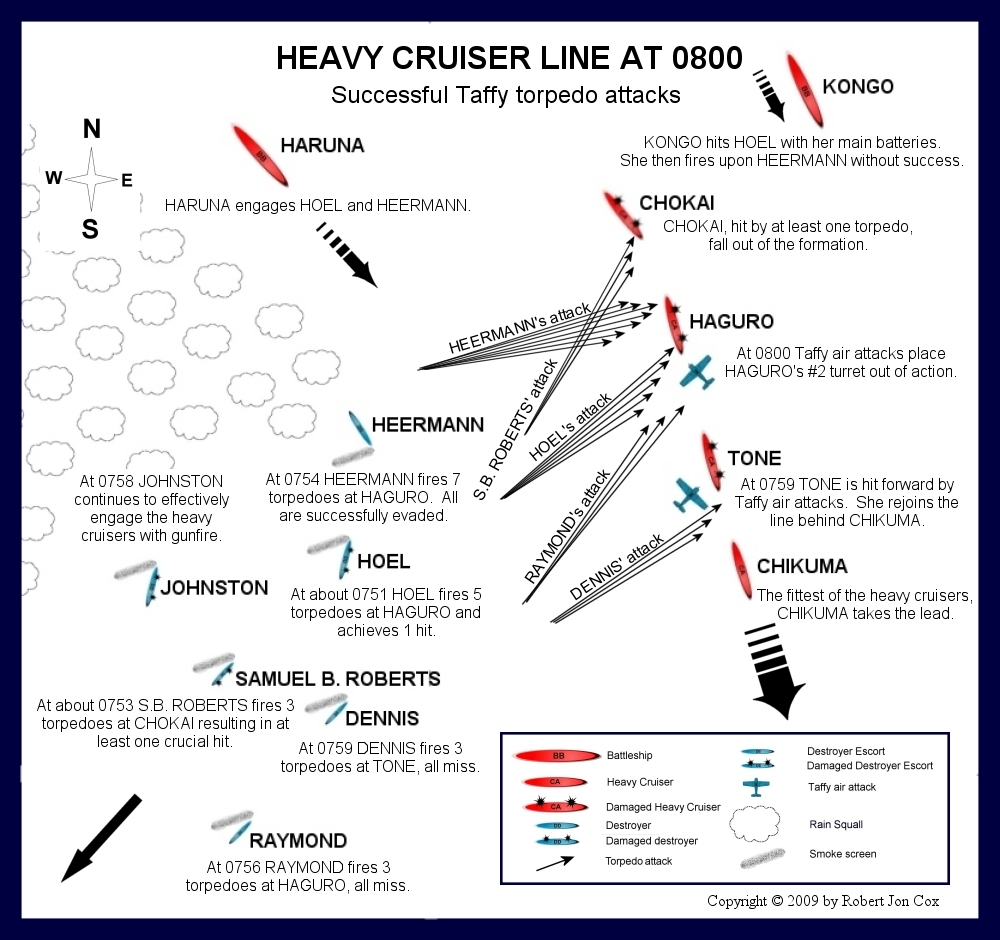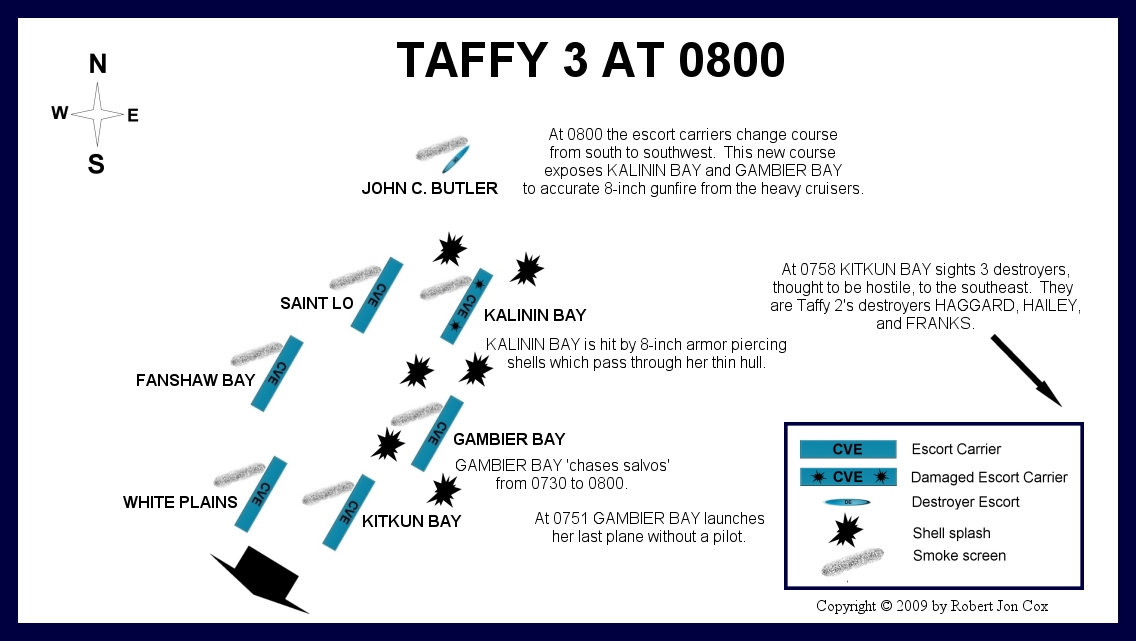 EVENT Battleship Division THREE's KONGŌ and HARUNA, although acting independently, continue their successful persecution of the escort carriers. Battleship KONGŌ on the outside track and furthest from the CVEs continues to fire accurate salvos at the fleeting escort carriers. Her division mate BB HARUNA is the closest, a scant ten miles from the escort carriers.
0802 TBS - FIDO v Taffy 3, "ARE YOU HIT, OVER?" .... v FIDO, "NEGATIVE"
0803 Destroyer HEERMANN completes her gunnery duel with the BB HARUNA and turns southward to rejoin the escort carriers. Still well within range of the battleships' big guns, she is forced to chase salvos during her retreat.
0803 TBS - Taffy 33 v JUGGERNAUGHT, "FISH ARE HEADED FOR GREAT DANES, OUT."
A/C Radio report from SAMUEL B. ROBERTS indicating enemy torpedoes aka "FISH" were sighted heading in the direction of the escort carriers aka "GREAT DANES".
0803 Taffy I DD TRATHEN sights a periscope and makes an emergency 90° turn to starboard. She searches for the submarine.
0803 TBS - Taffy 33 v DREADNAUGHT, "MY EXERCISE IS COMPLETED, OVER. SHIP ON THE STARBOARD QUARTER HAS BEEN CALLING US AND IS NOW WORKING AA."

0804 TBS - Taffy 2 v FLAPPER, "I HAVE FOUR FISH READY. SHALL I LAUNCH MY FIGHTER, OVER?"

0805 Escort Carrier KALININ BAY, the tail-end ship, is hit by an 8-inch heavy cruiser shell.

0805 TBS - Mercury 3 v Taffy 3, "SIGNAL EXECUTE UPON RECEIPT SHACKLE NAN PETER KING UNSHACKLE, OUT."

A/C Ships of the task unit are ordered to course 240° T.

0805 Destroyer Escort ROBERTS opens fire with her main battery for the first time, her target a TONE Class heavy cruiser, opening at a range of 10,500 yards which rapidly closed to 8,500 yards.

CTU 77.4.32/COMCARDIV 26 Action Report
RADM Ralph A. Ofstie, USN
in USS KITKUN BAY (CVE-71)

From the time of the first fall of shot, throughout the launching of planes, and for the next two hours and one half the unit was steadily under fire from the main batteries of Japanese BB, CA, and DD. To avoid the effects of the smoke, the enemy advanced two heavy cruisers up the port quarter of the disposition, and under continuous pressure from these ships this unit was slowly forced around from its original easterly course until it was heading for Leyte Gulf. On this course the relative wind was such that the smoke lay in an east-west line. With all CVE's making heavy black smoke and with the escorts making both funnel and chemical smoke on the starboard quarter of the disposition vision of both forces was largely obscured. This fact with the failure of the Japanese to close the range more rapidly was largely responsible for saving the Task Unit from complete destruction.
0805 The escort carriers are TaffyII are turned into the wind, course 025° T to launch requested Target CAP of 8 VF aircraft to cover Leyte and 4 VF for local CAP.
0806 Attemping to recover from the torpedo attack CVE SANTEE of Taffy I reports her No. 1 boilder is out of commission.
0808 TBS - Mercury 2 v Taffy 2, "HAVE YOU OBSERVED PLANES COMING IN FROM 290, OUT?"
0808 TBS - Taffy 2 v GALLEY, "I HAVE SIX FIGHTERS READY TO LAUNCH WHEN YOU ARE READY." .... v Taffy 2, "NEGATIVE. DO NOT LAUNCH THE FIGHTERS."
0809 TBS - GALLEY v Taffy 2, "GO AHEAD AND LAUNCH YOUR PLANES." .... v GALLEY, "WILCO, OUT."
0809 Destroyer Escort DENNIS joins destroyers HEERMANN, JOHNSTON and DE ROBERTS, about 7 to 10 thousand behind the CVEs, as they head back toward the escort carriers. Destroyer JOHNSTON is seriously damaged and has limited propulsion.
A/C JOHNSTON and ROBERTS, both heavily damaged, would never catch up with the escort carriers. Commander Evans and LCDR Copeland fought their ships to the last.
0810 The Japanese CA CHIKUMA closes to within five miles of the escort carriers, finds the range of CVE GAMBIER BAY, and sets her aft flight deck ablaze with 8-inch shell fire.

0810 Battleship Division One proceeds southward again after combing the wakes of HEERMANN's torpedoes. Their run to the north cost them approximately 14,000 yards. Destroyer Squadron Two's CL NOSHIRO and seven destroyers remain in the rear of the battleships as screen.

A/C YAMATO and NAGATO were no longer a real threat to the escort carriers after this point in the battle....except for that of unfortunate GAMBIER BAY. Vice Admiral Kurita's insistence on keeping DESRON TWO close to his flagship was an American blessing in disguise.

CAPT Walter V. R. Vieweg, USN
Commanding Officer
USS GAMBIER BAY (CVE-73)

"When the range was finally reduced to about 10,000 yards, we weren't quite so lucky and we took a hit through the flight deck, followed almost immediately by a most unfortunate piece of damage which I believe was caused by a salvo which fell just short of the port side of the ship and the shell probably exploded very near the plates outside of the forward engine room. We had a hole in our port engine room as a result of this hit or near miss which permitted rapid flooding of the engine room and made it necessary to secure. With the loss of this one engine my speed was dropped from full speed of 191/2 knots to about 11 knots. Of course, I dropped astern of the formation quite rapidly and the range closed at an alarming speed."
0810 Far to the north, CA SUZUYA comes alongside the wounded CA KUMANO. The flag of Cruiser Division Seven is transferred to CA SUZUYA as severely crippled CA KUMANO flounders.
0810 The aft 5-inch gun aboard DE DENNIS is fired in local control at a rapidly approaching unidentified target, range 8,000 yards.
EVENT Battleships HARUNA and KONGŌ well ahead of BATDIV ONE, sight the escort carriers of RADM Stump's Task Unit 77.4.2 (Taffy II) to the southeast. They are assumed to be six more Third Fleet INDEPENDENCE Class carriers. The range separating Taffy II and BB HARUNA is about eighteen miles.
A/C Taffy II was steaming into the wind on a northeasterly course, conducting flight operations. Although it drew them much closer to Centre Force and the immediate battle area, it was a necessity. The wind was coming from the northeast. In order to launch their heavily laden aircraft, the wind had to be over the decks of the escort carriers.
A/C Rear Admiral Stump had the luxury of being just out of harm's way for the entire battle. He was therefore able to provide significant assistance to his sister Taffy. Matching VADM Kinkaid's order early that morning, he had directed his carrier COs to be ready to load anti-shipping ordnance on short notice. Due to this factor, Taffy II was able to quickly provide a balanced attack force of fighters and torpedo bombers. The men on the escort carriers of Taffy II worked strenuously, launching and rearming countless planes. Many were orphans from the escort carriers of Taffy III.
A/C In their attack, the pilots of Taffy II were directed not to concentrate on single vessels, but to damage as many enemy ships as possible.
EVENT Upon completion of air operations, RADM Stump, embarked in flagship CVE NATOMA BAY, orders the escort carriers of Taffy II turned away from the Japanese.
EVENT Taffy II receives word that two Japanese battleships are heading their way at an estimated 27 knots. As the escort carriers of Taffy II head away from the battle area, the three destroyers of Taffy II, HAGGARD, HAILEY and FRANKS, take up a defensive position in the rear of their task unit. The destroyers are ordered to "...PREPARE FOR TORPEDO ATTACK AGAINST UNITS OF THE JAPANESE FLEET...."

EVENT Taffy II's destroyer escorts SUESENS, ABERCROMBIE, WILSON, and WANN are directed to prepare their torpedoes and standby for possible action against the Japanese fleet.

EVENT At long range, battleships KONGŌ and HARUNA fire on the destroyers of Taffy II. Fourteen-inch shell splashes rise near the destroyers HAGGARD, HAILEY and FRANKS, which are reported by the Japanese as BALTIMORE class heavy cruisers.

A/C The further mis-classification of ship types by the Japanese had an ever increasing negative affect on their decision not to pursue the American carriers.

TASK UNIT 77.4.2 (Taffy II)
RADM Felix B. Stump, USN

Escort Carriers
USS NATOMA BAY (CVE-62)
USS MANILA BAY (CVE-61)
USS MARCUS ISLAND (CVE-77)
USS KADASHAN BAY (CVE-76)
USS SAVO ISLAND (CVE-78)
USS OMMANEY BAY (CVE-79)

Destroyers
USS FRANKS (DD-554)
USS HAGGARD (DD-555)
USS HAILEY (DD-556)

Destroyer Escorts
USS RICHARD W. SUESENS (DE-342)
USS ABERCROMBIE (DE-343)
USS WALTER C. WANN (DE-412)
USS LE RAY WILSON (DE-414)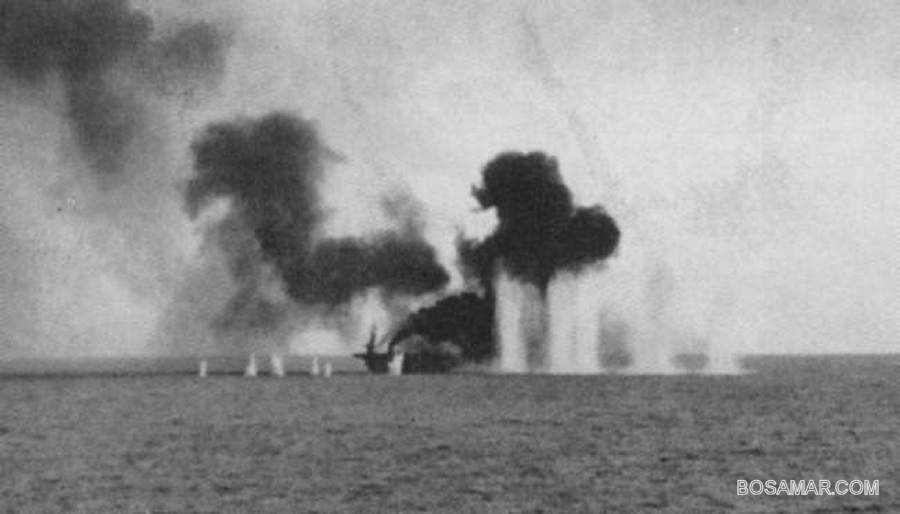 U.S. Navy Photograph
USS GAMBIER BAY (CVE 73) under fire from IJN Centre Force warships
EVENT Escort Carrier GAMBIER BAY, unable to hide behind the smoke screen created by herself, the other carriers, and her screen, continues to take the majority of the punishment. The Japanese pour on effective fire and she is hit nearly every other minute.
A/C The heavy cruisers still resorted to use armor-piercing shells. The majority of the shells passed through GAMBIER BAY's thin-skinned hull without exploding, some even bounced across her flight deck.
A/C GAMBIER BAY's predicament was looking grim. The number of holes in her, punched cleanly through by the armor- piercing shells, were too numerous to count.
EVENT Heavy cruisers CHIKUMA, TONE, HAGURO, and CHŌKAI concentrate their fire on CVE GAMBIER BAY from her port side. On the starboard side, CL NOSHIRO and at least one destroyer join in, closing the range to well under five miles.

A/C Quoting CVE KITKUN BAY's Ship's History, "the leading enemy cruisers were concentrating their fire on our nearest ship the GAMBIER BAY, and all hands on our ship offered a prayer in their hearts for the well being of our many friends on this companion of over 70,000 miles of war time cruising, successful cooperation, and friendly rivalry...."

EVENT The men of CVE GAMBIER BAY tried desperately to fight the fires as they erupted, but could not keep up with the damage which was being inflicted upon their ship. Many soon realized they would not be afloat much longer.

0812 Battleship KONGŌ reports her target carrier has been hit and is listing.

A/C The CVE KONGŌ reported was GAMBIER BAY.

0812 TBS - Taffy 2 v FLAPPER, "I LAUNCHED FIVE FISH, OUT."

ENS Paul A. Bennett, USNR
Composite Squadron VC-10
USS GAMBIER BAY (CVE-73)
Aircraft Action Report

By the time a clear area and friendly planes were located they were already on the way to the target. By the time I had climbed to altitude and arrived on the scene the attack was under way. I was joined about this time by an FM-2 from my squadron who flew around me and headed for the Jap formation ahead. The FM-2 began a strafing run on the leading cruiser, and as I came up, I followed him in the attack. (I had taken off with no bomb or rocket load). No AA was seen to burst near us at this time. After pulling back up into the clouds where I lost the FM-2 a Jap BB emerged from the rain squall behind the cruisers and a strafing run was made on it. I broke out of the clouds at about 3500'. The run was made at a target angle of about 010 degree and at about a 60 degree glide-and recovery was into the clouds again. The AA was heavy, and many bursts were below and to starboard. There was some tracer. Except for one small hole in the right aileron we were not hit. The gunner and the radioman strafed all targets within range. I don't believe we did much damage at this time, but we did draw AA from planes that were attacking on the enemy's port side.
0812 TBS - Mercury 2 v Taffy 2, "ENEMY PLANES REPORTED COMING IN LOW."
0812 Admiral Kurita orders BB YAMATO to launch one of her spotting aircraft.
A/C Radio contact with this aircraft was lost at 0830 when it is presumed she was shot down by an American plane.
0814 Destroyer escort RAYMOND, is returning to the port side of the escort carrier formation at a speed of 24 knots. She fires on CA CHIKUMA bearing 058° T, with an initial range of 11,000 yards. The 5-inch guns are in automatic director (Mark 51) control. Radar ranges are used and the Mark 6 computer solution was applied to the gun order corrector. CHIKUMA is observed to be crossed four times and five direct hits are obtained.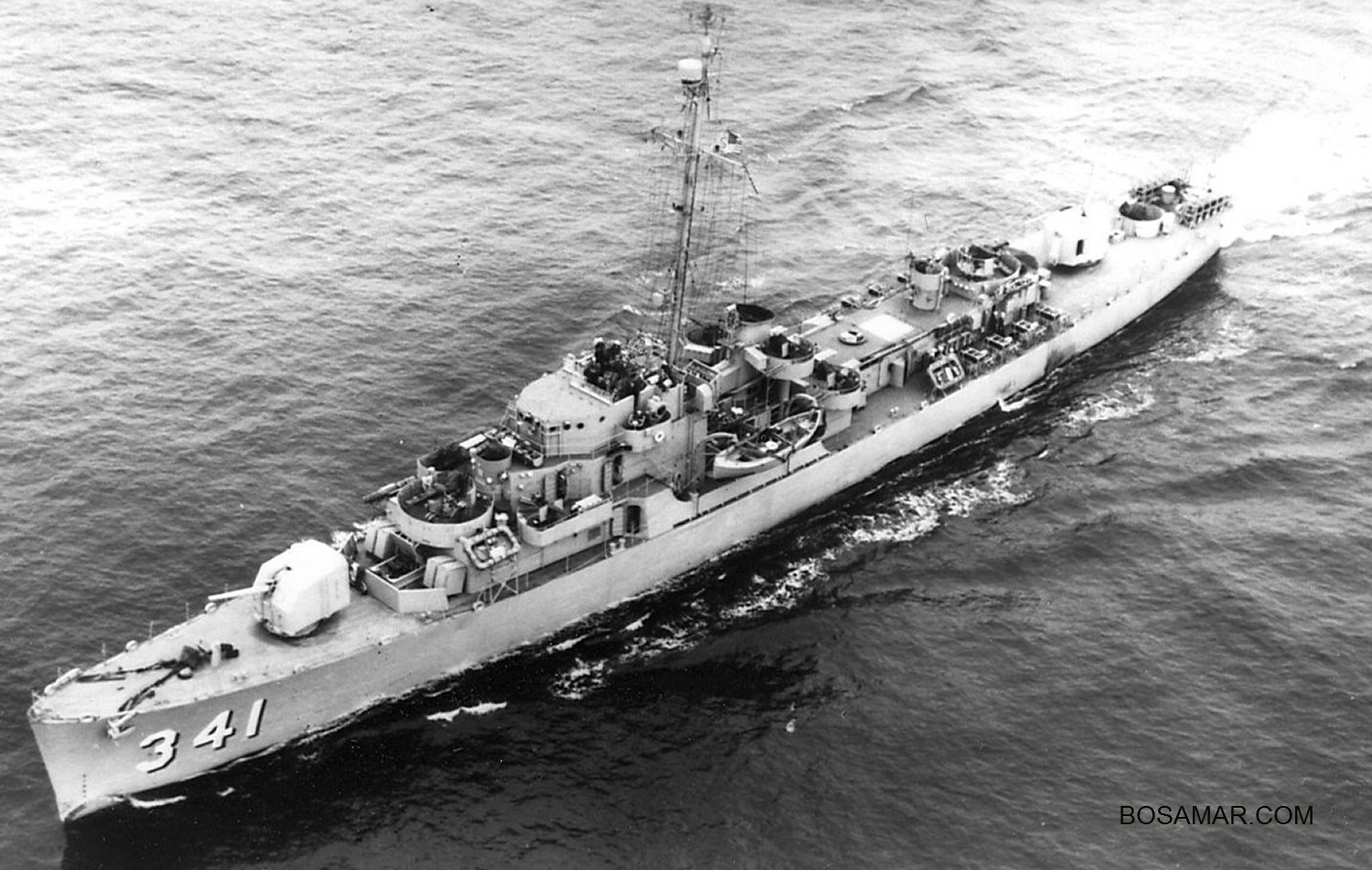 U.S. Navy Photograph
Destroyer Escort USS RAYMOND (DE 341) somewhere in the Pacific
0815 Destroyer escort ROBERTS continues to engage a TONE Class heavy cruiser with 5-inch gunfire.


0815 TBS - Unknown Station v Taffy 3, "SAY AGAIN, OVER."

0815 TBS - Mercury 3 v Taffy 3, "SIGNAL EXECUTE UPON RECEIPT SHACKLE GEORGE KING ROGER UNSHACKLE TURN, OUT."

A/C Ships of the task unit are ordered to course 205° T.

USS SAMUEL B. ROBERTS (DE-413)
Action Report

From about 0815 until 0855, when the range had closed to 5300 yards, the range varied between 6000 and 7500 yards to a Japanese TONE class heavy cruiser which had been selected as a target and upon which was delivered the heaviest, fastest and most accurate fire of which the ROBERTS, with limited fire control installations, was capable. Occasionally fire was directed momentarily to other vessels as maneuvers of the ROBERTS to escape laddres of enemy fire prevented her guns from bearing on this particular cruiser.
0815 Taffy III gives its position as Latitude 11°-34' North to Longitude 126°-25' East and changing course to 205° T. They report, "WE HAVE BEEN STRADDLED FOR LAST HALF HOUR", "WE HAVE NOT BEEN HIT YET, THEIR SHOOTING IS VERY BAD".
0815 Taffy II destroyers HAGGARD, HAILEY, and FRANKS take position about 3 miles astern of the escort carriers of TU 77.4.2 on a bearing towards the Japanese main body. The enemy is estimated to be about 20 to 25 miles astern, closing at the rate of 1,000 yards every ten minutes, speed 30 knots.
0815 With CAP launches completed the escort carriers of Taffy II change course to 160° T.
0815 Escort carrier SANTEE of Taffy I reports all fires are now under control.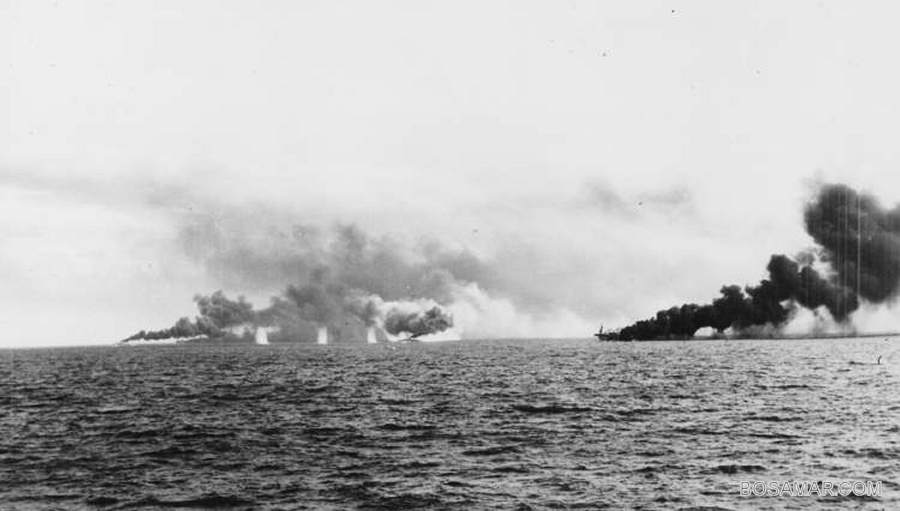 U.S. Navy Photograph
Task Unit 77.4.3 under fire
0816 Cruisers are seen dead astern of CVE ST LO firing full broadsides. Salvoes land short, astern of the escort carrier. The ST LO continues to lay protective smoke which holds close to the water.
0818 Taffy I DD TRATHEN attacks a submarine contact with inconclusive results. She remains with the contact until 1121.
0820 Battleship Division One closes the range on the fleeting escort carriers and reopens fire on the same by radar.
0820 TU 77.4.1 (Taffy 1) CVE SUWANEE reports that she has a hole in the flight deck and hangar decks. She also reports her first four arresting wires are in commission and the aft elevator is in working order. She estimates her flight deck will be back in operation in about one to one and a half hours.
0820 A single 8-inch shell from CA CHIKUMA explodes in the water near CVE GAMBIER BAY and holes the forward engine room plates near No. 1 boiler which results in uncontrollable flooding. Nineteen-thousand gallons of water per minute rushes in. This single shell seals her fate.

0820 TBS - DERBY v CATNIP, "MY FORWARD ENGINE ROOM HAS BEEN HIT."

0820 TBS - FIDO v Taffy 3, "HAVE YOU BEEN HIT?" .... v FIDO, "NEGATIVE."

0820 On base course 220° T DE DENNIS continues to fire at an unidentified Japanese heavy cruiser as she keeps formation with destroyers HEERMANN, JOHNSTON, and DE ROBERTS.

EVENT Escort Carrier GAMBIER BAY's boilers are secured to prevent an explosion as water rises waist-deep in her forward engine room. Electrical power in the forward part of the ship is lost and communications fail in the boiler room. Two portable electric bilge pumps are placed in the engine room to combat the flooding.

EVENT The in-rushing water is beyond the capacity of the drain pumps and cannot be displaced fast enough. Soon the bulkhead between the engine room and the forward machine shop fails.

Battle Damage Report
USS GAMBIER BAY (CVE-73)

0820 - Hit No. 3 This shell hit the forward engine room on the port side. This was not a direct hit into the engine room itself as no fragments entered the engine room. It was an impact explosion which opened a gap in the skin of the ship approximately four (4) feet square between frames 96 and 98. The center of this hole was about twelve (12) feet below the water line of the ship. Very rapid flooding occurred in the engine room and fire room and in about five minutes the water was up to the fire box in the boilers necessitating the securing of both boilers and No. 1 main engine at 0825.

Upon receiving word of the forward engine room flooding the after engine room started No. 2 bilge pump to drain water from the forward drain wells. No. 1 bilge pump was also started. The capacity of these pumps combined is about 1,200 G.P.M. In the forward engine room the main injection to No. 1 main condenser was closed and attempts were made to open No. 1 main drain connection to the main circulator. However, due to the rush of the flooding water this was not accomplished. The concussion was sufficient to blow a foamite generator located at frame 97 against the main condenser as well as crack the 275 pound superheated steam line to the main circulator. This line was cracked at the first platform deck level and admitted steam into the engine room.
EVENT With her boilers secured and taking on thousands of tons of water, CVE GAMBIER BAY lists to port and her speed is reduced to 11 knots. She falls out of formation. The remaining escort carriers of Taffy III continue southward, leaving CVE GAMBIER BAY to her fate.
EVENT Battleship YAMATO fires on a "battleship" by radar. The ship in question is CVE GAMBIER BAY.

0822 Admiral Halsey receives a plain-English message from Admiral Kinkaid:

"FAST BATTLESHIPS ARE URGENTLY NEEDED IMMEDIATELY AT LEYTE GULF."

0823 TBS - DERBY v CATNIP, "WE ARE OPENING TO TEN AND A HALF."

A/C GAMBIER BAY reports to ST LO she is opening to 10,500 yards, obviously losing speed and falling behind the other CVEs.

USS JOHNSTON (DD-557)
Action Report

At about 0820 there suddenly appeared out of the smoke a battleship of the KONGŌ-Class 7000 yards distant on our port beam . . . . By this time the captain had given the order not to fire on any target unless we could see it, the reason being that enemy and friendly ships were now in the melee. Approximately forty rounds were fired at the Jap battleship, at our necessarily reduced rate of fire, before retiring behind our own smoke screen and before being taken under fire by this battleship. Several hits were observed on the pagoda superstructure.
0824 TBS - Taffy 2 v CIRCUS, "TOTAL ALL FIGHTERS IS SHACKLE ABLE UNSHACKLE."
A/C A CVE from Taffy II reports she has 7 FM-2 fighters available.
0824 TBS - GALLEY, CIRCUS v Taffy 2, "LAUNCH STRIKE TWO AT SHACKLE EASY JIG ZEBRA DOG UNSHACKLE, OUT."
A/C CTU 77.4.2 orders two Taffy II CVEs to launch their strike at 0835.
0825 With its single 5-inch gun, CVE KALININ BAY hits CA CHIKUMA, quickly followed by another which brings fire and smoke from the cruisers' turret.
0825 TBS - CIRCUS, GALLEY v EMPIRE, "WE HAVE 7 FISH AND 4 CHICKENS TO LAUNCH."
A/C Escort carriers of Task Unit 77.4.2, Taffy II, report they have seven torpedo planes and four fighters ready for launch.
0825 Japanese aircraft appear overhead of the escort carriers of TU 77.4.1 (Taffy I) but make no attacks.
0825 TBS - Taffy 3 v CATNIP, "I HAVE BEEN HIT HARD. I HAVE LOST ONE ENGINE."

A/C GAMBIER BAY reports her disabling hit to CTU 77.4.3.

0826 Battleship KONGŌ reports she has, "KNOCKED OUT THE CARRIER AT CLOSE QUARTERS."

A/C The disabled CVE was GAMBIER BAY. My research has revealed that it is a toss up as to what Japanese warship actually disabled GAMBIER BAY. The hapless glory goes to either CHIKUMA or KONGŌ. I'll let the reader decide.

0826 TBS - v Taffy 3, "SMALL BOYS ON MY STARBOARD QUARTER INTERCEPT HEAVY CRUISER COMING IN ON BENDIX PORT QUARTER."

0826 Responding to RADM Sprague's orders destroyer escorts DENNIS and BUTLER interpose between the CVEs and the heavy cruisers on the port quarter. They proceed in company through the CVE formation on a diagonal course, laying a smoke screen enroute. At this time BUTLER learns that all other screening vessels had expended their torpedoes, and LCDR Pace once again orders, "PREPARE FOR TORPEDO ATTACK".

0826 Destroyer escort RAYMOND, already on the port side, responds to RADM Sprague's order.

Battle Damage Report
USS GAMBIER BAY (CVE-73)

The engine room was abandoned shortly after 0825. The safety valves on the boiler were lifted by hand, the booster pump was secured, the fires were out of the boilers, this latter being done by closing the fuel oil quick closing valve. The main condensate and standby feed booster pumps were left running as it was difficult to secure these due to flooding. At the time of abandonment of the engine room the water was at a height of approximately five feet average. No. 2 bilge pump continued to pull a suction on the forward engine room. Two electrical submersible pumps were lowered down into the escape trunk to help control the flooding. One of the submersible pumps discharge lines was split and the pump had to be secured and a new discharge line put on.

At this time the assistant engineering officer personally evacuated the forward engine room and took station on the second deck assisting in rigging the submersible pumps. Damage control directed Repair Two and Repair Five to check the forward and after bulkheads of the engine room respectively for ruptures of the forward and after bulkheads. Repair Five reported leaks around steam lines, the port shaft and seams of the after bulkhead. This after bulkhead is the forward bulkhead of the machine shop. They were directed to use mattresses and shoring to stop these leaks and strengthen bulkheads. This work was started but not completed.
The target, CA HAGURO, was RAYMONDs primary adversary for most of the morning. At this time the last of the chemical FS smoke supply is exhausted and she has no torpedoes remaining. The bearing of the cruiser was 113° T, speed 24 knots, with an initial range of 12,600 yards by radar, which decreased rapidly to 5,700 yards.
A/C At the start of the run LCDR Beyer considered opinion that changing course toward the cruiser saved his vessel because most of their salvos at that time were over rather than short. RAYMOND was only straddled once on her approach.
EVENT Word is passed to the escort carriers: "screen reports all torpedoes expended"
A/C There was one ship left with torpedoes. Destroyer Escort BUTLER still had her full complement of three.
0828 Destroyer escort RAYMOND opens fire on heavy cruisers CHIKUMA and TONE, expending 414 rounds of ammunition during the entire day's action. Both cruisers return fire and miss.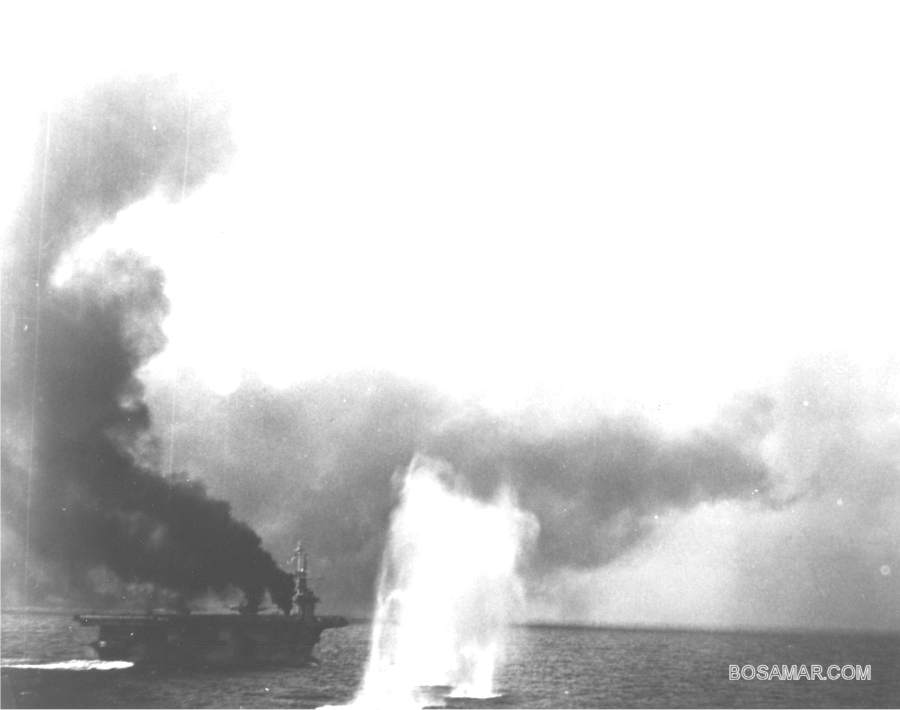 U.S. Navy Photograph
U.S. Escort carrier under fire from the IJN Centre Force, off Samar
0828 An 8-inch salvo lands 1,000 yards astern of CVE KITKUN BAY. Captain Whitney, like the other escort carrier COs, resorts to ziz-zagging to upset the enemy range calculations. The salvos, unrelenting, keep coming closer....
0828 TBS - DERBY v GEORGIA, "THINK WE SHOULD COME RIGHT TO TARGET."
0830 Destroyer HOEL, far north of the escort carriers, maintains limited propulsion, albeit on one engine, for over one and a half hours. Finally, unable to maneuver as the cruiser range closes, her starboard engine is put out of action by an 8-inch shell.
0830 A salvo lands 100 yards off the port beam of CVE KITKUN BAY.
EVENT Damaged beyond repair from her duel with battleships and heavy cruisers, DD HOEL drifts to a dead stop.
0830 Heavy cruiser CHIKUMA closes to within 6,000 yards and concentrates her 8-inch gun fire on CVE GAMBIER BAY. In an attempt to draw fire away from CVE GAMBIER BAY, CDR Evans of DD JOHNSTON orders: "...commence firing on the cruiser, Hagen. Draw her fire away from the GAMBIER BAY....". She makes at least five hits with little effect, largely being ignored by the cruiser.

0830 TBS - Taffy 2 v FLAPPER, "WILL HAVE TWO AND MAYBE THREE FISH READY TO LAUNCH IN A FEW MINUTES."

USS JOHNSTON (DD-557)
Action Report

At about 0830 the GAMBIER BAY was observed to be under heavy fire by a Japanese heavy cruiser and listing heavily to port. This ship attempted to draw fire away from the GAMBIER BAY by taking the cruiser under fire at this time. The range was closed to six thousand yards and maximum fire was brought to bear on this heavy cruiser. This attempt, as was to be expected, was unsuccessful, despite numerous hits being observed.
0830 Escort carrier KALININ BAY turns sharply right, passing astern of CVE ST LO and then comes back to course, after shifting from the port to the starboard quarter of ST LO.
0830 TBS - Taffy 3 v MONGREL, "WE HAVE NO FISH LEFT." .... v Taffy 3, "ROGER OUT. STAY ON STATION AND CONTINUE SMOKING."
A/C DENNIS reports her status and is ordered to remain on station and lay smoke.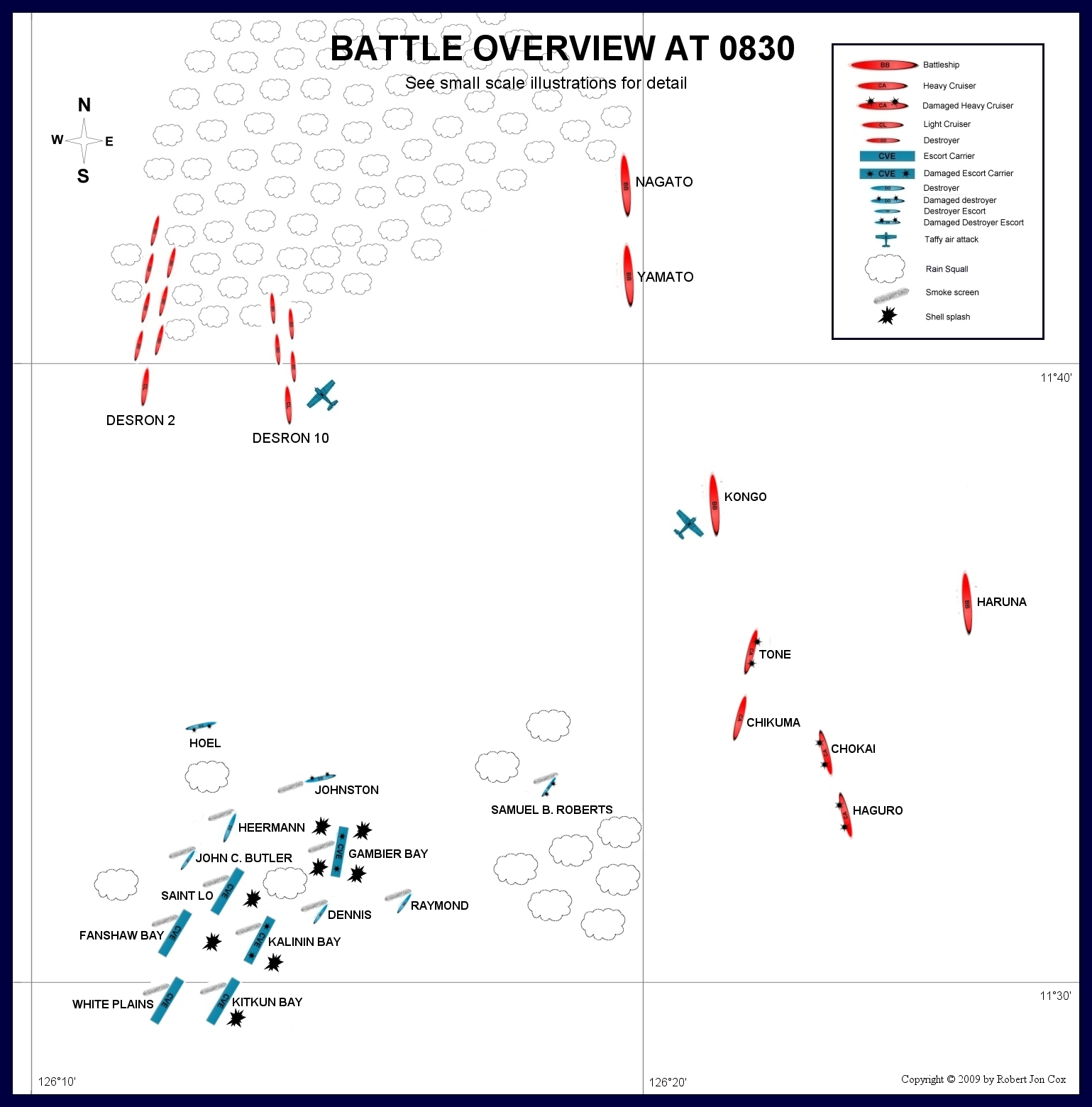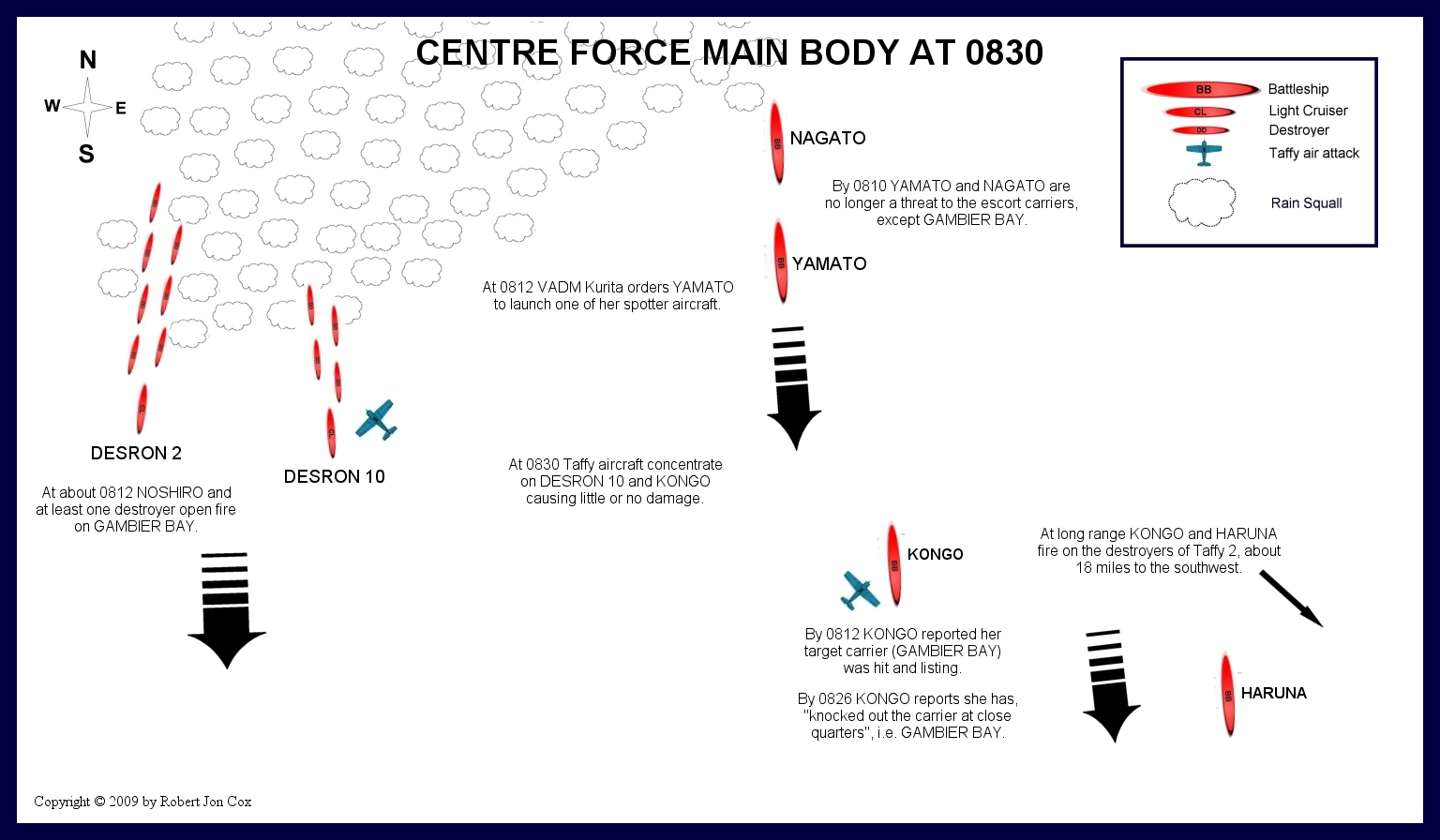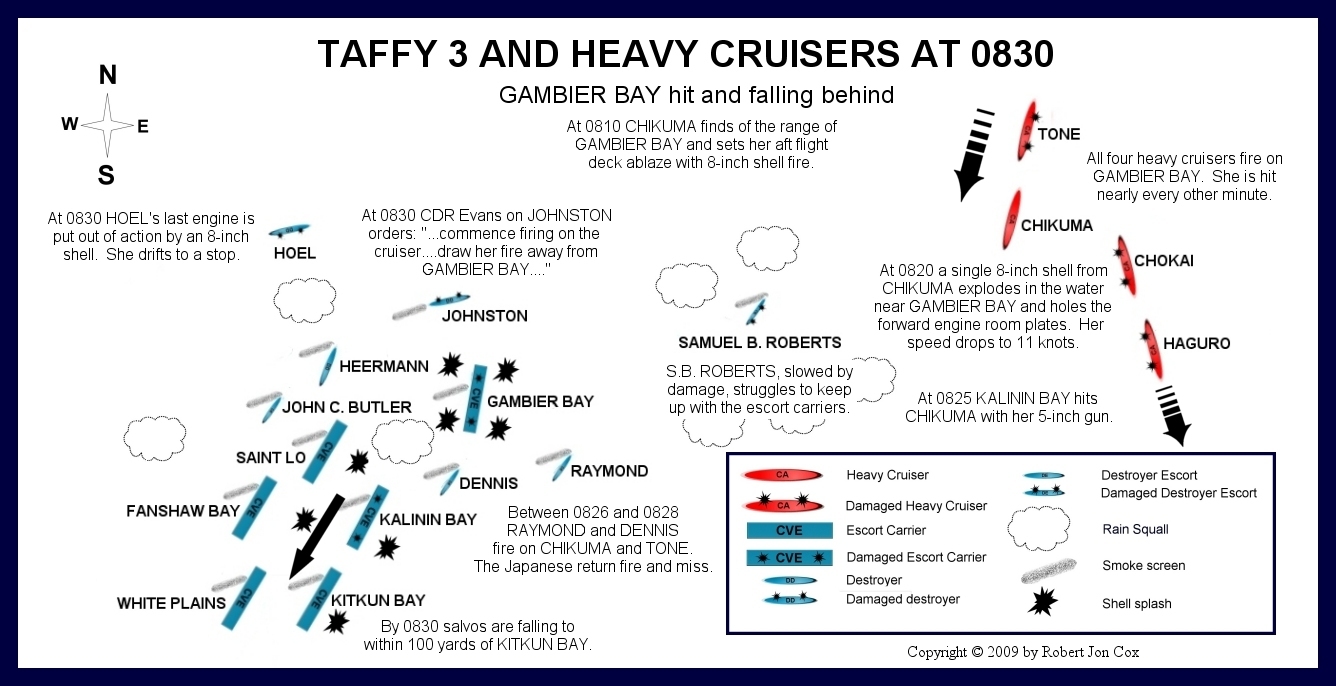 0830 A small number of taffy aircraft concentrate on BB KONGŌ and the five warships of Destroyer Squadron Ten causing little or no damage.
0831 Straddled effectively by the cruisers, a salvo hits the water 700 yards astern of CVE KITKUN BAY.
0831 Destroyer Escort DENNIS changes course to 240° T to rejoin the fleeing escort carrier formation.
0832 A salvo hits 500 yards from the starboard beam of CVE KITKUN BAY.
0832 TBS - Taffy 3 v FIGLEAF, "WE HAVE NO FISH LEFT." .... v Taffy 3, "STAY ON STATION AND CONTINUE TO MAKE SMOKE."
A/C RAYMOND reports.
0833 The escort carriers of Taffy II change course to 037° T in preparation to launch their second strike of Sixteen Avenger TBM-1C torpedo-bombers loaded with torpedoes and 8 Wildcat FM-2 fighter aircraft. Six Avenger TBM-1C torpedo-bombers from Taffy III are landed.
0833 TBS - Mercury 3 v Taffy 3, "SIGNAL EXECUTE UPON RECEIPT TURN SHACKLE GEORGE PETER EASY UNSHACKLE, OUT."
A/C Ships of the task unit are ordered to course 240° T.
0834 Aiming towards the southwest, BB YAMATO open fire with her secondary battery on a "cruiser".
A/C This was HOEL.
0834 TBS - SMALL BOYS v Taffy 3, "STARBOARD INTERPOSE WITH SMOKE BETWEEN ME AND ENEMY CRUISER." .... v MONGREL "WILCO, OUT."
0834 A Taffy II pilot observing from the air reports that TU 77.4.3 is on a southerly course bearing 300° T and 17 to 19 miles from TU 77.4.2. He also reports that cruisers are firing on the task unit off Taffy III's port quarter and a battleship and two heavy cruisers were 20 miles astern of TU 77.4.2 with another battleship 30 miles further astern.
0835 Down by the stern, "Prepare to abandon ship" is announced on DD HOEL.

0835 Destroyer HEERMANN, coming to the aid of DD JOHNSTON, passes through the CVE formation at flank bell and nearly collides with CVE FANSHAW BAY, passing closely astern of her. Her deck log reads, "0835 - Back emergency full to avoid collision with FANSHAW BAY, which crossed our bow from port to starboard."

A/C The dense smoke screen was hampering the American effort as well.

0838 Rear Admiral Sprague sends a message in the clear to Rear Admiral Tommy Sprague, Commander Task Group 77.4:

EM2c Glen E. Foster, USNR
Interior Communications Electrician
USS HOEL (DD-533)

"When I pushed open the hatch all I could see was smoke and fire. I went up the ladder and tried to open the escape hatch to the next deck but it wouldn't open . . . . I was turning it in the wrong direction! I threw open the hatch and saw a shipmate running into the bulkhead screaming . .

I threw open the starboard escape hatch and crawled through a pile of bodies and body parts to the main deck. I looked around in shock and disbelief at the condition of the ship, the ship was listing badly to port . . . . when I was about midships we took another hit around the galley area that knocked me down. I got up and waded off the port side."
"UNDER ATTACK...ENEMY COMPOSED OF FOUR BATTLESHIPS, 8 CA MANY DESTROYERS."
0840 Destroyer HEERMANN arrives on the port side of the CVE formation only to bear down now on DD JOHNSTON, which is having difficulty steering. HEERMANN has to place her engines in all-back emergency, missing JOHNSTON by a mere three inches.
0841 Escort carrier GAMBIER BAY is burning amidships and lists 20 degrees to port. She is engaged by heavy cruisers CHIKUMA, HAGURO, and CHŌKAI, CL NOSHIRO, and one destroyer.

0841 Destroyer HEERMANN engages CA CHIKUMA with gun fire from about 12,000 yards. With her guns locked on CVE GAMBIER BAY, the heavy cruiser turns in a tight circle and shifts part of her fire to DD HEERMANN.

CDR Amos T. Hathaway, USN
Commanding Officer
USS HEERMANN (DD-532)

"It was 0841 when we started firing at the TONE Class cruiser. There were three other heavy vessels identified as heavy cruisers astern of her and two other vessels, possibly these were destroyers, I zigzagged and chased splashes for about 20 minutes."
A/C Caught in the midst of several Japanese warships, DD HEERMANN was now pressing her luck.
0841 Task Unit 77.4.2 is taken under fire by heavy warships astern. CTG 77.4 is notified and its position is given as Latitude 11°-13' North to Longitude 126°-52' East. The shells, estimated to be 8-inch, straddle the destroyers astern of the task unit with no hits.
0841 An Avenger TBM-1C torpedo bomber from Taffy II attacks a submarine 20 miles northwest of Taffy III.
Continue to CHAPTER 10 or INDEX