Chapter 12
1030 to 1200
KAMIKAZE & CONTROVERSY
Wednesday, October 25, 1944
Time-Line, Events, & Comments

What makes this book unique is the use of a time-line for all events, all listed in chronological, time-line order. The events in Chapters 5 through 13 are listed in the order in which the author believes they occurred. Entries listed simply as "EVENT" are also placed in a chronological, time-line order and are closely related in time to the last numbered "time" event. Comments by the author associated with events are often listed also. Entries are displayed as follows:
| | |
| --- | --- |
| 0708 | A time-specific event, in the order in which the author believes they actually occurred. |
| EVENT | A specific event, closely related in time to the last numbered "time" event. |
| A/C | Author's Comment. A personal explanation of events by the author. |
1030 Vice Admiral McCain's powerful Task Group 38.1 launches thirty-three Helldiver dive-bombers, nineteen Avenger torpedo-bombers, and forty-eight Hellcat fighters from the heavy carriers HORNET, HANCOCK, and WASP.
A/C This strike became one of the longest-range carrier strikes of the entire Pacific war. Centre Force put up an effective anti-aircraft defense and downed three of the aircraft. Only one bomb hit was scored, on heavy cruiser TONE, which did not explode.
A/C Vice Admiral McCain's perception of the Taffies' dilemma seemed to be more in tune with the predicament they were in, more so than Admiral Halsey's.

1030 With air operations complete, DE DENNIS changes course to 135° T, speed 20 knots.

1032 TBS - Mercury 3 v Taffy 3, "SIGNAL EXECUTE UPON RECEIPT SHACKLE KING ITEM EASY UNSHACKLE TURN. DERBY AND GEORGIA ACKNOWLEDGE." .... v DERBY, GEORGIA, "WILCO OUT."

A/C Ships of the task unit change course to 010° T.

1032 Task Unit 77.4.2 (Taffy II) reports its position as Latitude 11°-07' North to Longitude 126°-58' East.

1035 Destroyer Escort DENNIS changes course to 010° T for air operations.

1036 TBS - Great Danes v Taffy 3, "LOAD ALL AVAILABLE FISH WITH TORPEDOES TO ATTACK THE ENEMY. DERBY ACKNOWLEDGE." .... v DERBY, "WILCO OUT."

ADM Kimpei Teraoka, IJN
Commander, First Air Fleet

"Conventional methods of warfare are no longer adequate. Since death is the inevitable fate of the young eagles (Japanese pilots) they should be allowed to die in the most worthwhile way. We must steel our hearts in order to win the war. It is necessary that the names of those who volunteer for this death mission be reported beforehand to the Imperial GHQ, in order that they may prepare themselves with dignity and maintain a cool head...No, it would be better to work through their immediate superiors in view of the consequences. If the fighter pilots can first be organized, other units will automatically follow suit. If the air forces carry this out, they will in turn inspire the surface forces. If the entire Navy is inspired with this spirit, the Army too, will no doubt follow in line. It was finally concluded that in order to save the country there was no other method than the crash-dive tactic. Further it was agreed that Admiral Ohnishi, the incoming commander (First Air Fleet), should assume complete responsibility for the formation of the Special Attack Corps."
1040 The flight deck crew of CVE ST LO is kept busy landing aircraft from the other CVEs of Taffy III. One Wildcat from the KALININ BAY, two Avengers from WHITE PLAINS, and two Avengers from ST LO are landed aboard.
A/C All aircraft were struck below to clear the flight deck for further landings. This also aided refueling and rearming three of the torpedo bombers with torpedoes.
1045 Repair party #1 aboard DE DENNIS reports the ship is taking water in the ordnance storeroom. Compartment A-306A remains flooded. The repair party pumps water to make temporary repairs.
1049 Task Unit 77.4.3, now clear of the battle area, steams southward, recovering its aircraft. All deck crews are very busy making emergency repairs and tending to their wounded after a long morning of battle.
EVENT Approaching Taffy III at low altitude, five kamikaze "Zeke 52" fighters sight the five remaining escort carriers and climb sharply to attain a suitable attack position. The escort carriers' Combat Air Patrol sights the aircraft, but are out of position and unable to intercept the approaching aircraft.

1051 Aboard escort carrier ST LO, anti-aircraft fire is seen and heard forward. General Quarters is immediately sounded.

EVENT Upon sighting the enemy aircraft, General Quarters is announced on all of the other escort carriers and remaining screen ships, DD HEERMANN, DE BUTLER, DE DENNIS, and DE RAYMOND. Men stationed at the 20mm and 40mm gun mounts, silent during their engagement with Centre Force, now open fire at the attacking aircraft.

A/C The task units' anti-aircraft screen had been badly depleted by the loss of HOEL, JOHNSTON, and ROBERTS.

EVENT From CVE ST LO, numerous aircraft, both enemy and friendly are seen at 1,000 to 3,000 feet ahead and on the starboard bow.

CTU 77.4.3/COMCARDIV 25
Action Report
RADM Clifton A.F. Sprague, USN

At 1050, a series of suicide crash-dives by Jap dive bombers began while we were attempting to land aircraft. Those planes never showed as bogeys on the radar screen, and it is thought that they approached from very low altitude, climbed very rapidly inside SK range, and began their dives from 5 to 6 thousand feet. In all, there were eight of these dive bombers who attacked the five remaining CVEs. One crashed into the middle of ST. LO's flight deck, appearing to penetrate the flight deck, and started a tremendous fire. This fire resulted shortly afterwards in a tremendous explosion thought to have been caused by torpedoes and bombs stowed on the hanger deck. There were several other explosions accompanied by intense fire, and survivors could be seen abandoning ship. The ST. LO sank without further enemy action.

All escorts were ordered to standby ST. LO and the area of battle to rescue survivors.
The aircraft move aft to starboard, and one of them, when about abeam to starboard, goes into a right turn toward the escort carrier. The aft-starboard 40mm and 20mm guns open fire, but with no apparent effect. The suicide-aircraft approaches the ship from aft over the ramp at very high speed.
A/C The aircraft pursuing its attack on the ST LO was a "Zeke 52", loaded with a bomb under each wing.
EVENT In very quick succession, all five Japanese aircraft attack the escort carriers of Taffy III. One aircraft aims for the bridge of CVE KITKUN BAY, strafing as it approaches. It misses the bridge and strikes the port catwalk, exploding in flames, causing damage and fires.
EVENT The four remaining suicide planes are placed under effective anti-aircraft fire. Two are shot down before they complete their runs.
EVENT The two remaining aircraft begin their suicide dive on CVE WHITE PLAINS from astern. One Japanese pilot attempts to hit the carrier's landing ramp. Escort carrier WHITE PLAINS places her helm over hard to port. The escort carrier turns in response and the plane misses the ship by a slim margin. Hit by anti-antiaircraft fire, it explodes in the air and covers the flight deck of CVE WHITE PLAINS with debris, injuring eleven crew members.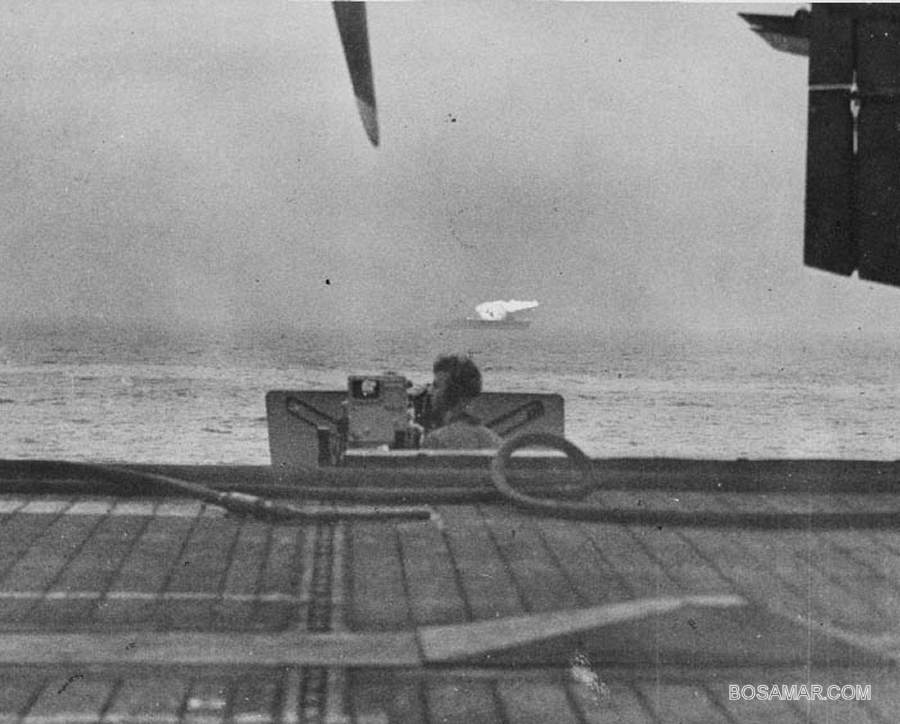 U.S. Navy Photograph
Japanese Zeke-52 Crash-dives USS ST LO (CVE 63)
EVENT The last plane, already on fire from the intense flak put up in defense of the escort carriers, veers off from CVE WHITE PLAINS and turns towards CVE ST LO, positioning to strike her flight deck hard with catastrophic results.
1052 Destroyer Escort DENNIS' aft 40mm gun opens fire on the attacking Japanese aircraft, which bear 045° relative to the ship.
1053 After crossing ST LO's ramp at not over fifty feet, the Zeke 52 appears to push over sufficiently to hit the flight deck at about the number 5 wire, 15 feet to the port side of the center line. A tremendous crash and flash of explosion follows as one or both bombs the aircraft is carrying explodes. The remnants of the plane continue up the flight deck leaving fragments strewn about, some continuing forward across the flight deck and going over the bow.

A/C There was no certain evidence as to whether the bombs were released before the plane struck the flight deck. Captain McKenna's first impression was that no serious damage had been suffered. There was a hole in the flight deck with smoldering edges which sprang into flames. Hoses were immediately run out from both sides of the flight deck and water was immediately started on the fire.

1054 TBS - FIDO v Taffy 3, "HOW BAD ARE YOU HIT?"

A/C CTU 77.4.3 asks WHITE PLAINS to report her damage.

1054 Aboard CVE ST LO, an explosion occurs on the hangar deck. Smoke and flames shoot through the hole on the flight deck, bulging the flight deck near and aft of the hole made by the suicide plane.

LTJG Joseph A. Mamica, USNR
Damage Control Officer
USS JOHN C. BUTLER (DE-339)

"...the pause from the surface action did not last long for Taffy 3. From the airfields on Luzon came a number of Jap Zero fighters, each carrying 550 pound bombs. The CVEs were under attack again by the Kamikaze suicide planes whose mission was to dive on the decks of the carriers.

Some missed their target and fell into the sea; and others were shot down by the defenders. I saw the ST LO get hit squarely on the flight deck. A series of explosions tore the ship asunder. In less than half an hour, the ST LO descended slowly below, and after another explosion, rose again for a minute or two as if to get another gasp of air and slowly disappeared under the sea.

...when the kamikaze attack was over BUTLER and HEERMANN began picking up the live survivors from the ST LO.... ...We picked up about 150 survivors from ST LO. One was badly hurt. A doctor aboard our ship, LT T. W. Steege, did what he could, but the man died on our wardroom table. We buried him at sea the next day...."
1054 As seen from DE DENNIS, a Japanese aircraft is observed to crash into the sea, bearing 190° relative, at approximately 5,000 yards.
1055 TBS - DERBY v Taffy 3, "HOW BAD ARE YOU HIT?"
A/C CTU 77.4.3 asks ST LO to report her damage.
EVENT Smoke is noticed coming through the hole in CVE ST LO's flight deck from below. Smoke appears on both sides of the ship, coming from the hangar deck.
A/C Captain McKenna attempted to contact the hangar deck without success.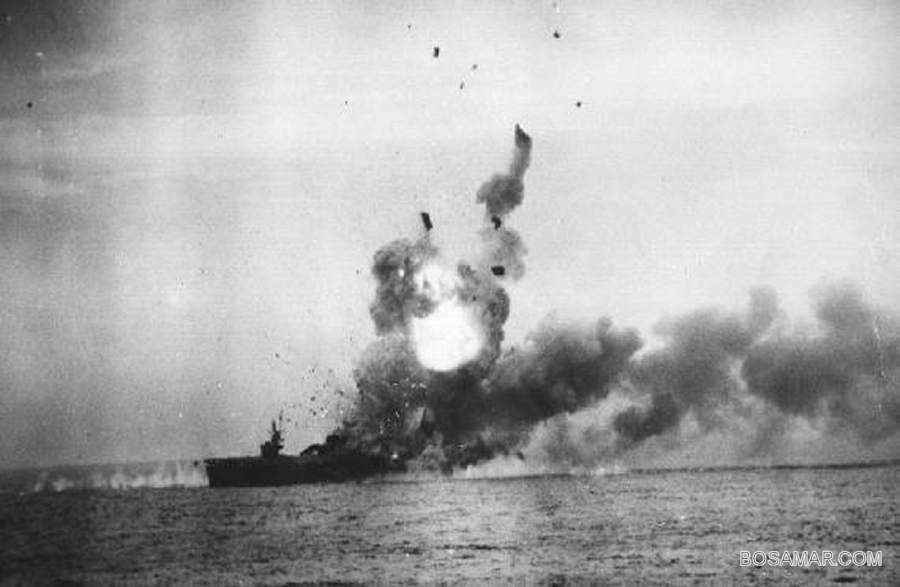 U.S. Navy Photograph
Massive explosion rocks escort carrier USS ST LO (CVE 63)
1055 A much more violent explosion occurs aboard CVE ST LO, rolling back a part of the flight deck, bursting through aft of the original hole.

A/C It was very likely that the fires caused by the suicide crash were not fatal in themselves. The most convincing explanation was that torpedo and bombs present on the hangar deck below were damaged and/or ignited by the fires. Essentially, ST LO was blown apart by her own ammunition.

1055 All escorts of the task unit are ordered to standby CVE ST LO.

EVENT Heavy cruiser SUZUYA comes under air attack by taffy aircraft. Bomb hits cause fires and she is forced to drop out of formation. Destroyer Squadron 2 DD OKINAMI is left behind to assist CA SUZUYA.

1059 Another heavy explosion tears out more of CVE ST LO's flight deck and also blows the forward elevator out of its shaft. At this time, Captain McKenna decides the ship cannot be saved.

CTU 77.4.32/COMCARDIV 26 Action report
RADM Ralph A. Ofstie, USN
in USS KITKUN BAY (CVE-71)

No further attack by surface units was experienced, but reports of bogies over the next half hour culminated in a scattered but determined attacks by enemy dive bombers. At 1050 KITKUN BAY suffered minor damages and a small gasoline fire when a TONY made a suicide dive through the catwalk on the port side forward. About five minutes later ST LO (ex MIDWAY) was dive bombed by a plane which, hit by AA, flamed as it passed across the deck and splashed on her port beam. A burst of fire was seen on board ST LO caused either by the bomb explosion or by parts from the burning plane; it died down rapidly but was followed in the next few minutes by a series of extremely heavy explosions which threw smoke and debris high into the air and by violent flames showing from the hangar deck. When last seen personnel were abandoning ship over the starboard side forward. At 1114 the surviving ships of the screen were ordered to standby ST LO to pick up survivors and from this time the CVE's proceeded without a screen.
A/C With the smoke and flame obscuring the aft end of the ship, Captain McKenna was even uncertain as to whether the after-part was still attached to the ship, although he stated he later had glimpses of it. All communications were lost, except the sound-powered phones, which apparently were working for some time although no damage reports could be obtained from aft.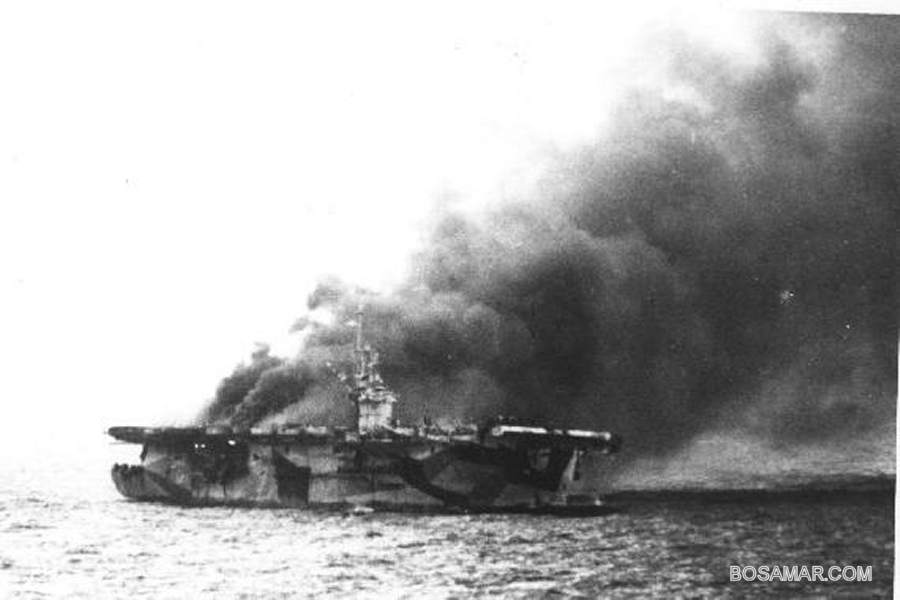 U.S. Navy Photograph
Final minutes of escort carrier USS ST LO (CVE 63)
1100 Surveying the hopeless situation aboard his ship, Captain McKenna of CVE ST LO announces "Stand by to abandon ship."
1100 Farther to the north, the surviving warships of Centre Force have reformed and VADM Kurita once again orders the formation to proceed towards Leyte Gulf.

A/C Vice Admiral Kurita had no idea that the Kamikaze Corps had been formed. Had he known of it's existence and had GHQ planned to have these two forces attack in unison, it might have been the death knell for the remaining warships of Taffy III.

1101 The remaining escort carriers of the task unit commence zig-zagging on base course, 120° T, speed 17 knots, moving away from CVE ST LO, unescorted.

A/C HEERMANN, DENNIS, RAYMOND, and BUTLER remained behind with ST LO to pick up her survivors. The surviving CVEs continued to clear the area unescorted.

1105 TBS - v Taffy 3, "ALL GREAT DANES COME INTO THE WIND."

1105 A very heavy explosion aboard CVE ST LO blows out part of the port side.

1106 TBS - DERBY v Taffy 3, "HOW BADLY DAMAGED ARE YOU, OVER."

A/C CTU 77.4.3 asks ST LO to once again report her damage.

1107 A very heavy explosion aboard CVE ST LO blows out part of the starboard side.

1107 Observing the explosions on CVE ST LO, DE DENNIS moves in fast to pick up survivors.

SURVIVING SHIP'S OF CENTRE FORCE
Upon conclusion of the surface action

Battleship Division ONE
BB YAMATO
BB NAGATO

Battleship Division THREE
BB KONGŌ
BB HARUNA

Cruiser Division FIVE
CA HAGURO

Cruiser Division SEVEN
CA TONE

Destroyer Squadron TWO
CL NOSHIRO
DD KISHINAMI
DD HAMANAMI
DD AKISHIMO
DD SHIMAKAZE

Destroyer Squadron TEN
CL YAHAGI
DD URAKAZE
DD ISOKAZE
DD YUKIKAZE
1108 TBS - Mercury 3 v Taffy 3, "SIGNAL EXECUTE UPON RECEIPT TURN SHACKLE ITEM JIG BAKER UNSHACKLE, OUT."
A/C The task unit changes course to 180° T.
1108 The attacking Japanese aircraft are observed aboard DE DENNIS. CVE KALININ BAY's assailant is observed diving from bearing 240° T. Three of the attacking aircraft are observed to be shot down by ships of the task unit.
1109 TBS - Mercury 33 v Taffy 3, "ALL SMALL BOYS STANDBY DERBY. I SAY AGAIN ALL SMALL BOYS STANDBY DERBY, OUT."
A/C CTU 77.4.3 orders all screening vessels to standby ST LO.
A/C Clear of the battle area and no longer immediately threatened by the IJN Centre Force, RADM Sprague was able to provide immediate assistance to the sinking escort carrier.
1110 Fifteen Japanese "Judy" bombers sight Taffy III and are intercepted by Taffy III's Combat Air Patrol.
A/C The escort carriers of Taffy III were now an easy target for all Japanese aircraft within sight of the task unit. With CVE ST LO furiously ablaze and displaying an enormous mushroom cloud, the task unit was visible for many miles.
1110 Destroyer Escort DENNIS stops dead in the water to rescue survivors of CVE ST LO.
EVENT One plane charges CVE KITKUN BAY. All escort carriers open fire once again on the aircraft, shoot its wings off. The plane falls short of the ship and causes minor damage.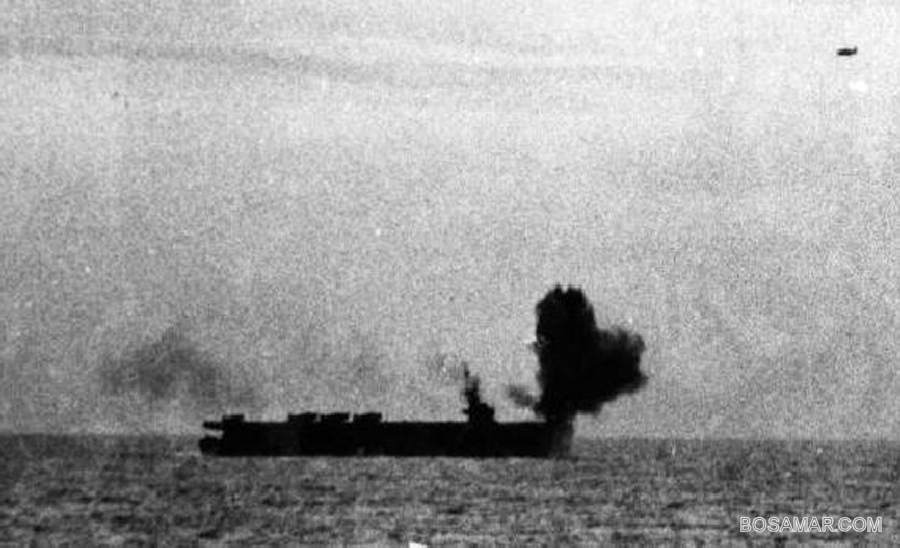 U.S. Navy Photograph
Kamikaze attack on escort carrier USS KALININ BAY (CVE 68)
EVENT Four more kamikazes place CVE KALININ BAY in their sights. Two are immediately shot down. One approaches from the rear, on fire, and impacts the port side of the flight deck, causing serious damage. The last plane approaches from the starboard quarter and hits the ships after superstructure. Escort carrier KALININ BAY remains in formation with the other escort carriers and combats the damage.
1113 TBS - v OVERTURE, "IS DERBY OUR FRIEND IN TROUBLE?"
A/C BUTLER inquires....
1114 A very heavy explosion rocks the escort carrier ST LO.
1115 As Task Force 38's surface strike forces are preparing to engage the Japanese Northern Force, ADM Halsey regretfully redirects them southward towards Leyte Gulf to intercept VADM Kurita's IJN Centre Force.

A/C Task Force 38 carrier aircraft were very successful in their persecution of the Northern Force during their initial attacks. Many of the Japanese ships were crippled and now were easy prey for VADM Lee's battle line surface forces.

A/C Vice Admiral Mitscher, bypassed frequently by ADM Halsey, was the commander of Task Group 38. His carrier aircraft first engaged the Northern Force at 0845 and by 0930 had sunk DD AKITSUKA, heavily damaged CVL CHITOSE, and damaged the other two remaining carriers.

"Where is Task Force 34"

At 1115, Task Force 34, 20 miles ahead of the TF 38 carriers, turned away from ADM Ozawa and his crippled fleet, only 45 miles away. They were finally being sent south to assist Seventh Fleet.

When they passed VADM Mitscher's carriers, which were still going northward, ADM Halsey dispatched heavy cruisers WICHITA and NEW ORLEANS, light cruisers SANTA FE and MOBILE, and ten destroyers to protect the advancing fleet and light carriers. In turn, he ordered RADM Bogan's TG 38.2 fleet carrier INTREPID and light carriers CABOT and INDEPENDENCE south to provide TF 34 air support. This reorganization delay took two and one-half hours to complete. The process was later slowed once again when TF 34 slowed to 12 knots to refuel the destroyers.
A/C The second air attack on the Northern Force came at 0945. This strike crippled the light carrier CHIYODA and the light cruiser TAMA. Four more strikes would be launched throughout the remainder of the day, culminating in the loss of all four carriers and several of their escorts. This engagement became officially known as the Battle Off Cape Engano.
A/C The pressure placed upon Halsey by Nimitz, Kinkaid, Sprague, and others was too much for the admiral to bear; he had finally divided his forces... Ironically, VADM Lee's battle line had approached to within 45 miles of VADM Ozawa's crippled Northern Force before it was ordered south to assist Taffy III and Seventh Fleet. Admiral Halsey later called this decision, "...the gravest mistake he had made...." during the Battle of Leyte Gulf. The authors opinion's are stated in Chapter 14, Epilogue.
1115 TBS - OVERTURE v Taffy 3, "DERBY IS OUR FRIEND QUEEN KING HOW ABLE HOW TARE, OUT."
A/C BUTLER once again inquires....
EVENT Vice Admiral Lee's Task Force 34 steams south at only 20 knots to facilitate the regrouping of the warships. Upon meeting VADM Mitscher's Task Group 38 carriers, ADM Halsey detaches the heavy cruisers WICHITA and NEW ORLEANS, light cruisers SANTA FE and MOBILE, and ten destroyers for additional surface support for VADM Mitscher's carrier forces.

EVENT Rear Admiral Bogan's Task Group 38.2 CV INTREPID and light carriers CABOT and INDEPENDENCE are ordered south with VADM Lee's Task Force 34 to provide air cover.

A/C The tedious task of reorganizing the task groups was taking up valuable time.

1118 TBS - Mercury 3 v Taffy 3, "LOOK OUT FOR FRIENDLY AIRCRAFT WHICH MAY BE OVERHEAD SHORTLY, OUT."

1119 TBS - Taffy 3 v DEXTER, "I HAVE TWO VF FOR LOCAL CAP." .... v Taffy 3, "ROGER OUT."

1120 Another very heavy explosion rocks escort carrier ST LO.

1120 Steaming in the Samar battle area, Centre Force regroups its remaining ships, reverses course, and heads south once again, toward Leyte Gulf.

1125 USS ST LO (CVE 63) sinks stern first into the Philippine trench, the second escort carrier of Taffy III to meet this fate.

A/C She had the unfortunate distinction of entering the record books as the first U.S. warship to be sunk by a kamikaze aircraft.

TASK FORCE 34
VADM Willis A. Lee, USN

Fleet carrier
USS INTREPID (CV-11)

Light carriers
USS CABOT (CVL-28)
USS INDEPENDENCE (CVL-22)

Battleships
USS IOWA (BB-61)
USS NEW JERSEY (BB-62)
USS ALABAMA (BB-60)
USS WASHINGTON (BB-56)
USS MASSACHUSETTS (BB-59)
USS SOUTH DAKOTA (BB-57)

Light cruisers
USS BILOXI (CL-80)
USS VINCENNES (CL-64)
USS MIAMI (CL-89)

Destroyers
Eight ships
1126 Destroyer Escort DENNIS continues to rescue survivors of CVE ST LO, maneuvering as necessary.
1130 TBS - Mercury 3 v Taffy 3, "SIGNAL EXECUTE UPON RECEIPT SHACKLE YOKE FOX ROGER UNSHACKLE, OUT."
A/C The task unit changes course to 135° T.
1130 Underwater explosions from CVE ST LO are felt aboard DE DENNIS.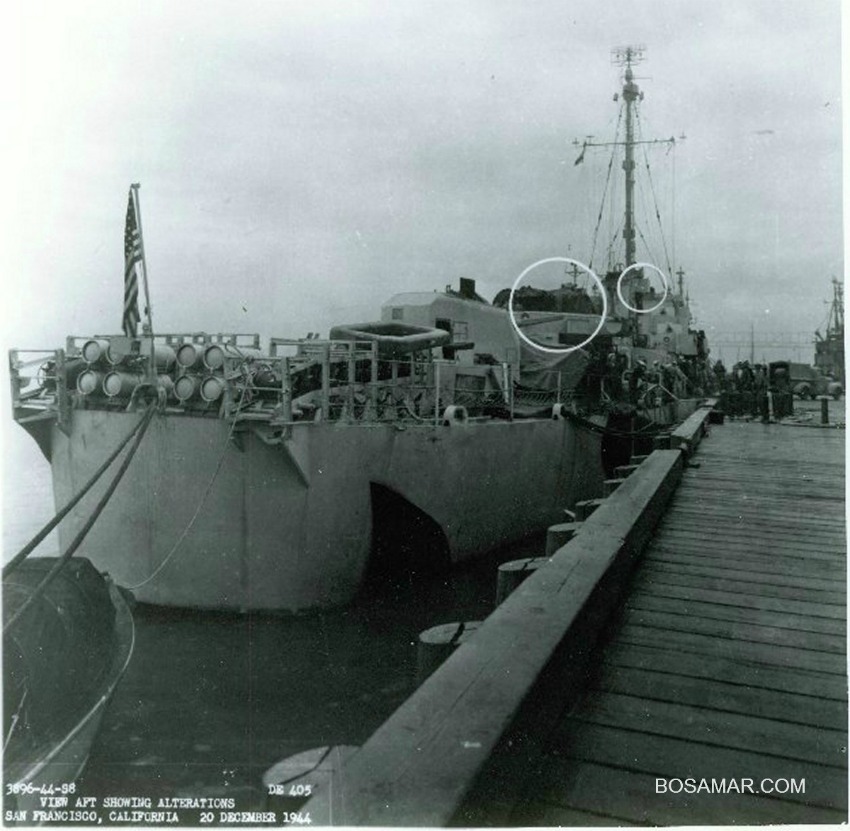 U.S. Navy Photograph
Destroyer Escort DENNIS (DE 405)
being refitted at San Francisco in December 1944

1132 TBS - Mercury 3 v Taffy 3, "SIGNAL EXECUTE UPON RECEIPT SHACKLE KING NAN MIKE UNSHACKLE TURN."
A/C The task unit changes course to 025° T.
1140 TBS - Mercury 3 v Taffy 3, "CANCEL MY SIGNAL NOW FLYING."
1142 TBS - Great Danes v Taffy 3, "PREPARE TO PANCAKE. PREPARE TO PANCAKE, OUT."
A/C CTU 77.4.3 orders the CVEs to prepare to land aircraft.
1150 TBS - Taffy 3 v DREADNAUGHT, "HOW MANY YOUR SMALL BOYS."
A/C HEERMANN inquires....
1151 TBS - DREADNAUGHT v Taffy 3, "I HAVE NO SMALL BOYS WITH ME AT THIS TIME."
A/C CTU 77.4.3 reports to HEERMANN.
Continue to CHAPTER 13 or INDEX