IN MEMORY OF THE MEN
LOST IN ACTION FROM THE
U.S.S. GAMBIER BAY CVE 73
& COMPOSITE SQUADRON VC - 10
At 2:15 PM on January 10, 1996, USS GAMBIER BAY (CVE 73) & Composite Squadron 10's Memorial Monument
was set on its concrete pad in Fort Rosecrans National Cemetery, Point Loma, San Diego, California.
It is located just to the left of the DD/DE monument.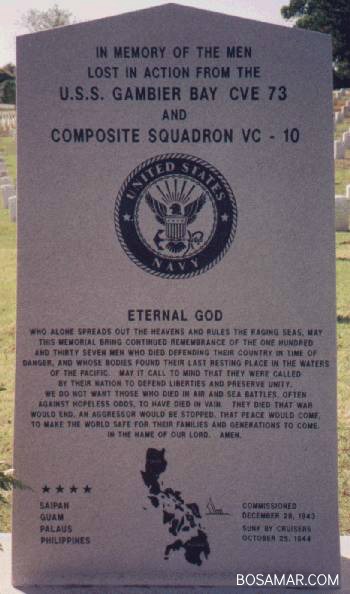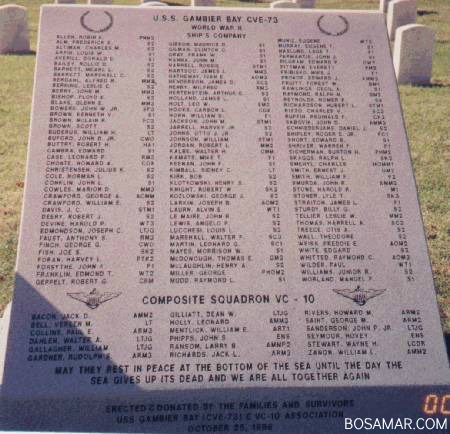 The monument as it exists today, circa 2008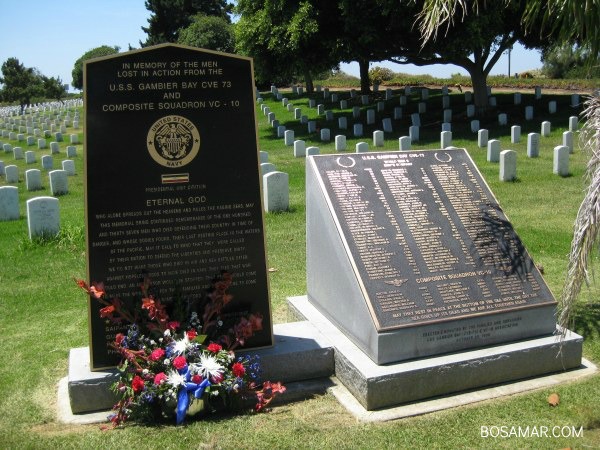 ETERNAL GOD
WHO ALONE SPREADS OUT THE HEAVENS AND RULES THE RAGING SEAS, MAY
THIS MEMORIAL BRING CONTINUED REMEMBRANCE OF THE ONE HUNDRED
AND THIRTY SEVEN MEN WHO DIED DEFENDING THEIR COUNTRY IN TIME OF
DANGER, AND WHOSE BODIES FOUND THEIR LAST RESTING PLACE IN THE WATERS
OF THE PACIFIC. MAY IT CALL TO MIND THAT THEY WERE CALLED
BY THEIR NATION TO DEFEND LIBERTIES AND PRESERVE UNITY.
WE DO NOT WANT THOSE WHO DIED IN AIR AND SEA BATTLES, OFTEN
AGAINST HOPELESS ODDS, TO HAVE DIED IN VAIN. THEY DIED THAT WAR
WOULD END, AN AGGRESSION WOULD BE STOPPED, THAT PEACE WOULD COME,
TO MAKE THE WORLD SAFE FOR THEIR FAMILIES AND GENERATIONS TO COME.
IN THE NAME OF THE LORD. AMEN.
Commissioned December 28, 1943
Sunk by cruisers October 25, 1944
Captain Walter V. R. Vieweg, USN, Commanding Officer
Memorial Service and Monument Dedication
A formal dedication ceremony was held at 10:00 AM on October 24, 1996 at Fort Rosecrans National Cemetery, Point Loma, San Diego, California to honor the 137 men who gave their lives for freedom.