MEN LOST IN ACTION
FROM THE CVE/DD/DE's OF TAFFY III
USS DENNIS (DE 405)
USS HEERMANN (DD 532)
USS WHITE PLAINS (CVE 66)
USS KALININ BAY (CVE 68)
USS FANSHAW BAY (CVE 70)
USS KITKUN BAY (CVE 71)
COMPOSITE SQUADRONS
VC-3, VC-4 VC-5, VC-66, VC-68, VC-91, & VOC-2
MEMORIAL MONUMENT
IN MEMORY OF THE MEN LOST IN ACTION
DURING THE BATTLE OF LEYTE GULF
FROM THE SHIPS AND SQUADRONS OF
TASK FORCE 77.4.3 KNOWN AS "TAFFY 3"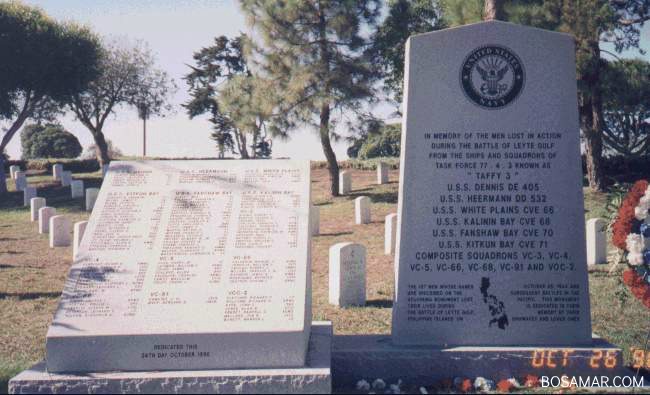 The 107 men whose names
are inscribed on the
adjoining monument lost
their lives during
the Battle of Leyte Gulf,
Philippine Islands on
October 25, 1944 and
subsequent battles in the
Pacific. This monument
is dedicated in their
memory by their
shipmates and loved ones.
At 11:30 AM on October 24, 1996, the "Men Lost in Action of Taffy 3" Memorial Monument was dedicated at Fort Rosecrans National Cemetery, Point Loma, San Diego, California. It is located just to the right of the DD/DE monument.