Captain
DENNIS JOSEPH SULLIVAN
U.S. Navy
Commanding Officer
USS WHITE PLAINS (CVE 66)

NAVY CROSS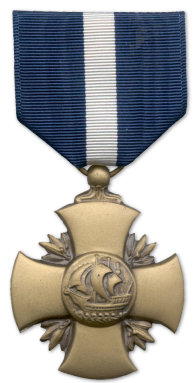 THE SECRETARY OF THE NAVY
Washington

The President of the United States takes pride in
Presenting the NAVY CROSS to
DENNIS JOSEPH SULLIVAN, CAPTAIN
UNITED STATES NAVY
for service as set forth in the following
CITATION:
"For extraordinary heroism as Commanding Officer of the U.S.S. WHITE PLAINS during a strike against major units of the enemy Japanese Fleet, in the Battle off Samar Island, October 25, 1944. When a formidable column of Japanese battleships, cruisers, and destroyers attacked our small Task Unit of Escort Carriers, Captain Sullivan skillfully maneuvered his ship to avoid crippling blows from the constant, three hour bambardment, and successfully brought the WHITE PLAINS through this history making battle, there-by contributing essentially to the eventual rout of this powerful Japanese force. His leadership, skilled tactics and devotion to duty were in keeping with the highest traditions of the United States Naval Service."
For the President,
/s/ James Forrestal
Secretary of the Navy
Contributed by Captain Sullivan's great-niece.