Commanding Officer
USS GAMBIER BAY (CVE 73)

U.S. Navy photograph
Captain Walter Victor Rudolph 'Bowser' Vieweg, U.S. Navy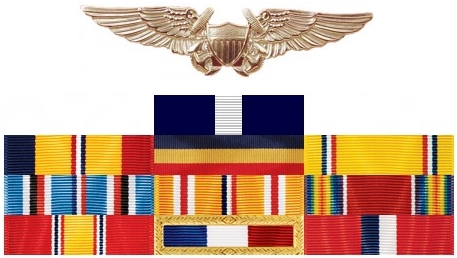 Navy Cross
Combat Action Ribbon
Presidential Unit Citation
American Defense Service Medal
American Campaign Medal
Asiatic-Pacific Campaign Medal
World War II Victory Medal
National Defense Service Medal
Philippine Presidential Unit Citation
Philippine Liberation Medal
Award Criteria
| | | |
| --- | --- | --- |
| RANK | DATES | DUTY STATION/EVENT |
| - | 1902 | Born in Buffalo, New York |
| MIDN | 1924 | U.S. Naval Academy |
| ENS | - | Battleship and Destroyers |
| LTJG | 1926 | Student at Naval Air Station, Pensacola, Florida |
| LTJG | 1929 - 1932 | Aviation Ordnance Engineering Post-Graduate Course |
| LT | 1930 | Married Anne Reinken |
| LCDR | 1933 | Assistant Gunnery Officer, Staff, Commander Aircraft Battle Force |
| CDR | 1938 | Commander VF Squadron 6, USS ENTERPRISE (CV-6) |
| CDR | 1939 | Chief of Staff, Patrol Wing One, San Diego, California |
| CDR | 1940 - 1941 | Commander VP Squadron 56, Norfolk, Virginia |
| CAPT | 1941 - 1943 | Head, Aviation Ordnance Section, Bureau of Ordnance, Washington, DC |
| CAPT | 1943 | CO, USS CHANDELEUR (AV 10) |
| CAPT | 1944 | Chief of Staff, COMCARDIV FIVE |
| CAPT | 1944 | CO, USS GAMBIER BAY (CVE 73) |
| CAPT | 1945 | Senior Member, Guided Missile Test Site Selection Board |
| CAPT | 1945 - 1946 | CO, USS COMMENCEMENT BAY (CVE 105) |
| CAPT | 1946 - 1948 | CO, Naval Auxiliary Air Station & Naval Aviation Ordnance Test Station, Chincoteague, Virginia |
| CAPT | 1949 | CO, USS KEARSARAGE (CV 33) |
| CAPT | 1949 - 1952 | CO, Naval Ordnance Test Station, Inyokern, China Lake, CA |
| CAPT | 1952 - 1954 | Commander, Fleet Air, Hawaii |
| RADM | 1954 | Retired from Service |
| - | 1960 | Died |

Short biography of
Rear Admiral Walter Victor Rudolph Vieweg, U.S. Navy

Walter Victor Rudolph Vieweg was born on September 19, 1902 in Buffalo, New York. He graduated from high school in Elmira, New York.
Subsequent to graduation from the U.S. Naval Academy and prior to World War II, he served normal tours ashore and afloat as a Naval officer in the ranks of Ensign to Commander inclusive. Duty afloat included battleship and destroyers immediately after graduation. Subsequent assignments included Flight Training at Pensacola (designated Naval Aviator in 1926), and a three year Aviation Ordnance Engineering Post-graduate Course in 1929-1932.
Fleet Aircraft Squadron duties in Observation, Multi-engine patrol type aircraft and carrier based Torpedo Bomber, Attack and Fighter types. Duties in various squadrons included Executive, Operations, Maintenance, Navigation, Communications, and Gunnery Officer.
Served as Assistant Gunnery Officer on Staff, Commander Aircraft Battle Force in 1933.
Commanded VF Squadron 6 on ENTERPRISE (CV-6) in 1938.
Served as Chief Staff Officer, Patrol Wing One, San Diego, California operating Multi-engine seaplanes in 1939.
Commanded VP Squadron 56 (operated PBM-1 type seaplanes) from 1940 to 1941 based at Norfolk, Virginia. Operated between Argentia, Newfoundland and Banana River, Florida.
From 1941 to 1943 he served in Washington DC as Chief of the Aviation Ordnance Section, Bureau of Ordnance. He assisted with the development of a system for determining the armament requirements for all Naval Aircraft and for affecting the initial distribution of and installation of aviation ordnance equipment such as aircraft guns, aviation fire control, bomb racks, and pyrotechnic projectors. An automatic replenishment system for the aviation ordnance equipment was established. He oversaw base maintenance facilities for the preservation, maintenance and overhauling of all armament and weapons for aircraft including torpedoes, bombs and depth charges and similar devices were established, outfitted, and manned on a world-wide basis.
In 1943 he served as the Commanding Officer of the seaplane tender USS CHANDELEUR (AV 10) where he operated in combat zones in the South Pacific functioning as a seaplane tender in the Solomon Islands area.
In 1944 he served as the Chief of Staff for Commander Carrier Division FIVE, embarked in the Fleet Carrier HORNET (CV- ). He served as part of Task Force 58 under the command of Admiral Mitcher and participated in the early Bonin and Palau raids and in the invasion of the Marianas and the invasion of Hollandia.
On 19 August 1944 he was reassigned as the second Commanding Officer of USS GAMBIER BAY (CVE 73). At that time the ship was anchored in Segond Channel, Espiritu Santo, New Hebrides Island. Captain Vieweg's first combat on GAMBIER BAY was during the Palau Operation where no Japanese air or surface attacks reached the ship and no aircraft were lost operationally or to enemy action.
In late October 1944 GAMBIER BAY was operating in Rear Admiral Ralph Ofstie's COMCARDIV 26 with KITKUN BAY. At Leyte Gulf they joined Rear Admiral Clifton Sprague's Task Unit 77.4.3 (Taffy III). On the morning of 25 October the Task Unit came under fire from the IJN Centre Force. Without waiting for instructions Captain Vieweg commenced launching all aircraft. Soon thereafter the Task Unit ran into a rain squall and turned south to flee the Japanese forces. At 0800 Admiral Sprague ordered a course change from south to southwest. This single maneuver placed GAMBIER BAY on the exposed port flank of the Task Unit. By 0810 the Japanese set her aft flight deck ablaze. Ten minutes later a shell opened a hole in her forward engine room and GAMBIER BAY fell behind the CVE's of the Task Unit. From that point on she took hits about every other minute and capsized to port and sank at 0907. GAMBIER BAY was the only U.S. carrier sunk by naval gunfire in World War 2. For his actions at Samar Captain Vieweg was awarded the Navy Cross.
Following the loss of GAMBIER BAY Captain Vieweg was assigned as Senior Member of the Board for the Investigation of Sites for a Naval Air Special Missile Center. He and his team determined the requirements for the center and conducted a comprehensive survey of all potential sites with the continental limits of the U.S. and Caribbean area. The board visited the potential sites and acquired a board general knowledge of various types of guided missiles.
Assigned as Commanding Officer of USS COMMENCEMENT BAY (CVE 105) in 1945 the ship was operated primarily in Puget Sound waters and on the West Coast and between the West Coast and Hawaii. The ship, being the first of its class, was used to train the crews of her sister ships which were being built and commissioned, manned and immediately deployed to combat duty at the rate of about one per month.
After the war he was assigned as the Commanding Officer of Naval Auxiliary Air Station and Naval Aviation Ordnance Test Station, Chincoteague, Virginia where he served through 1948. During his tenure, the necessary support facilities for both commands were successfully integrated and augmented by new construction. A missile and bomb tracking range was laid out, instrumented, manned and placed in operation. Two Fleet Aircraft Squadrons operated pilotless aircraft, one a utility squadron provided target drones for the Fleet and the other VX-2, provided services for special development tests. The Ordnance Station conducted range firing tests of aviation ordnance and guided missiles including REGULUS, PETROL, KINGFISHER, DOVE, and METEOR.
In 1949 Captain Vieweg was assigned as the Commanding Officer of the large ESSEX Class carrier KEARSARAGE (CV 33). He participated in several Fleet exercises and conducted a number of independent Air Group training operations. Operating primarily off the Atlantic Coast and in the Caribbean Sea to the South and as far North as Halifax.
By fall of 1949 he was reassigned to Naval Ordnance Test Station, China Lake, California where he served as Commanding Officer from September 23, 1949 to October 31, 1952. He exercised broad overall coordination and direction of this stations many facets of research, development, testing, and limited production of weapons. Specific projects during he tenure were 1) final development and initiation of large scale production of MIGHTY MOUSE rocket, 2) development test of TERRIER guided missile, 3) emergency development and production of ATAR (shaped charge) rocket for use during the Korean War, 4) SIDEWINDER air-to-air (homing) missile, 5) Anti-submarine warfare weapon "Able", and 6) development and pilot/lot production of important components of Atomic Weapons systems of higher security classification.
Captain Vieweg's final duty station was as Commander, Fleet Air, Hawaii from 1953 to 1954. His duties included exercising command supervision of all Fleet Air Units regularly based in Hawaii consisting of Fleet Air Wing TWO, Airborne Early Warning Squadron ONE, Utility Squadron ONE, Fleet All Weather Training Unit, Pacific, and Fleet Aircraft Service Squadron 117.
Upon his retirement in 1954 he was promoted to the rank of Rear Admiral.
Rear Admiral Vieweg died of nephritis (inflamation of the kidney) due to hypercalcimia (calcium in the blood that is above normal) caused by cancer of the parathyroid gland in 1960.
Source: Robert Jon Cox independent research, a lengthy resume circa 1954 (from Tony Potochniak, GAMBIER BAY Historian), USS Gambier Bay (CVE 73) and Composite Squadron VC-10 Association, Arlington National Cemetery website, Dictionary of American Naval Fighting Ships, and the Admirals' Grand Daughter, Gretchen Quinones-Vieweg.