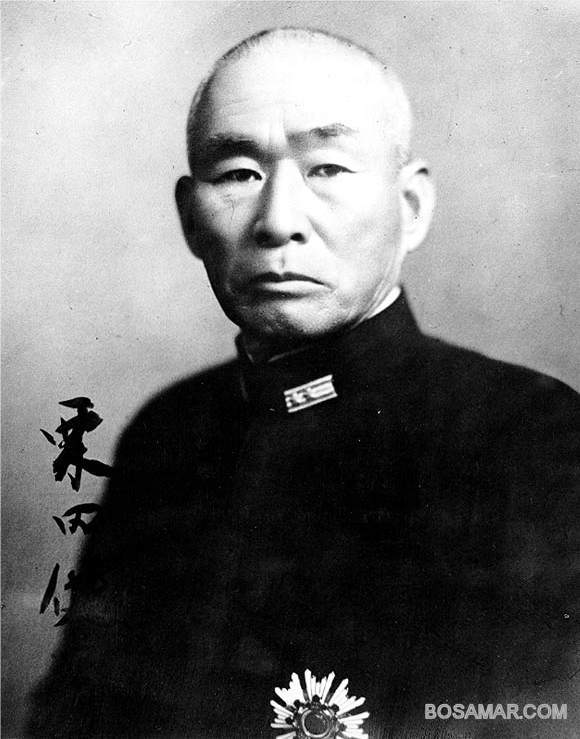 U.S. Archives photograph
"Opponent at Samar"
October 25, 1944

Vice Admiral
Takeo Kurita
Imperial Japanese Navy

First Strike Force "A" and "B"
later designated as Centre Force
"BY HEAVEN-SENT OPPORTUNITY WE ARE
DASHING TO ATTACK THE ENEMY CARRIERS"
Radio communiqué between VADM Takeo Kurita, IJN
and the Imperial GHQ upon issuing the order
"General Attack" against Taffy III
Composition of First Strike Force "A" & "B",
later known as Centre Force
The formidable First Strike Force "A" and "B," was comprised of thirty-two front-line warships. From their training location near Singapore, these two groups transited together to the Philippine Sea via the Sibuyan Sea and San Bernardino Strait.
Admiral Toyoda, Commander of the Combined Fleet, placed his trust in seasoned warrior VADM Takeo Kurita to command First Strike Force. Under his experienced guidance, First Strike Force was to lead the Japanese Navy back on the road to victory during the Battle of Leyte Gulf. He had under his command five battleships in two divisions:
Battleship Divisions One and Three
• Battleship Division One's YAMATO and MUSASHI, 71,000 ton giants, with nine 18.1-inch, 45 caliber guns apiece, were the center pieces of First Strike Force. Recognized as the largest and most powerful battleships in the world, their 150,000 shaft-horse-power could propel them through the water at a speed of 27 knots.
• Their division mate NAGATO, 43,581 tons, had eight 16-inch, 45 caliber guns, and a top speed of nearly 25 knots. Although she was over twenty years old, she was fully capable of causing mass destruction if let loose among the American transports in Leyte Gulf.
• Slightly smaller were Battleship Division Three's 32,000 ton KONGŌ and HARUNA, each carrying eight 14-inch, 45 caliber guns. They were the most Japanese looking battleships in the fleet, sporting the oriental-style pagoda masts, from which the battlebridge and lookout posts were situated. Laid down in 1911 and 1912 respectively, they were both rebuilt twice and each carried an impressive secondary armament of fourteen 6-inch, 50 calibre guns, later reduced to eight. This reconstruction added an additional 4,000 tons to their overall weight. Both were capable of speeds approaching 30 knots.
Cruiser Divisions Five and Seven
Though the Americans held the advantage in the total number of ships during the Battle of Leyte Gulf, the Japanese advantage was in their well-seasoned group of heavy cruisers. Cruiser Division's Five and Seven, all veterans of the Pacific war, consisted of ten front-line warships. They constituted the fastest striking power of First Strike Force, each of these magnificent ships weighing in at 13,000 to nearly 15,000 tons. Coupled with their capable speeds well in excess of 30 knots, their main armament of eight to ten 203mm, 8-inch guns had destroyed many American warships through the Pacific war:
• NACHI Class heavy cruisers MYŌKŌ and HAGURO displaced 14,980 tons, both being built between 1924 and 1929. Modernized from 1939 to 1941 they carried ten 8-inch, 50 caliber guns, eight, 127mm (5-inch), 40 caliber DP guns, AA guns, torpedoes, and 3 aircraft.
• ATAGO Class heavy cruisers TAKAO, ATAGO, MAYA, and CHŌKAI were the backbone of the fleet. They were a modified MYŌKŌ design, completed in 1932 and modernized in 1938/1939/1941. Originally displacing 12,986 tons, after modernization they weighed 15,781 tons fully loaded. Each ship carried ten 8-inch, 203mm, 50 caliber guns placed in five turrets in a three-forward low-high-low, two-aft, high-low configuration. This class was known for its impressive, almost battleship-like, large bridge structure.
• The MOGAMI Class heavy cruisers SUZUYA and KUMANO were the last two ships built in their class, both completed on October 31, 1937. Weighing in at 13,887 tons they were capable of sustained cruising at 35 knots. Originally armed with only torpedo tubes, in 1939/1940 they were rearmed as heavy cruisers with ten 8-inch, 203mm, 50 caliber guns, significantly increasing their firepower.
• TONE Class cruisers TONE and CHIKUMA were designed originally as MOGAMI Class light cruisers. Each had eight 8-inch, 203mm, 50 caliber guns in four turrets forward in a low, high, low, low configuration. Aft, they were able to accomodate five aircraft, as they were designated as floatplane-carriers, intended to operate with carrier task forces, providing long-range air scouting.
Destroyer Squadrons Two and Ten
Destroyer Squadron's Two and Ten, each led by one light cruiser, boasted 15 capable destroyers, all armed with the dreaded long-lance torpedo.
• AGANO Class light cruisers NOSHIRO and YAHAGI were both completed in 1943 and were armed with six 6-inch, 50 caliber guns. Secondary armament consisted of AA batteries, torpedo tubes, and two floatplanes.
Destroyer Squadron Ten
• Five KAGERŌ Class destroyers URAKAZE, ISOKAZE, YUKIKAZE, HAMAKAZE, were all completed in 1940, except NOWAKI, completed in 1941. They displaced 2,490 tons and at the time of Leyte Gulf each carried four 5-inch, 50 caliber DP guns, fourteen 25mm AA guns, 36 depth charges, and four 13mm machine guns. Their most potent weapon were their eight 24-inch torpedo tubes.
Destroyer Squadron Two boasted nine destroyers of the YŪGUMO Class.
• These included NAGANAMI, FUJINAMI, KISHINAMI, OKINAMI, HAMANAMI, ASASHIMO, KIYOSHIMO, HAYASHIMO, and AKISHIMO. These were possibly the best destroyers remaining in the fleet and could maintain 35 knots. Their standard armament was two 5-inch, 50 caliber DP guns, two 5-inch, 40 caliber guns, twelve 25mm AA guns, eight 24-inch torpedo tubes, and 36 depth charges.
• DESRON Two's remaining destroyer was of the one-of-a-kind SHIMAKAZE, sole ship of her Class. She was armed to the teeth with six 5-inch, 50 caliber guns, 28 25mm AA guns, 4 13mm machine guns, 18 depth charges, and fifteen 24-inch torpedo tubes.
Centre Force leaves Brunei Bay, Borneo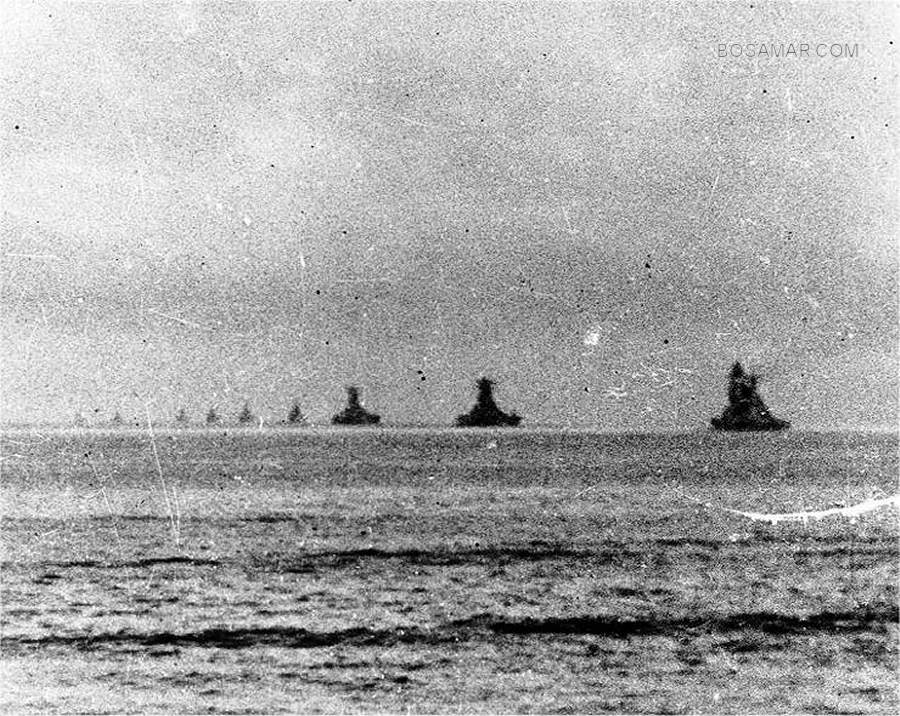 Courtesy of Lieutenant Tobei Shiraishi and the Naval Historical Center Online Library
The Japanese "Centre Force" leaves Brunei Bay, Borneo,
on 22 October 1944, en route to the Philippines.
Ships are, from right to left: battleships Nagato, Musashi and Yamato;
heavy cruisers Maya, Chōkai, Takao, Atago, Haguro and Myōkō.
Composition of Centre Force at time of their attack on Taffy III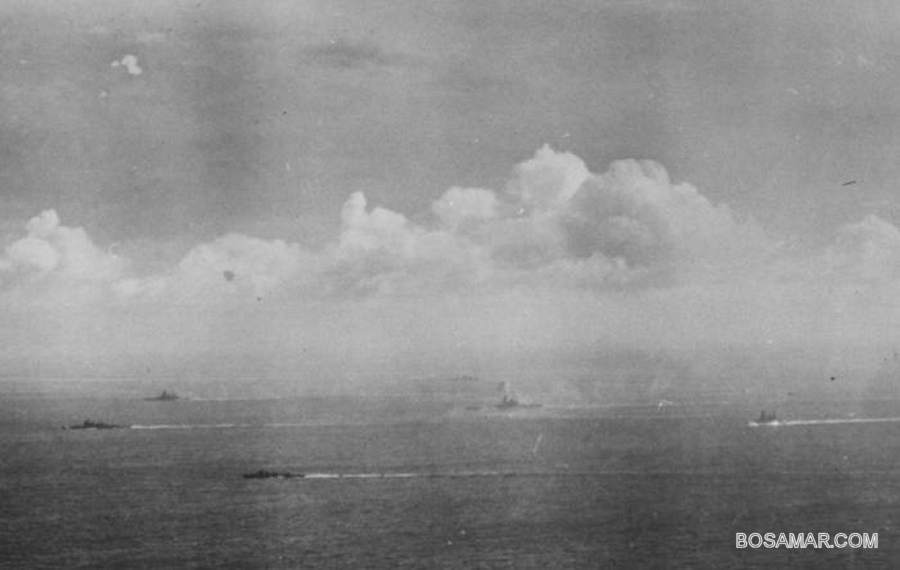 U.S. Navy Photograph

from the personal collection of Mike McKenna
SEA VICTORY: SECOND BATTLE OF PHILIPPINES
"Part of the Japanese fleet which participated in the Second Battle of the Philippines is photographed from a U.S. Navy plane as it sweeps to the attack off Samar. The Third Fleet, under Admiral William F. Halsey, USN, and the Seventh Fleet, under Vice Admiral Thomas C. Kinkaid, USN, anticipated the Jap attack and dealt the three-pronged Jap armada a crushing blow."
Contemporaneous U.S. Navy caption
This 'one of a kind' photograph shows the main body of VADM Kurita's Centre Force, as seen by Taffy III aircraft from SAINT LO's Composite Squadron VC-65. The world's largest battleship YAMATO is at center, flanked by battleships NAGATO and KONGŌ. Several other unidentified vessels screen the capital ships.
The contemporaneous U.S. Navy caption above would leave the reader to believe that Admirals Halsey and Kinkaid were acting in unison and had complete control over the situation off Samar. The fact is both were caught off guard and the Leyte invasion was saved by the quick acting RADM Clifton Sprague and the warships and composite squadrons of Taffy III and Taffy II. What occurred off the island of Samar was nothing less than a tragedy and a miracle.
The Imperial Japanese Navy Centre Force




early morning, 25 October 1944

Battleship Division One
Battleship Division Three
HIJMS YAMATO
HIJMS KONGŌ
HIJMS NAGATO
HIJMS HARUNA
Cruiser Division Five
Cruiser Division Seven
HIJMS HAGURO
HIJMS KUMANO
HIJMS CHŌKAI
HIJMS SUZUYA
HIJMS TONE
HIJMS CHIKUMA
Destroyer Squadron Two
Destroyer Squadron Ten
HIJMS NOSHIRO (light cruiser)
HIJMS YAHAGI (light cruiser)
HIJMS FUJINAMI
HIJMS URAKAZE
HIJMS KISHINAMI
HIJMS ISOKAZE
HIJMS OKINAMI
HIJMS YUKIKAZE
HIJMS HAMANAMI
HIJMS NOWAKI
HIJMS HAYASHIMO
HIJMS AKISHIMO
HIJMS SHIMAKAZE