CURRENT NEWS
General updates last updated on February 28, 2017. See What's New (General).
Online Book updates last updated on July 12, 2012. See What's New (Online Book).
Registered users (free) on BOSAMAR.COM have access to Action Reports and Crew Lists. As a token of my appreciation Registered Users may also download a PDF copy of the 5th edition of my book, "The Battle Off Samar - Taffy III at Leyte Gulf".

BOSAMAR.COM is now on Facebook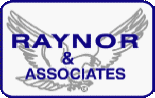 Logo Printing
and Custom Promotional,
Advertising Items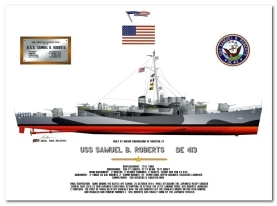 Copyright © 2011 by USMilitaryArt.com
USS Samuel B. Roberts (DE 413)
Commemorative Profile Drawing
by George Bieda
---
---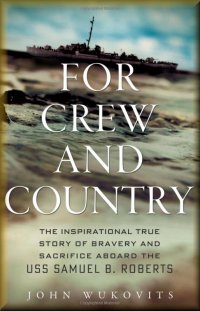 Rating:


John Wukovits' new book about the
USS SAMUEL B. ROBERTS (DE 413)
---
Added a glossary (opens in new window).
---
Updated the Biographies section. There are now seven bios Under Development. Some are missing photographs and all have missing data. Please help:
TOP FEATURES

Rear Admiral Clifton "Ziggy" Sprague, USN was the OTC of Task Unit 77.4.3, radio call sign "Taffy III". As a result of his leadership off Samar his six escort carriers, three destroyers, and four destroyer escorts saved the day at Leyte Gulf. Taffy III was one of three task units assigned to Task Group 77.4.
---
Vice Admiral Takeo Kurita, IJN was the commander of the IJN Centre Force at Samar. His force was comprised of four battleships, six heavy cruisers, two light cruisers, and eleven destroyers.
---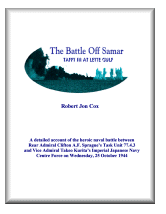 If reading about the battle in detail is your passion then go directly to my online eBook, "The Battle Off Samar - Taffy III at Leyte Gulf". This eBook is unique in that the entire action is depicted in time-line order with commentary by the author. It is continuously updated.
---

The Combat Action Photo section is a great place to get a feel for the battle. There are currently 35 photographs of the surface action that occurred on the morning of 25 October 1944 between Admiral Ziggy Sprague's Taffy III and Admiral Kurita's IJN Centre Force.
---

Less then two hours after the surface action concluded the surviving warships of Taffy III were set upon by Kamikaze aircraft. The Kamikaze Strike Photograph section contains several photographs of this action.
---

Aircraft from the embarked composite squadrons played a major role in repulsing the IJN Centre Force at Samar. The Composite Squadron section details the aircraft which fought in the Battle Off Samar.
---

Several fine monuments have been constructed to pay tribute to the men of Taffy III. The Monuments sections contains photographs and information on these perpetual memorials dedicated to the men who fought and died for our freedom.
---

The IJN Warship section contains photographs and warship characteristics included in the back of my book. All warships of the IJN Centre Force are in this section.
---

There are many historical photographs relating to Taffy III located in the Archive Photo Section. These photos are dated before and after the Battle Off Samar. This section also contains photographs of the CVEs from the other Taffy units.
---

A wide variety of articles, reports, and documents can be found in the Articles, Reports & Documents section. Many are official Navy records and some are from personal collections obtained from family members.
---

The men who fought in the Battle Off Samar earned a plethora of awards. Find out who was awarded the Medal of Honor and other awards in the Task Unit 77.4.3 Awards section.
---

The Special Features section contains an assortment of interesting finds. A 1/48 scale model of GAMBIER BAY, paintings, a Leyte Gulf board game, and audio files from "Treasury Salutes" CDR Ernest Evans.
S1c Virgil Cox, USNR
This web site and my book
are dedicated to the memory of
my great-uncle:
Virgil Cox
1922-1995

Seaman First Class, USNR
Plankowner, crewmember, and survivor
of the sinking of
USS GAMBIER BAY (CVE 73)
PLEASE CONTRIBUTE CONTENT
If you have newspaper or magazine articles, reports, documents, photographs, or links you would like to share please contact the webmaster. I am always looking for new content.
FORUMS
Please visit the Forums for discussions about the Battle Off Samar.
In order to comment on an existing thread or start a new thread you must register.
FIFTH EDITION OF MY BOOK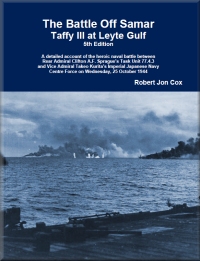 Now on sale. The 5th Edition of my book (2010), "The Battle Off Samar - Taffy III at Leyte Gulf" at Lulu.com.
Soft cover: 292 pages, 8.5" x 11", perfect binding, 60# white interior paper, black and white interior ink , 100# exterior paper, full-color exterior ink. $25.49 plus S&H.
Hardcover: 292 pages, 8.25" x 10.75", casewrap, 50# white interior paper, black and white interior ink , 100# exterior paper, full-color exterior ink. $32.49 plus S&H.
Electronic (.pdf): 292 pages in PDF format. Great for reading on your computer, laptop, or tablet. FREE for Registered users, immediate download.
See Purchase My Book section for more info.
PLEASE DONATE
Please donate to support this website. Any amount would be appreciated. $1, $5, $10....
When you use PayPal to pay online, you provide only your PayPal email address.
My mail address is here.
BOSAMAR.COM Will receive payment from PayPal without ever seeing your financial information.
Thank you for your support!
Webmaster Robert Jon Cox

Since I do this on my own, please report any errors or problems to the webmaster. I rely upon you, my viewers, to check my work. Thank you for your assistance!
I try to make BOSAMAR.COM as user-friendly as possible. Your comments and suggestions are always appreciated! Feel free to drop me a message. I can usually respond within 3 days or less.
If you would like more insight as to who I am check out, A note from the author, and my Navy Bio.
Last but not least, thank you for visiting my website! Honor the Missing in Action and Killed in Action of Taffy III.