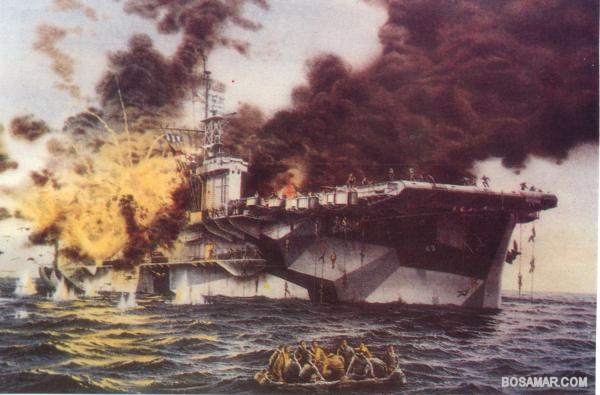 Copyright U.S.S. Saint Lo. CVE 63/VC65 Association
U.S.S. SAINT LO (CVE-63)
"THE END OF A FIGHTING SHIP"
by Richard C. Moore


The first U.S. naval vessel to be sunk by a kamikaze,
the SAINT LO is abandoned by her crew as her own
ammunition blows her apart.
Commissioned as the
U.S.S. MIDWAY, CVE 63 and a member of the thirteen-ship

task unit Taffy III, the SAINT LO was one of five ships in the
group sunk on the
same day in the Battle of Leyte Gulf
off the island of Samar in the Philippines,
October 25, 1944.

USED BY PERMISSION
In remembrance; Lost October 25, 1944
Lost in action, 126 men
Comments have been enabled on the bottom of the page