Commanding Officer
USS WHITE PLAINS (CVE 66)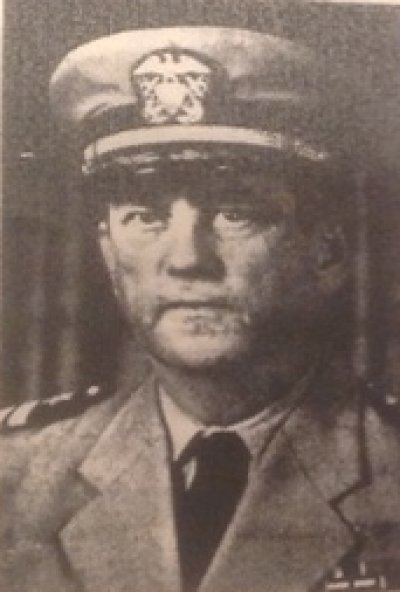 U.S. Navy photograph
Captain Dennis Joseph Sullivan, U.S. Navy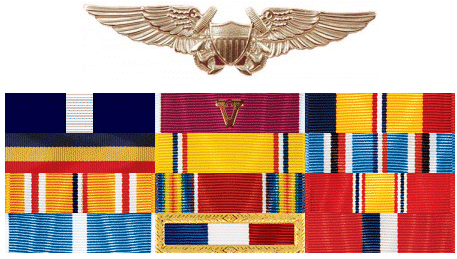 Navy Cross
Legion of Merit with Combat "V"
Combat Action Ribbon
Presidential Unit Citation
American Defense Service Medal
American Campaign Medal
Asiatic-Pacific Campaign Medal
World War II Victory Medal
National Defense Service Medal
Korean Service Medal
Philippine Presidential Unit Citation
Philippine Liberation Medal
Award Criteria
| | | |
| --- | --- | --- |
| RANK | DATES | DUTY STATION/EVENT |
| - | 1903 | Born in Butte, Montana |
| MIDN | 1926 | Graduated from U.S. Naval Academy |
| LTJG | 1930-1931 | Student at Naval Air Station, Pensacola, Florida |
| LT | | |
| LCDR | | |
| CDR | | |
| CAPT | 1944 | CO, USS WHITE PLAINS (CVE 66) w/TU 52.14.2 at Marinas |
| CAPT | 1944 | CO, USS WHITE PLAINS (CVE 66) w/TU 32.7.3 at Palau |
| CAPT | 1944 | CO, USS WHITE PLAINS (CVE 66) w/TU 77.4.3 at Samar |
| CAPT | 1945 | CO, USS WHITE PLAINS (CVE 66) w/Special CVE Group at Okinawa |
| CAPT | 1951-1952 | CO, USS BOXER (CV-21) w/TF 77 at Korea |
| CAPT | 1954-1956 | Chief of Staff, Continental Air Defense Command (CONAD) |
| RADM | 1956 | Retired from Naval Service |
| - | 1984 | Died at San Diego, California |



Short biography of




Captain Dennis Joseph Sullivan, U.S. Navy
Dennis Joseph Sullivan was born on September 26, 1903 in Butte, Montana. His hometown was Stevensville, Montana.
Graduated from the U.S. Naval Academy with the Class of 1926.
In 1930 he attended Naval Flight School at Naval Air Station Pensacola. On January 22, 1931 he was designed as Naval Aiviator #3776.
As Commanding Officer of USS WHITE PLAINS (CVE-66) he served with Task Unit 52.14.2 at the Marinas, Task Unit 32.7.3 at Palau, Task Unit 77.4.3 at Leyte Gulf where he was awarded the Navy Cross and Presidential Unit Citation, and Special CVE Group at Okinawa.
On August 10, 1951 he reported aboard USS BOXER (CV-21) which was off the east coast of Korea and a unit of Task Force 77. On the 17th he relieved as Commanding Officer. While in command of BOXER she participated in one of the larest raids on North Korea which earned all hands the Korea Service Medal for wartime duty off Korean coasts. The ship returned to her homeport in San Diego by Christmas 1951. In February 1952 BOXER participated in her third Korea war cruise during which time a fatal fire occured aboard. In June she participated in the Suiho, Yalu River power plants raid. For the period March 14 to August 1, 1952 he was awared the Legion of Merit with Combat "V". By August 1952 Captain Sullivan was off to his next duty station.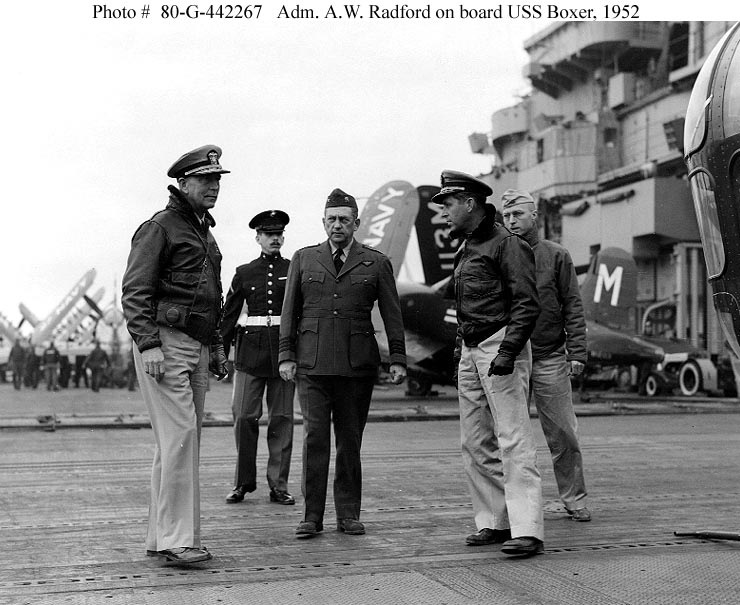 Captain Dennis J. Sullivan, BOXER's Commanding Officer (center)
On board USS Boxer (CV-21), during Admiral Radford's helicopter tour of ships operating off North Korea.
Also present is Commander James O'Grady. Photo is dated 28 April 1952.
Official U.S. Navy Photograph, now in the collections of the National Archives
He served as Chief of Staff for the newly formed Continental Air Defense Command (CONAD) from 1954 to 1956.
Upon his retirement on June 29, 1954 he was promoted to the rank of Rear Admiral.
He was married to Helen Desmond Gallagher of New York in March 1930. They had four children.
He died in San Diego on August 10, 1984.
Source: Robert Jon Cox independent research and Susan Sullivan, the Admirals granddaughter and his great niece.