Chapter 13
1200 to END
SURVIVORS' PLIGHT
Wednesday, October 25, 1944
through
Saturday, October 28, 1944
Time-Line, Events, & Comments

What makes this book unique is the use of a time-line for all events, all listed in chronological, time-line order. The events in Chapters 5 through 13 are listed in the order in which the author believes they occurred. Entries listed simply as "EVENT" are also placed in a chronological, time-line order and are closely related in time to the last numbered "time" event. Comments by the author associated with events are often listed also. Entries are displayed as follows:
| | |
| --- | --- |
| 0708 | A time-specific event, in the order in which the author believes they actually occurred. |
| EVENT | A specific event, closely related in time to the last numbered "time" event. |
| A/C | Author's Comment. A personal explanation of events by the author. |
EVENT The surviving escort carriers of Taffy III continue southward. Destroyer HEERMANN and destroyer escorts BUTLER, DENNIS, and RAYMOND are left behind to rescue the survivors of CVE ST LO. Nine hundred thirty-two men are rescued by the escorts.

A/C The speed of the four remaining screening ships of Taffy III was limited to about 15 knots, due to the damage HEERMANN sustained earlier that morning. After picking up ST LO's survivors, they sped back toward the escort carriers only to realize they would not catch up before darkness set in. Commander Hathaway, aboard HEERMANN, later directed BUTLER and RAYMOND to proceed ahead and catch up with the escort carriers before sunset.

1230 More aircraft from RADM Stump's Taffy II attack the remaining ships of Centre Force.

RESCUE SHIPS OF USS ST LO (CVE-63)

Rescue Ships

USS HEERMANN (DD-532)
USS BUTLER (DE-339)
USS DENNIS (DE-405)
USS RAYMOND (DE-341)

Total

Survivors

260
128
434
110

932

Several of the men listed above were from CVEs WHITE PLAINS and KALININ BAY composite squadrons VC-4 and VC-3.
1236 Harassed by Taffy II's effective air attacks, Centre Force reverses course once again and heads north for San Bernardino Strait and the Sibuyan Sea.
1314 More carrier-based U.S. aircraft are sighted by the lookout of Centre Force.
1322 Heavy cruiser HIJMS SUZUYA, which lingered in a damaged condition since early morning, is abandoned and sinks. The destroyer OKINAMI stands by, aids the survivors, and assists scuttling the heavy cruiser.
1323 Centre Force comes under air attack by the aircraft sighted nine minutes earlier. The aircraft harass the Japanese for about fifteen minutes causing minor damage to a few ships.
1350 Aboard DE DENNIS, rescue operations for the survivors of CVE ST LO are considered completed. In the company of DD HEERMANN and destroyer escorts RAYMOND and BUTLER, a search though the day's battle area for more survivors from the sunken ship's of the task unit is commenced.
1409 More U.S. aircraft arrive and continue to harass Centre Force.
1432 The crew of DE DENNIS secures from general quarters. War cruising condition Baker is set.
1500 Vice Admiral McCain's Task Group 38.1 launches another carrier strike consisting of twenty fighters, twenty bombers, and thirteen Avenger torpedo-bombers from the heavy carriers HORNET and HANCOCK. The IJN Centre Force escapes this attack without further damage.
1530 A raft with three men inside is sighted by DE DENNIS.
1540 Destroyer Escort DENNIS stops to pick up the three survivors.
1546 With the survivors onboard, DE DENNIS continues on base course 110° T, speed 10 knots.
1550 Continuing the search for survivors, DE DENNIS forms screen 53, USF 10A, position 3300, speed 15 knots, using DD HEERMANN as the guide. Destroyer Escorts RAYMOND and BUTLER assume their position within the search formation.
1600 Keeping pressure on the Japanese, another small air strike attacks Centre Force.
1622 Unable to speed southward fast enough, Task Force 34 is dissolved. Under the command of RADM Badger the fast battleships IOWA and NEW JERSEY, light cruisers BILOXI, VINCENNES, and MIAMI, and eight destroyers are redesignated as Task Force 34.5. They are ordered to speed ahead at 28 knots in an attempt to reach San Bernardino Strait before VADM Kurita's Centre Force. The remaining ships of the dissolved Task Force 34 are left behind with RADM Bogan's carriers.

A/C The battleships IOWA and NEW JERSEY were capable of sustained speeds approaching 33 knots, the other four battleships were capable of about 28 knots for short periods. Admiral Halsey decided to further divide his forces and sent the faster ships ahead in an attempt to catch VADM Kurita before his force entered San Bernardino Strait.

A/C Task Force 34.5, the force sent ahead to deal with the IJN Centre Force, was considered by many as less than adequate to deal effectively with the surviving Japanese force.

TASK FORCE 34.5
RADM Oscar C. Badger, II, USN

Battleships
USS IOWA (BB-61)
USS NEW JERSEY (BB-62)

Light Cruisers
USS BILOXI (CL-80)
USS VINCENNES (CL-64)
USS MIAMI (CL-89)

Destroyers
Eight ships
The IJN Centre Force still contained four battleships, two heavy cruisers, and several destroyers. Rear Admiral Badger's two battleships, three light cruisers, and eight destroyers would have their hands full if they caught up with Centre Force.
1625 Destroyer escorts BUTLER and RAYMOND are released by DD HEERMANN to catch up with the unescorted escort carriers of Taffy III before darkness sets in.

1640 The last U.S. air strike of the day arrives off Samar consisting of about 40 aircraft. The Japanese warships are able to evade serious damage but retire with the major of the capital ships trailing oil and battle-scared from the days fight off Samar.

1647 Continuing their search for survivors, DD HEERMANN with Destroyer Escorts DENNIS, RAYMOND, and BUTLER change course to 120° T, speed 15 knots.

1700 Destroyer HEERMANN with Destroyer Escorts DENNIS, RAYMOND, and BUTLER change course to 150° T.

LARGE GUN FORCE COMPARISON
Task Force 34.5 and the IJN Centre Force
Showdown at San Bernardino Strait

U.S. Task Force 34.5

2 Battleships 18 16-inch guns
3 Light Cruisers 27 6-inch guns

IJN Centre Force

1 Battleship 9 18.1-inch guns
1 Battleship 8 16-inch guns
2 Battleships 16 14-inch guns
2 Heavy Cruisers 18 8-inch guns
1700 In compliance from orders from Commander LCI(L) Flotillas, rescue vessels anchored near Dio Island, San Pedro Bay, Leyte Gulf, from alongside the landing craft repair ship USS ACHILLES (ARL-41) prepare to get underway. Task Group 78.12 consisting of USS PC-623 (flagship), USS PC-1119, USS LCI(L) 34, 71, 337, 340 and 341 are ordered to search the battle area surrounding Latitude 11°-15' North to Longitude 126°-30' East. Lieutenant Commander J.A. Baxter, USNR in PC-623 as Task Group Commander. After embarking a Medical Officer, LTJG Lucas, and one Corpsman, PHM1 Wattengel, the rescue vessels depart Leyte Gulf en route to the reported battle area.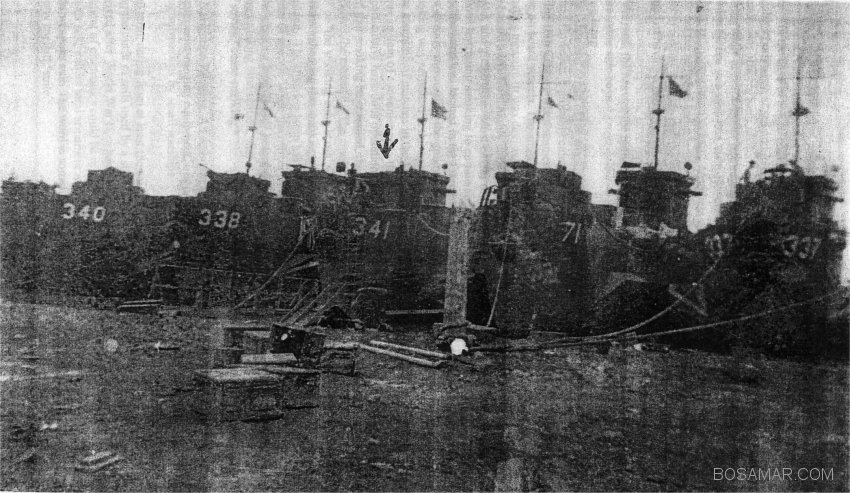 U.S. Navy Photograph
Four of the five Task Group 78.12 Landing Craft Infantry (Large) on the beach in the Philippines
1705 Destroyer Escorts BUTLER and RAYMOND are ordered by OTC in DD HEERMANN to leave the formation and proceed independently to the location of the remaining escort carriers of Task Unit 77.4.3.

1727 Vice Admiral Kurita informs ADM Toyoda he is heading for San Bernardino Strait. The remnant vessels of Centre Force head for the strait at 24 knots with the stragglers following at best speed.

1810 Destroyer HEERMANN and DE DENNIS change course to 120° T.

1921 Flooding in the forward compartment of DE DENNIS is brought under control.

1925 Vice Admiral Kurita receives a dispatch from ADM Toyoda:

RESCUE SHIPS OF TASK GROUP 78.12
LCDR J. A . Baxter, USNR

Rescue Ships

USS PC-623 (flagship)
USS PC-1119
LCI-34
LCI-71
LCI-337
LCI-340
LCI-341

Survivors

260
183
115
175
85
245
90

Total men rescued 1,153
"IF THERE IS AN OPPORTUNITY TO DO SO, THE FIRST DIVERSION ATTACK FORCE WILL CONTACT AND DESTROY WHAT IS LEFT OF THE ENEMY TONIGHT. THE OTHER FORCES WILL COORDINATE THEIR ACTION WITH THE ABOVE. IF THERE IS NO CHANCE OF ENGAGING THE ENEMY IN NIGHT BATTLE TONIGHT, THE MAIN BODY OF THE MOBILE FLEET AND THE FIRST DIVERSION ATTACK FORCE WILL PROCEED TO THEIR REFUELING POINTS AS ORDERED BY THEIR RESPECTIVE COMMANDERS."
A/C This dispatch was sent based upon the exaggerated battle reports sent by VADM Kurita earlier. At this point Centre Force had no stomach for further battle and proceeding towards San Bernardino Strait and retirement.

1938 As the surviving escort carriers of Taffy III continue southward a single contact is observed closing the task unit from the quarter. Unable to identify the contact a request is made to CTU 77.4.1 to provide screening ships.

1949 Destroyer HEERMANN and DE DENNIS change course to 082° T.

2000 Seventh Fleet destroyers SPROSTON, HALE, and PICKING, dispatched by VADM Kinkaid, join up with the screenless escort carriers of Taffy III.

A/C In regard to the escort carriers steaming ahead alone for several hours, RADM Sprague later commented, "...we had been through so much by then, that it didn't seem to matter whether we had escorts with us or not...."

2000 Rescue ships of Task Group 78.12 are at Latitude 10°-11' North to Longitude 127°-24' East.

Dick Grattidge
Crewmember
Rescue Ship LCI(L)-337

"Off and on all day I was in the harness of #3 20mm gun shooting at Jap planes. When we weren't at GQ our ship was fighting fires on burning ships and transferring the wounded to hospital ships. Somehow our steering had gone out from the wheelhouse, so when we got our orders to go on the rescue mission, I was assigned to the aft steering compartment to steer the ship manually.

Once we started picking up survivors (from GAMBIER BAY) I got relieved from steering. I went to the bow and threw a hand line to those in the water and helped bring them up over the side by the deck house. With our spot light on the men in the water we could see sharks amongst the guys as we were pulling them out as fast as we could.

On our way back to port with 172-176 survivors from GAMBIER BAY I saw a man sitting against the aft deck house with white bones showing in his elbow of his right arm. I went to the forward crews compartment to see if there was a bunk for him. Every bunk was taken by the more seriously wounded and our pharmacist mate and some of the crew were giving morphine shots and bandaging men."
2050 Three "borrowed" destroyers assigned to TU 77.4.3 closely approach the unidentified contact when it disappears. One destroyer reports sighting the conning tower of a submarine and attacks with depth charges without results.
2130 The surviving warships of Centre Force begin the passage of San Bernardino Strait.
A/C Vice Admiral Kurita knew his force would come under heavy U.S. air attacks the following day as his force withdrew westward. He therefore sent his shore-based air commanders the following dispatch:
"IN VIEW OF THE ONE-SIDEDNESS OF THE DECISIVE ACTION CARRIED OUT TODAY, THE 25TH, THERE IS MUCH LIKELIHOOD OF THE ENEMY'S ATTEMPTING TO CARRY OUT REVENGE ATTACKS AGAINST US WITH THE ENTIRE STRENGTH OF THE REMAINDER OF HIS TASK FORCE. IT IS PROBABLE THAT CONTACT WOULD BE MADE IN THE VICINITY TO THE EAST OR NORTH OF LEGASPI ON THE 26TH. WE ARE OF THE OPINION THAT THE SITUATION MAY OFFER EXCELLENT OPPORTUNITY FOR THE SHORE-BASED AIR FORCE UNITS TO STRIKE THE FIRST BLOW AGAINST THE ENEMY AND GAIN CONTROL OF THE AIR."
2140 A night scout plane from CVL INDEPENDENCE reports that the ships of Centre Force are entering San Bernardino Strait in single column. The DD NOWAKI, left behind to aid the sinking CA CHIKUMA to take off her crew, is also sighted.

A/C When Centre Force entered San Bernardino Strait once again unopposed, the door slammed shut on what would have been ADM Halsey's chance to fight it out with his new, fast-battleships. Another interesting "what if" question arises. Would NEW JERSEY and IOWA have been able to deal with Centre Force? What would have been the greatest battleship-to-battleship match-up in the history of the world would never happen, i.e. Japan's monstrous YAMATO versus the American IOWA's.

CTU 77.4.32/COMCARDIV 26 Action Report
RADM Ralph A. Ofstie, USN
in USS KITKUN BAY (CVE-71)

What remained of Task Unit 77.4.3 - FANSHAW, WHITE PLAINS, KALININ and KITKUN retired south and southeast throughout the afternoon, recovering aircraft as practicable, and headed for an evening rendezvous that had been arranged with TU 77.4.1. This latter unit was within TBS range when at 1938 a single skunk was observed closing the formation from the quarter. Identification proving impossible, request was made to CTU 77.4.1 for screening ships to investigate the contact. At 2050 three destroyers assigned to this task were closely approaching the contact when it disappeared. One DD reported sighitng a conning tower and attacking with depth charges after which contact was not again made.

Enemy snoopers were overhead during the early part of the night and one was shot down by the destroyers investigating the previously mentioned contact. No attack on this unit developed, however, and without further incident the four CVE's accompanied by a "borrowed" screen departed Leyte area.
EVENT Unable to cover San Bernardino Strait in time to attack Centre Force, Task Force 34.5 dispatches the light cruisers BILOXI, MIAMI, and VINCENNES, and destroyers MILLER, OWEN, and LEWIS HANCOCK to attack the straggler DD NOWAKI.
Thursday, October 26, 1944

0054 Light cruisers BILOXI, MIAMI, VINCENNES open fire on DD NOWAKI and set her ablaze. She quickly slows to 13 knots.
0103 Dead in the water, DD NOWAKI is finished off by the destroyers.
A/C Destroyer NOWAKI had many more men aboard her than her usual compliment when she was sunk. She spent the better part of the day picking up survivors from the disabled heavy cruiser CHIKUMA. The ordeal faced by the survivors of CHIKUMA was most unfortunate.
0600 Task Group 78.12 assums formation for searching for survivors. The plan was to serach 35 miles north of point and after consulting pilot chart the search was conducted to westward as moderate NE wind and current direction indicated drift of survivors would be to Southwest and West.
A/C The rescue ships arrived at the designated area shortly before sunrise on Thursday, October 26. LCI's 340 and 341 were unable to make 10 knots and fell behind the Patrol Craft.
0800 Rescue ships of Task Group 78.12 are at position Latitude 11°-10' North to Longitude 126°-20' East.
0830 Rescue ship on right flank of formation passes through reference point.
1200 Rescue ships of Task Group 78.12 are at position Latitude 11°-42' North to Longitude 126°-25' East.
1200 The line of rescue ships is shifted west and a southerly sweep is begun.
1600 An aircraft is visually sighted by the rescue ships circling a heavy oil slick. The ships investigate with no results.
1640 A PBY Catalina search plane is sighted circling a second heavy oil slick. The rescue ships search this area in a radius of 2 miles. Numerous articles are sighted bearing Japanese markings. At Latitude 11°-16' North to Longitude 126°-08' East a lone Japanese survivor who was sitting on a floating box is picked up by LCI(L)-340. No other survivors are found. The POW is subsequently turned over to CTF 78 at 0430 on October 28th.
1900 The rescue search is shifted to the westward.
2000 Rescue ships of Task Group 78.12 are at position Latitude 11°-10' North to Longitude 125°-57' East.
2009 The rescue search assums a northerly course with intentions to shift west and sweep back southward at midnight.
2229 Red, green, and white flares are observed bearing 225° T and 270° T from position Latitude 11°-31' North to Longitude 126°-01' East, distance not determined. At this time the island of Samar is 32 miles distant, visibility is good with good moonlight.
2237 Flagship PC-623 leaves the formation and proceeds in the direction of the flares. The other rescue ships are instructed to continue their systematic search.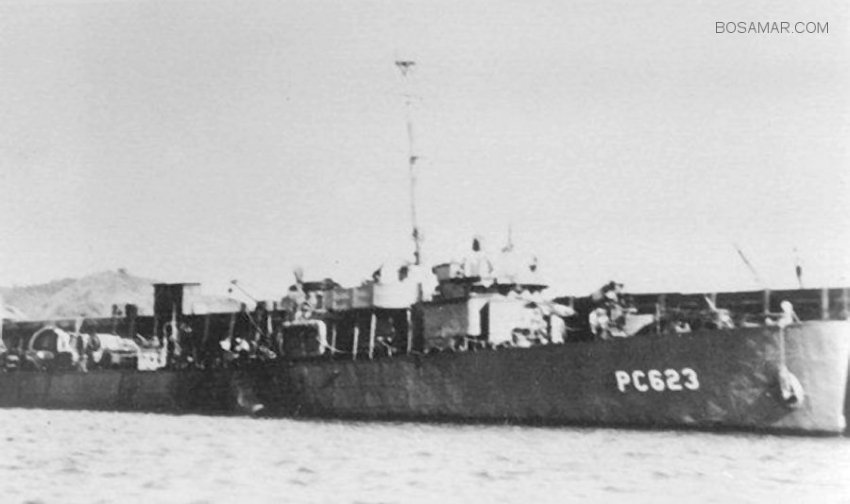 U.S. Navy Photograph
Task Group 78.12 flagship USS PC-623
2347 Flagship PC-623 observes flares from life rafts. The first raft of survivors (GAMBIER BAY) is sighted and identified. The other rescue ships are notifed and close to find PC-623.
Friday, October 27, 1944

0000 Between midnight and 0335 the rescue shps of Task Group 78.12 pick of survivors of GAMBIER BAY. Samar island is now 11.5 miles distant. After the first group was taken aboard, PC-623 went to each raft and took aboard those men who were severely wounded as the doctor was aboard the flagship.
0027 PC-1119 sights many lift rafts crowded with GAMBIER BAY survivors. The ship stops dead in the water and commenced taking survivors aboard. Searchlights are flashed on several survivors on various rafts and single men in the water in response to their cries, to encourage them and let them know they have been spotted. Lines are thrown over to rafts, sometimes by swimmers, and the rafts are pulled alongside to previously rigged stages and ladders. Most survivors wait on rafts until alongside. A few men swim for the ship. A wherry boat with outboard motor is launched to pick up single men here and there and to urge survivors to stay on rafts, and assist in getting lines to the rafts. The other PC and LCI's engage in rescue work.
0055 LCI(L) 337 sights and brings aboard the first of its survivors.
EVENT The radio transmitter on PC-623 is not working. At the request of LCDR Baxter PC-1119 is directed to transmit a message to the CTF 78 command ship in San Pedro Bay advising them of the situation and requesting additional medical aid. PC-1119 is unable to contact the command ship.
EVENT Aboard PC-1119 sick bay is setup in the mess hall for the seriously wounded and burned survivors which consists of 12 cases. 183 survivors from GAMBIER BAY are taken aboard, including the Executive Officer. Survivors report they had been in the water about 40 hours. All suffer in varying degrees from exposure, immerision and thrist. All were shivering from the cold. The worse cases are moved to crews and officer's berths (a total of 64 berths). Blankets, coats, mattress covers, spreads, etc. are laid on decks below for others. Some are berthed topside, on the signal bridge, 12 in the wardroom, and 8 in the engine room.
0348 PC-1119 is detached to return to base with approximately 200 survivors on orders to make a full report to CTF 78. Aboard PC-623 Lieutenant Commander Baxer estimates there are still 300 survivors in the water.
A/C GAMBIER BAY's Action Report was the most detailed concerning the ordeal of the surviors and the lessons learned. The following quotes are nearly verbatium:
After abandoning ship first aid was continued by medical department personnel and the men. For the first 24 hours none of the men were excessively uncomfortable although a number of the severely wounded died. Lack of food and water was not a problem for this period of time, even among the wounded. After approximately 30 hours, a large number of injured and many of the uninjured became thirsty and kept asking for water. It was at this time that restraint of many men to prevent them from drinking salt water became a serious problem. Al small number of men became delirious; as time passed the number of these men increased and it was with difficulty that they were kept with their groups and prevented from drowning themselves. Several of these men had to be restrained from injuring the wounded and other members of their groups.
There were only isolated cases of attacks by sharks on the GAMBIER BAY survivors. The majority of the groups had sharks in their vicinity. The two known attacks were on men with white skivvies or no clothes at all. Both victims died within a few hours.
The length of time the GAMBIER BAY survivors spent in the water varied from 40 to 48 hours. Although suffering from sun, immersion, exposure and exhaustion most of the survivors were in good condition, a great many, however, developed ulcers on the anterior surfaces of the legs which were slow in healing but caused no difficulty in walking.
A/C The following observations were made from GAMBIER BAY survivors in regard to life saving and abandon ship equipment, once again nearly verbatium quotes are taken from the Action Report:
Not a single water breaker on any raft retained potable fresh water not withstanding the fact that all breakers had been refilled with fresh water only two days previously. The spigots were not adequate, they were either knocked loose when the rafts were dropped to the water or accidently kicked loose by personnel in the raft. The fresh water was either lost or contaminated by the sea.
There were many severely wounded who died in the water who may have survived had they not remained immersed in the sea water. There were a few rubber life rafts among the survivors and these were used to carry as many of those wounded as possible.
In practically all the rafts the canvas bands and lines holding the grating in the bottom and life lines around the perimeter gave way shortly after they were in the water.
For additional assurance that every man has a small amount of food, water, and medical supplies the pockets of the kapok life jacket might be altered to securely carry a first aid packet and individual emergency rations. Also a recess be provided to contain a canteen which is easily accessible to be removed to change the water at frequent intervals.
In all floater nets there were cases of increased irritation and resulting salt water sores caused by rubbing of the cylindrical bouyant components directly against the individuals in the net. This was very annoying and added to the discomfort of all concerned.
The Executive Officer's relentless enforcement of the provision that all men carry lift jackets and wear full length clothing at all times in a combat zone is responsible in no small measure for the high percentage of survivors. A few men who discarded items of clothing in the water suffered most severely from sunburn and immersion.
A/C GAMBIER BAY's Executive Officer reported:
The general conduct of the ship's company during the action, while abandoning ship and in the rafts, was in general excellent. The crew acted in a calm and well disciplined manner throughout. The abandoning of the ship was accomplished rapidly and without any indication of panic.
There were 133 officers and men missing or killed in action. The parts of the ship where the greatest number of casualties occured was a) gallery deck, port side, in the vicinity of the forward 40mm battery; b) gallery deck, port side, in the vicinity of the Communication Office; c) the hangar deck. The latter area being the scene of the greatest number of deaths, because of the concentration of personnel in the process of abandoning ship.
0430 The last group of survivors from GAMBIER BAY are rescued from the ships of Task Group 78.12. An approximate total of 700 surviors are picked up 15-20 East of the island of Samar. From 0700 to about 1000 the Task Group continued their search for HOEL, JOHNSTON, and ROBERTS survivors.
0600 PC-1119 enroute to Leyte Gulf manages to get a message through to the CTF 78 command ship requesting additional rescue ships with medical aid. The number of survivors aboard and ETA at San Pedro Bay are also broadcast.
0615 Task Group 78.12 forms a search line of remaining ships and closes to within 8 miles of the island of Samar then continues it serach for survivors in a Northwesterly direction.
0745 Rafts of survivors (ROBERTS) are sighted, identified and taken aboard. The search is resumed in a Northwesterly direction.
A/C Survivors from ROBERTS were in the water for approximately fifty hours. Most of the survivors were in two major groups, one consisting of one raft and one float net, and the second of two rafts and one float net. A few men were drifting on shoring and staging or five inch powder cans in small groups of 2 to 5 men. None of these latter men were rescued. During the afternoon of the first day the main group of survivors was sighted by friendly aircraft, one of which buzzed the group from low altitude to let them know they had been sighted. The next day, the 26th, two formation flights of friendly planes were seen but there was no indication any of ROBERTS' surviors were sighted. Lieutenant Commander Copeland estimated that if another 24 hours had passed it would had been doubtful there would had been more than a handful of survivors at best.
0800 Rescue ships of Task Group 78.12 are at position Latitude 11°-22' North to Longitude 125°-44' East.
0837 More rafts of survivors (ROBERTS & HOEL) are sighted. At this time a count of approximately 900 survivors are taken aboard the five LCI(L)'s and PC-623.
A/C Task Group 78.12's War Diary does not specify nor mention when JOHNSTON's survivors were rescued. Lieutenant Robert Hagen, JOHNSTON's senior surviving officer stated he was rescued, "...at noon on the twenty-seventh, the same day and almost the same hour of the Johnston's commissioning a year ago....".
A/C The survivors of HOEL were left in the water on rafts and floater nets for about forty-eight hours. During this period 15 men died as a result of wounds, exposure and shock. HOEL's Action Report states, "...Had the remaining survivors been left immersed in the water for another twenty-four hours there would have been no survivors. The area in which this task unit was operating, and in which this vessel was sunk was small and definitely known". HOEL's rafts were sighted and recognized by at least 3 groups of friendly planes. At least 3 officers 40 men reported missing were seen alive in the water and on rafts.
0950 A single enemy SALLY or BETTY type two-engine bomber was observed to closely approach LCI(L)-34 as she was preparing to assume cruising station.

1019 Upon orders from CTF 78 the rescue Task Group forms cruising disposition to return to Leyte Gulf.

A/C The return trip to Leyte was accomplished without incident. A medical officer from a destroyer escort on patrol near Dinagat Island was embarked for a period of about one hour upon arrival at mouth of Leyte Gulf to render emergency treatment to two survivors.

1200 Rescue ships of Task Group 78.12 are at position Latitude 11°-30' North to Longitude 125°-43' East.

1230 PC-1119 arrives at San Pedro Bay anchorage area with 183 GAMBIER BAY survivors.

1254 On PC-1119 two severely wounded men are taken by boat to a larger vessel.

USS JOHNSTON (DD-557)
Action Report

The 141 survivors of this ship clung to three lift rafts and two floater nets for fifty hours before being rescued. It is recommended provisions resembling the very efficient mannor in which downed fliers are picked up be made for rescuing ship survivors. This group of survivors was "zoomed" by three different friendly planes within two hours after the ship sunk. No liferafts or food were dropped by them and no help arrived for two days and two nights. During this period forty five officers and men died as a result of wounds, shock, and exposure. In another day without help there would have been no survivors of this ship. The Captain and Executive Officer are missing in action. Five additional officers and 87 men are missing in action. All these Officers and men were seen alive in the water after abandoning ship, but have not been heard from since.

With only a few exceptions the only group of survivors picked up were those gathered together by the Gunnery Officer immediately after the ship sunk.
1330 PC-1119 moors alongside a hospital LST and ten other severely wounded men are transferred.
A/C The ship was about out of fresh water. The crew had been feeding the survivors soup and toast on advice of the Pharmacist Mate.
1500 The hospital LST takes an additional 50 GAMBIER BAY survivors aboard who are suffering from minor injuries, shock, etc.
1635 PC-1119 gets underway again with the 121 remaining GAMBIER BAY survivors aboard.
1720 Underway on orders to lay off transport and transfer remaining survivors, PC-1119 fires 30 rounds of 20mm at an enemy plane.
1858 PC-1119 completes the transfer of survivors to the transport.
2000 Rescue ships of Task Group 78.12 are at position Latitude 10°-36' North to Longitude 125°-44' East.
Saturday, October 28, 1944

0113 Rescue ships of Task Group 78.12 are anchored in Leyte Gulf. The seriously wounded survivors are transferred to the hospital ship USS BOUNTIFUL (AH-9). The remaining survivors were transferred to USS LST-464 and the destroyer tender USS PIEDMONT (AD-17). No accurate count was made of the number of survivors because of the crowded conditions onboard each ship. The estimate is 1150. In general the survivors of GAMBIER BAY suffered from exposure, exhaustion, and thrist. Some were lightly, few severely wounded. The survivors of ROBERTS and HOEL were oil covered and in addition suffered from exposure, exhaustion, thrist, wounds, and shock.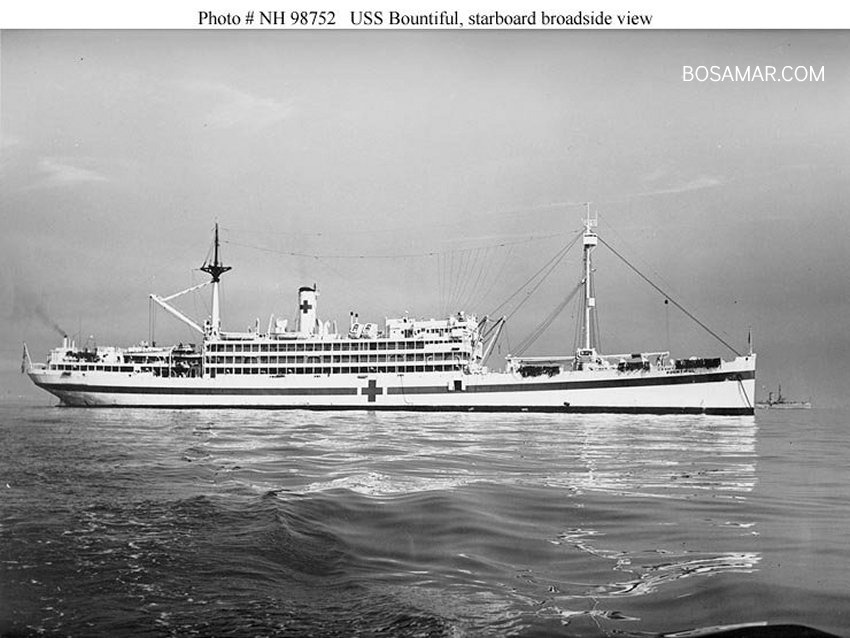 National Archives Photograph
USS BOUNTIFUL (AH-9)
A/C Task Group 78.12's War Diary does not specify the condition of JOHNSTON's survivors.
A/C Upon arrival at San Pedro Bay, survivors . The dog tags and very limited personal effects of two additional men were buried at sea by the survivors prior to being picked up.
At the end of Taffy III's tribulation, heavily damaged DD HEERMANN and DE DENNIS went on to Kossol Passage for much needed repairs. Destroyer escorts BUTLER and RAYMOND, only lightly damaged during the Battle Off Samar, went to Leyte Gulf to refuel and drop off survivors from the ST LO.
The four surviving escort carriers of Taffy III, FANSHAW BAY, WHITE PLAINS, KALININ BAY, and KITKUN BAY, with their newly provided replacement escorts went on to Manus for much needed rest and repairs.
The author's great-uncle Virgil Cox of USS GAMBIER BAY (CVE-73) was one of those who were fortunate enough to survive the greatest naval battle in history.
Continue to CHAPTER 14 or INDEX