The smoke screen created by the escorts of Taffy III played a major role in the escape of the escort carriers. Therefore I feel this section merits mention in detail. All ship specific information is taken directly from their Action Reports.
USE BY ESCORTS OF TAFFY III
There were two primary types of chemical smoke available for use by the destroyers and destroyer escorts, FS or FM.
FS generated a dense, white, corrosive smoke. It was a solution of sulfur trioxide in the liquid chlorosulfonic acid. It was a heavy, fuming liquid, and weighed about 16 pounds per gallon. In contact with air it reacted with the moisture present to form a mixture of sulfuric and hydrochloric acid mist.
FM reacted with the moisture in the air to form a dense, white, persistent smoke cloud. It was a compound of titanium tetrachloride. It was used with carbon dioxide (CO2) as the pressure producing agent, and sometimes with the addition of a small percentage of other chemicals. The smoke mixture was a corrosive colorless to yellow liquid that weighed 14 pounds to the gallon. It reacted vigorously with the moisture in the air to form a combination smoke (finely divided titanium hydrate particles) and mist (hydrochloric acid vapor). Due to the hydrochloric acid, the liquid was highly corrosive, but the smoke, while acrid, was not sufficiently irritating in field concentrations to cause coughing or other physiological effects to the respiratory system.
Careful review of their Action Reports revealed that both types were used:
FLETCHER Class Destroyers
DD HOEL: The smoke screen layed proved very effective.... The use of a smoke screen by this task unit was extremely effective, and it is believed that this screen was the main reason our destroyers and destroyer escorts were able to carry out their missions and stay afloat for so long a time.


DD JOHNSTON: The Captain also ordered the engine room to commence making funnel smoke and ordered the smoke screen generator detail to make FS smoke. The use of smoke appeared to be effective, and when the ship was behind a screen the enemy firing was very ineffective. 0655 Commenced making FS and funnel smoke.


DD HEERMANN: 0702 Commenced making smoke from F.S. generators.
No destroyer Action Reports detailed the exact smoke screen generator type. The author makes the assumption from Ordnance Phamphlet No. 1042, Action Reports and photographs that all three FLETCHER Class destroyers used the Mark 1 FS Smoke Screen Generator. Only JOHNSTON and HEERMANN's Action Reports mention FS by name. Photographic evidence of HOEL's stern leads to the same conclusion.
BUTLER Class Destroyer Escorts
DE DENNIS: Smoke: F.M. contents of 12 Mk. 2 tanks. Smoke: smoke screen from Mk 6 smoke Generators was highly effective. The #35, 8 minute nozzle used. As a results of this action, it is strongly recommended that all destroyer escorts carry a full set of eight extra bottles of FM smoke. This ship is now fitted to carry four extra bottles; most DE's carry no extras.


DE RAYMOND: We continued to make smoke using both F.M. generators... Our smoke screen was very effective. More FM smoke screen generators should be provided this class of vessel, even though it may mean the scacrifice of some deck space alloted to depth charges. At present, this vesssel has eight FM smoke screen generators and arrangements should be made to carry an additional four generators on the stern.


DE BUTLER: 0826 Smoke generator was fully expended... Use of defensive smoke screens was highly effective and appeared to bother the enemy a great deal. In a one-sided engagement such as this, smoke is of extreme importance, and, yet, after thirty-five minutes, our smoke supply was exhausted. Fortunately, stack smoke was very effective, due to atmospheric conditions. It is therefore recommended that better smoke-generating equipment be provided as soon as possible.


DE ROBERTS: ...this vessel laid tremendously effective smoke screens, both black funnel and white FS.... JOHNSTON immediatedly commenced laying heavy black funnel smoke, followed by FS smoke from ROBERTS... The use of smoke screen by this Task Unit was extremely effective. ROBERTS found that an extremely effective screen was made by laying heavy black funnel on top of white FS. It is believed that the fact that the escort vessels were alternately able to momentarily throw off the Japanese gunnery by moving into the smoke of other escorts materially prolonged the life of those escorts. Although the ship had exercised at laying FS smoke, no drills had been held in making funnel smoke. However, without any delay the engineers force furnished funnel smoke equal to that of any other ship.
The author makes the assumption from Ordnance Phamphlet No. 1042, Action Reports and photographs that all BUTLER Class destroyer escorts used either the Mark 4 or Mark 6 FM Smoke Screen Generator. Only DENNIS and RAYMOND's Action Reports mention FM by name. Photographic evidence of DENNIS' stern in December 1944 clearly shows two Mark 4 FM Smoke Screen Generators. However, ROBERTS mention of FS four times in her Action Report leaves a question mark.
USE BY CVE's OF TAFFY III
Careful review of escort carrier Action Reports revealed the following concering the use of smoke
FANSHAW BAY

: 0656 Screen ordered to make smoke astern of carriers in order to disrupt enemy gun fire. 0703 Making smoke.... Smoke made from our starboard stacks (crossing the flight deck to the port quarter), as well as that made by a DD and a DE first on our starboard quarter, then our the port quarter, hid the after portion of the ship most effectively....

This ship experimented with using an aircraft smoke tank located on the after sponson to augment the stack smoke

. This was satisfactory except that the location of the tank was such that the chemical was blown back upon the gun crew of the 5-inch stern gun, so this type smoke was discontinued. Engineer Officer: At 0705 started laying smoke screen. Ceased laying smoke screen at 0715 and at 0758 agained ordered to lay smoke screen. At 0815 requested permission from bridge to blow tubes due to excessive stack temperature and permission granted. At 0836 received orders from bridge to cease laying smoke screen.

SAINT LO: 0730 Destroyers and Destroyer Escorts of the screen started laying a smoke screen. A smoke tank aft (starboard side) was hit by a piece of enemy shrapnel and the smoke started leaking out. ...all carriers stated making smoke....



WHITE PLAINS: Smoke pouring from one port and one starboard stack undoubtedly deceived the enemy into believing that our ship had been hit and was burning as an immediate result of the first series of very close salvos. 0705 Commenced making smoke.



KALININ BAY: 0705 Destroyers and carriers were ordered to make smoke screen.



KITKUN BAY: 0700 Ship commenced making dense black smoke for concealment. 0930 order issued to cease making smoke. ...a dense and effective smoke screen was laid....



GAMBIER BAY: 0710 Destroyer screen deployed making smoke to cover the CVE group. As has been noted elsewhere in this report all ships of the Task Unit, on orders from the OTC, made an effective volume of smoke, which undoubtedly in combination with a rain squall, adversely affected the enemy's gunnery and caused a reduction of damage to all CVE's of the disposition, particularly from the heavy guns in the enemys main body. Smoke, however, afforded no protection to this ship from fire of the cruisers on our eastern, windward flank.
FS SMOKE SCREEN GENERATORS
There were three Navy generators designed for generation of FS smoke screens from surface vessels, the Mark 1, Mark 2, and Mark 5. The Mark 1 generator was designed for use on destroyers (including the FLETCHER Class) and larger vessels. The Mark 2 and Mark 5 generators are designed for use on smaller vessels.
MARK 1 FS SMOKE SCREEN GENERATOR. The Mark 1 Smoke Screen Generator and Modifications was composed of four 35-gallon Mark 1 smoke screen tanks, which were mounted as a single unit. Each tank had its own pressure line, exhaust tube, and nozzles. The complete unit of four tanks could be immediately jettisoned, either locally by pulling the manual emergency release lever, or remotely by a quick operating air valve. The tanks were designed for operation at pressures ranging up to 150 pounds per square inch. The generator tanks were fabricated from welded sheet monel (nickel and copper, with some iron) metal. Within each tank were baffle plates to add strength and minimize surging, and a discharge tube, the purpose of which was to empty the tank as completely as possible by taking the liquid from the low end. On the outside of each tank were two reinforcing bands, which located and restrained the tank in its mounting; a filling fitting; a flange for smoke exhaust line connection; and a pipe threaded air inlet tube.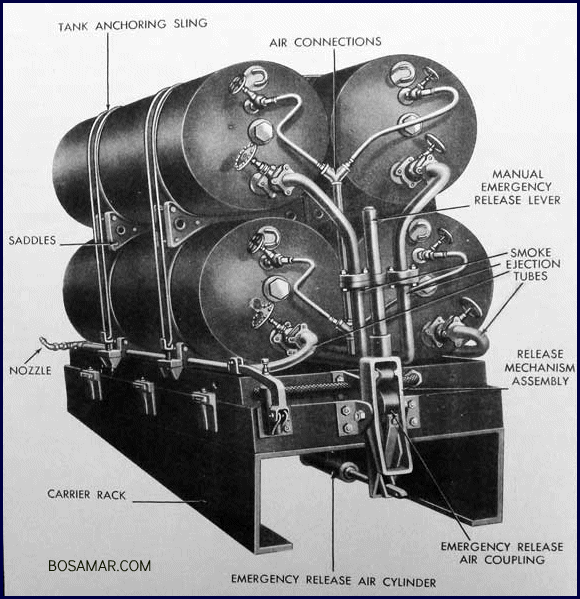 U.S. Navy Technical Drawing
Mark 1 FS Smoke Screen Generator
The Mark 1 smoke screen tanks were mounted in saddles, the lower set of two being welded to the emergency release carrier, while the upper two rested on the lower two tanks. The tank reinforcing bands served to properly position the upper two saddles. The tanks and upper saddles were secured to the release carrier by tank anchoring slings. The clevis bolts of these slings extended through the cable anchor brackets, the slings being secured and tightened in place by common nuts which, in turn, were secured by check nuts. Spherical washers were provided so that the clevis bolt nuts would not bear directly against the cable and anchor brackets. The emergency release carrier was, in effect, a skid upon which were mounted the generator tanks. It also mounted all piping necessary to conduct air from a single connection (which was fixed to the ship's structure) to each tank, and to the piping and nozzles by which the smoke mixture was discharged from the individual tanks. The carrier was restrained vertically by four keys, one adjacent to each corner, which engaged suitable parts of the carrier rack. The carrier was normally held in place on the carrier rack by means of a latch bracket secured to the inboard end of the emergency release carrier. This bracket was fitted with a toggle pin which restrained the latch, and this toggle pin had to be removed from the bracket before the carrier could be jettisoned.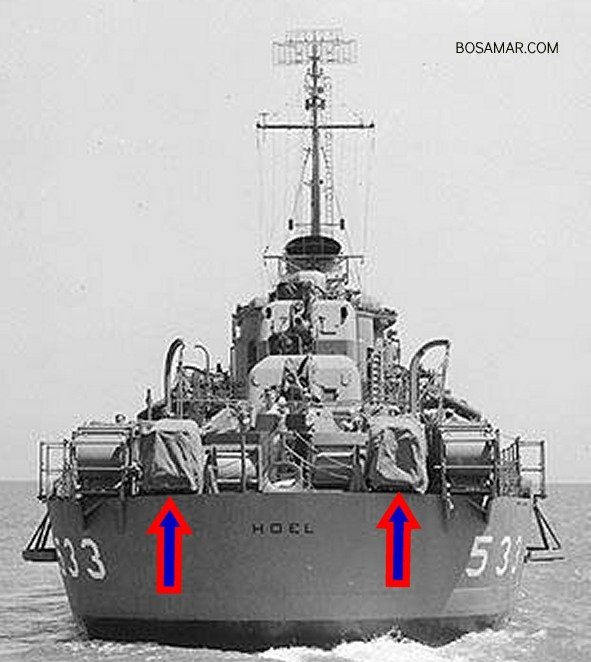 U.S. Navy Photograph
USS HOEL's Mark 1 FS Smoke Screen Generators, covered and
protected from the weather, especially the sun, and from salt water spray.
Generator air piping, which started at the permanent supply line and terminated in the air coupling body at the inboard end of the carrier rack, consisted of an air coupling cap, a section of flexible hose, and a piping manifold arranged so that the flexible hose could be connected at either side, and contained two double branch laterals providing four connections from which connecting pipes ran to each individual tank. A three-eighths inch stop valve, to select the particular tank or tanks for discharge, and a spring loaded ball check valve, to check the air line against the smoke mixture, were provided in each line from manifold to tank. Generator smoke lines, which were individual lines, each contained a 1.0 inch stop valve, ran from each tank to one of four spray nozzles, these spray nozzles being mounted at the outboard end of the emergency release carrier.
The spray nozzles were intended to emit the smoke mixture in finely divided form, the resulting spray to form a comparatively wide cone. Nozzles were made adjustable in order to obtain the optimum spray, but the adjustment, once determined, was not intended to be altered in service except to re-establish the original setting. Filling were provided for each tank. They were intended for use only when tanks were to be filled with smoke mixture, or when, having been discharged, tanks were to be flushed with water. Under normal operating conditions, a filling cap was never opened unless the tank was known to have been completely discharged, and then only with precautions.
FM SMOKE SCREEN GENERATORS
There were two smoke screen generators designed to use FM for the generation of smoke screens from surface vessels, the Mark 6 and Mark 4.
MARK 6 FM SMOKE SCREEN GENERATOR. The Mark 6 Smoke Screen Generator consisted of a smoke screen tank Mark 2, fitted with a manual control valve and an exhaust tube designed to operate with or without one of four different sized nozzles. Integral with the valve was a syphon tube extending into the tank and converting the tank into a steel syphon bottle.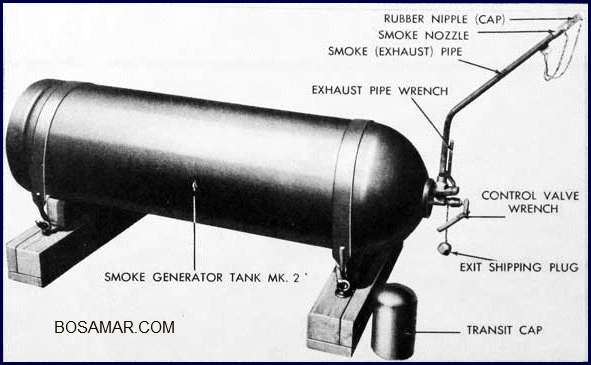 U.S. Navy Technical Drawing
Mark 6 FM Smoke Screen Generator
The smoke tank Mark 2 was a commercial ICC-3A480 full spun steel ammonia cylinder with a capacity of about 33 gallons. It was designed for a working pressure of 480 pounds per square inch, and is tested at 800 pounds per square inch. The valve was brass, with a copper syphon tube sweated into it with soft solder. The exhaust tube was stainless steel, and the four nozzles were brass. Chained to the exhaust tube was a rubber cap, which fit onto the end of the tube, or onto any of the nozzles to prevent water from entering the tube when the generator was not in use. Smoke screen control was obtained by the choice of the nozzle used. The rate of discharge varied with the size of the nozzle. The discharge time also varied with the pressure, and therefore with the temperature. As an example, the discharge time with the No. 42, the smallest, nozzle was about 25 minutes at 45°F and only 12 3/4 minutes at approximately 75°F.
MARK 4 FM SMOKE SCREEN GENERATOR. The Mark 4 Smoke Screen Generator was essentially four Mark 6 generators mounted on a single frame. Each held 22 gallons of FM with CO2 as the dispersing pressure agent. It was used on such vessels as destroyers. All instructions and precautions given for the Mark 6 generator were equally applicable to each unit of the Mark 4 smoke screen generator.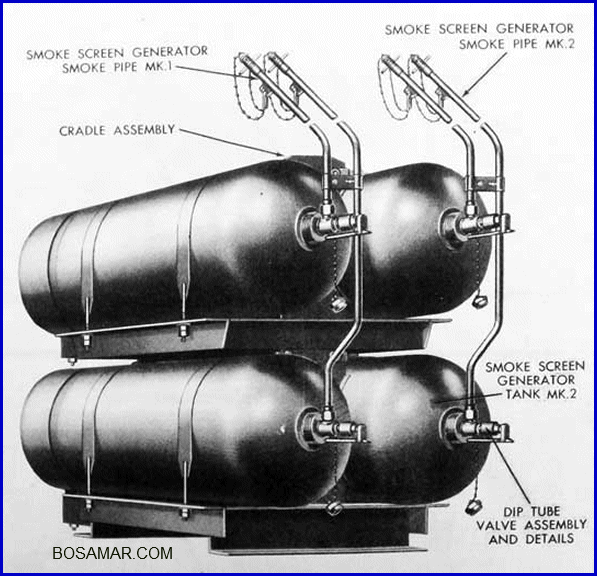 U.S. Navy Technical Drawing
Mark 4 FM Smoke Screen Generator
The filling of the Mark 4 and Mark 6 smoke screen generators was the same, except that with the Mark 4 generator there were four tanks to fill. Each tank was filled in two steps: First, 310 pounds (22 gallons) of FM or modified FM were poured into the tank, then 16 pounds of CO2 was added. Either Navy Filling Equipment Mark 1 Modification 4 or improvised equipment was used for the FM filling. If the Navy equipment was used, the strainer was first removed.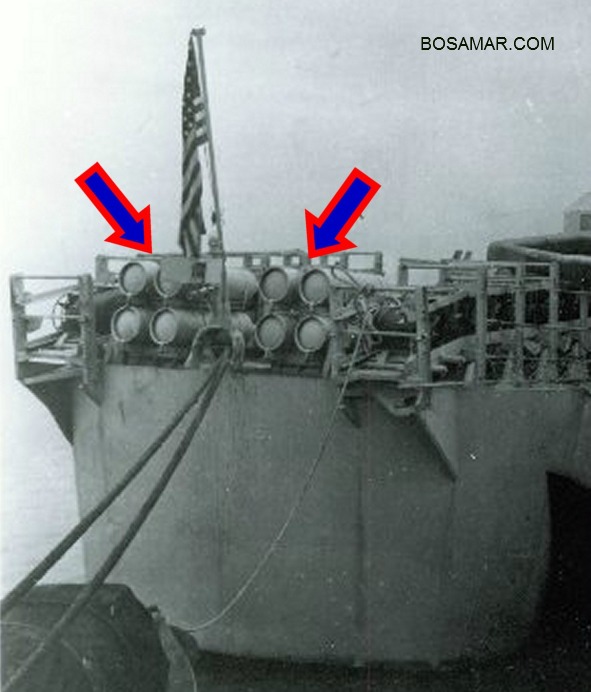 U.S. Navy Photograph
USS DENNIS's Mark 4 FM Smoke Screen Generators.
Photo taken at her refit in San Francisco in December 1944.
The CO2 filling line was similar to the one used to refill fire extinguishers except that one end was modified to fit the generator valve at the exhaust tube connection. This line included a flow pump if possible, otherwise gravity flow was used with the CO2 cylinder raised a few feet above the generator tank.
The FM or modified FM was available in 55-gallon steel drums. Each drum had two openings with standard pipe threads, a three-fourths inch opening at one end and a two inch opening in the side. The CO2 was provided in 50 pound lots in cylinders. Only liquid CO2 was used.