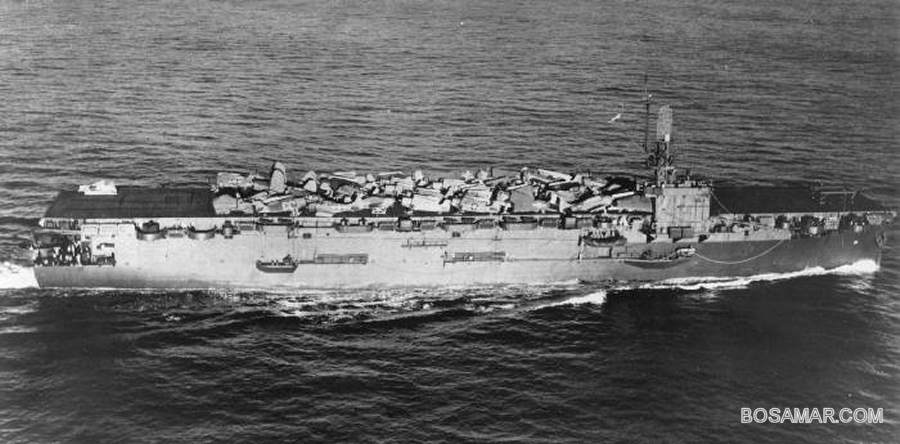 U.S. Navy Photograph
USS KITKUN BAY (CVE 71)

Ten FM-2 fighters and ten TBM torpedo bombers of VC-5 were launched from KITKUN BAY shortly after the Japanese attacked. Although closely straddled on numerous occasions, she got through the battle with light damage. Her sole division mate GAMBIER BAY was not so lucky.
Crew List
Action Report
Call-sign
DEXTER
Class
CASABLANCA
Displacement
7,800 tons
Length
512 feet 3 inches
Beam
65 feet
Draft
22 feet 6 inches
Flight Deck
498 x 108 feet
Speed
18 knots
Complement
764
Aircraft

18 FM-2 General Motors fighters




12 TBM-1C General Motors torpedo bombers

Armament

1 5-inch GP gun




8 twin 40mm AA guns




20 20mm AA guns

Laid Down
3 May 1943
Launched
8 November 1943
Commissioned
15 December 1943

Namesake Information
KITKUN BAY was named for an Alaskan Bay on the southeast coast of Prince of Wales Island.
USS KITKUN BAY (CVE 71), was originally designated as an AVG. She was classified as ACV-71 on August 20, 1942 and reclassified as CVE-71 on July 16, 1943. Laid down May 3, 1943 she was launched November 8, 1943 by the Kaiser Shipbuilding Company, Vancouver, Washington, under a Maritime Commission contract. KITKUN BAY was sponsored by Mrs. Edward A. Cruise and commissioned on December 15, 1943 with Captain J. P. Whitney in command.
Early duties
After a shakedown along the Pacific coast, KITKUN BAY departed San Diego on January 28, 1944 on a replenishment voyage to the New Hebrides bases. After loading passengers, planes, and other cargo, she sailed for home February 18 via Pearl Harbor and arrived in her homeport of San Diego, California on March 6. Upon her return, the planes of Composite Squadron VC-6 were brought aboard for training and assignment. KITKUN BAY assumed the duties of flagship with Rear Admiral Harold B. Salada, Commander, Carrier Division 26 embarked. She sailed on May 1 for Pearl Harbor and the completion of her training exercises.
Campaigns
Saipan - June through August 1944
On May 31 her task unit sortied forth to escort the bombardment and transports units of Fifth Fleet Task Group 52.17 to Saipan. On June 13 her planes shot down their first enemy aircraft and the next day began the bombing and strafing of enemy positions in the Marianas. KITKUN BAY's planes alternated flying support missions for the Saipan landings and air cover for ships east of this island. Eight enemy planes were splashed in attacks on her formation on the 17th and her own guns downed three more the next day. Early July brought a brief respite at Eniwetok but on July 14 she resumed support sorties at Saipan, Tinian, and from 2 to 4 August at Guam.
Peleliu - 15 to 21 September 1944
Withdrawn, she steamed to Espiritu Santo, New Hebrides, for upkeep before sailing to the Solomons for additional practice in support of amphibious operations. Heading westward on September 8 her task unit escorted an assault force to Peleliu and Angaur Islands in the Palaus group and provided cover from the 15th to the 21st. Withdrawn to Manus, Admiralty Islands, she made preparations for the invasion of Leyte, Philippine Islands, and her finest hour.
Leyte Gulf/Samar - 12 to 25 October 1944
Departing on October 12 she soon joined Rear Admiral Clifton "Ziggy" Sprague's task unit "Taffy 3" composed of 6 CVE's and their screen of seven escorts. On October 20 KITKUN BAY began launching strikes against Leyte. These operations conducted from a position east of Samar Island continued until early in the morning of the 25th when Japanese warships were sighted on the northwest horizon. Vice Admiral Takeo Kurita's powerful IJN Centre Force had passed through the San Bernadino Strait unnoticed, hoping to destroy the supply ships moored in Leyte Gulf.
Not designed to exchange gunfire with surface warships "Taffy 3" launched what planes were ready and immediately turned southward behind a dense protective smoke screen. In the ensuing 2 and one-half hour running battle, the courageous maneuvers and skillful action of its screen, the diverting attacks by its planes, and the astute orders of its command officers averted what seemed to be a certain annihilation. In the forefront of the circular formation KITKUN BAY escaped any direct hits as the shells splashed ever closer until 0925 when the enemy suddenly broke off the engagement and retired. Her less fortunate COMCARDIV 26 division mate GAMBIER BAY and three task unit escort ships went down fighting valiantly; some of the remaining ships suffering some gunfire damage. The Centre Force lost three cruisers as a result of the attacks of the aircraft of "Task Unit 77.4.2 (Taffy 2) and Taffy 3."
The final phase of the epic Battle of Leyte Gulf was the retaliatory air strikes by both sides. Before the "Fore noon" watch had expired, KITKUN BAY had splashed a suicidal Betty but had also been crashed by a "Zeke 52" which struck the port catwalk killing 1 man and wounding 16 others. The losses for the day also included two planes and their air crews. That same day she sailed for Manus in the Admiralty Islands for replenishment and repairs.
Late 1944
Arriving on November 1, she departed Manus on the 7th for Pearl Harbor where VC-5 was replaced by VC-91. Despite a submarine attack en route, KITKUN BAY returned safely to Manus on December 17.
Lingayen - 1 January 1945
New Year's Day 1945 dawned with CVE-71 steaming as part of Task Unit 77.4.3 (Lingayen Transport Cover Group) bound for the invasion of western Luzon. After passing through Surigao Strait, the convoy underwent a series of air attacks. Air cover destroyed seven enemy planes but at 1857 an Oscar got through and crashed KITKUN BAY's portside amidships at the waterline. Almost simultaneously a 5-inch shell struck her starboard side. The resultant fires and flooding were brought under control but 16 were dead and 37 wounded. The following day with a list and only one engine operational, she withdrew and proceeded by stages first to Leyte, then Manus, Pearl Harbor and arrived San Pedro, California on February 28.
Final Service
Two months later she sailed again for the Western Pacific. After a training period in the Hawaiian Islands, she departed June 15 for Ulithi and duty with the Third Fleet. On July 3, KITKUN BAY sortied forth with other escorts and ships of the "train" for support of the fast carriers operating off the coast of Japan. In mid-August she was reassigned to Task Force 44 gathering at Adak, Alaska, to escort Admiral F. J. Fletcher, COMNORPAC, who had been designated to receive the formal surrender of the Japanese in northern Honshu and Hokkaido. Arrived off Honshu on September 7, she remained in the area until the 27th, seeing to the feeding and transportation of American prisoners of war. Detached to participate in Operation "Magic Carpet," she first debarked 554 troops at San Francisco on October 19. Additional voyages to Pearl Harbor and Okinawa concluded on January 12, 1946 at San Pedro, California.
KITKUN BAY entered Puget Sound Naval Shipyard, Bremerton, Washington on February 18 and was decommissioned on April 19. She was sold on November 18, 1946 to Zidell Machinery & Supply Company, Portland, Oregon. She was subsequently scrapped early in 1947.
In addition to the Presidential Unit Citation KITKUN BAY earned six battle stars during World War II.
Source: Dictionary of American Fighting Ships, Vol. III, 1968, Navy Department, Office of the Chief of Naval Operations, Naval History Division, Washington, D.C.; and The Battle Off Samar - The Tragedy of Taffy III, by Robert Jon Cox, 1996