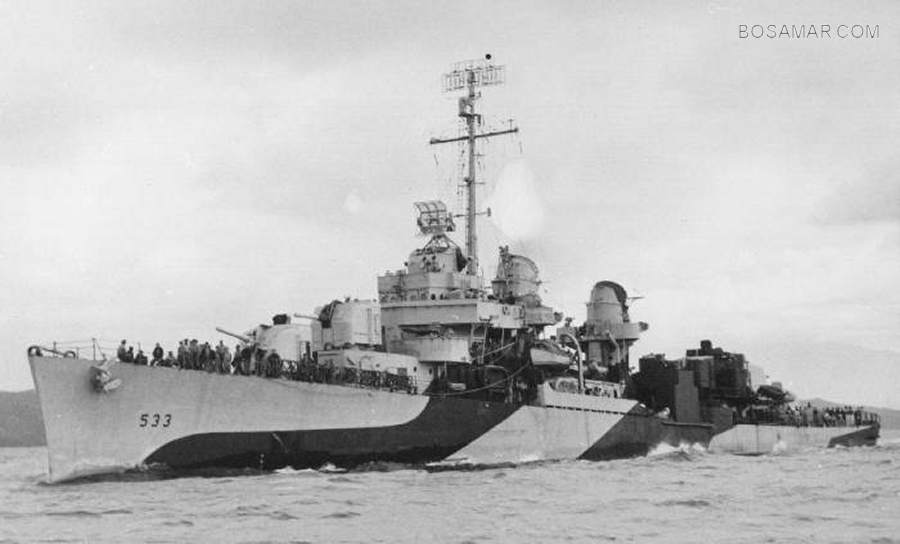 U.S. Navy Photograph

Gallant destroyer HOEL was sunk during the Battle Off Samar by the Imperial Japanese Navy Centre Force, the first ship of Taffy III to be lost. She was credited with torpedoing the heavy cruiser HIJMS HAGURO, all the while being shot at by battleships and several heavy cruisers. Two-hundred fifty-two men were killed during the action, fifteen more perished after spending two days on rafts awaiting their rescue.
Crew List
Action Report
Call-sign
NEBRASKA
Class
FLETCHER
Displacement
2,100 tons
Length
376 feet 3 inches
Beam
39 feet 8 inches
Draft
13 feet
Speed
33 knots
Complement
273
Armament

5 (5 x 1) 5-inch radar controlled GP guns




10 21" (2 x 5) torpedo tubes




6 40mm AA guns




11 20mm AA guns




6 depth charge throwers




2 depth charge racks

Sensors

SC air-warning radar




SG surface search radar




MK-4 fire control radar




sonar

Laid Down
unknown
Launched
19 December 1942
Commissioned
29 July 1943

Namesake Information
William R. Hoel was born on 7 March 1825 in Ohio. A steamboat pilot prior to the Civil War, he joined the Navy on 19 October 1861. He soon acquired a record for bravery serving in gunboats on the Mississippi. Through his courageous actions aboard the gunboats CINCINNATI and CARONDELET he was promoted to rank of Acting Volunteer Lieutenant effective 29 April 1862.
On 29 October 1862, he commanded the gunboat PITTSBURG during the campaign to take Vicksburg. On 29 April 1863 his flotilla was assigned to the bombardment of the Confederate Batteries at Grand Gulf. The flotilla flagship, USS BENTON, became unmanageable and was caught under the Confederate guns in a position in which she could neither steer or reply with her own guns. After becoming aware of BENTON's predicament, Hoel placed the PITTSBURG in between BENTON and the Confederate batteries. In the next ten minutes, Hoel's heroism cost the PITTSBURG 6 men killed and 8 wounded. However, his sacrifice enabled the BENTON to escape from the deadly trap. The subsequent Union bombardment was so successful, General Grant was able to safely move his troops across the Mississippi to begin the capture of Vicksburg.
On 10 November 1864, Hoel was promoted to Acting Volunteer Lieutenant Commander. He was then assigned to command VINDICATOR on 1 March 1965, on which he served until 7 July.
He was honorably discharged on 30 December 1865.
Career
The FLETCHER Class destroyer HOEL was built at the Bethlehem Steel Company, San Francisco, California. On 16 August 1943 she sailed for her homeport of San Diego and conducted local training operations. After returning to Mare Island Navy Yard, HOEL departed for Pearl Harbor on 26 October 1943 as part of a convoy. Upon arrival she was assigned to Destroyer Squadron 47 and became the COMDESRON 47 flagship.
Campaigns
Tarawa - 20 to 23 November 1943
HOEL and her group, which included three other destroyers, one minesweeper, and the escort carriers LISCOME BAY, CORAL SEA, and CORREGIDOR, departed Pearl Harbor on 10 November 1943. They arrived off the island of Makin on 20 November 1943, and the airgroup pounded the island for the preinvasion attack.
Before dawn on 24 November, the escort carrier LISCOME BAY was torpedoed by the Japanese submarine I-715. Men on HOEL saw smoke and flames rise one thousand feet when the CVE's bomb magazine detonated. The destroyers rescued 272 survivors but 642 were lost with the ship.
HOEL conducted screening duties in the area until 3 December, when she was assigned to screen the battleship TENNESSEE and a group of transports. The convoy sailed for Pearl Harbor and arrived on 11 December. The COMDESRON 47 flag was then shifted from HOEL to MCCORD on 14 December.
Marshalls - 29 January to 23 February 1944
In early January 1944, HOEL began intensive training for the invasion of the Marshall Islands. On 23 January she departed Pearl Harbor as part of the Fifth Fleet Task Group 51.1. They arrived at Kwajalein Atoll on 31 January. During the next week HOEL was assigned to escort, picket and gunfire support duties.
On 17 February, HOEL was assigned to Task Unit 51.17.3 of the Eniwetok Expeditionary Group. In the early morning darkness, HOEL and the cruiser PORTLAND entered the lagoon to bombard Parry and Japtan Islands. During the same day HOEL rescued several aviators from a wrecked scout plane from the cruiser INDIANAPOLIS and returned them to their ship. That afternoon her guns destroyed several small craft on the beach of Parry Island, including pillboxes and troop concentrations.
On 4 March, two days later after the attack and occupation phase of Eniwetok was completed, HOEL departed for Majuro for repairs. In the company of three other destroyers from DESRON 47, they arrived Florida Island on 14 March. The next day she joined Task Force 39, but on 20 March was ordered to alter her course for Emirau Island which was being occupied by Marines.
The Admiralties - 25 March to 20 April 1944
On 25 March the destroyer JOHNSTON joined DESRON 47 and HOEL for the first time. The next day they patrolled the south and east shore of Cape Botiangen, New Hanover, where HOEL's guns destroyed an enemy warehouse. On 27 March HOEL made contact with and attacked an underwater sound contact with unknown results.
Summer of 1944
HOEL returned to Purvis Bay on 8 April to screen a convoy carrying troops and supplies to Emirau Island. She was then assigned to Cruiser Division 12 and was kept busy with training exercises and convoy duty throughout the entire summer.
On 14 August HOEL was assigned to the Third Amphibious Force then preparing for the invasion of the Palau Islands. On 24 August she joined the escort carrier KITKUN BAY at Espiritu Santo for the passage to Purvis Bay.
Palau Islands - September 1944
Assigned to RADM Sample's escort carrier task unit, HOEL screened the CVE's which supported the landings with air support. She rescued a pilot and passenger from a plane that had splashed on attempting to take off from CVE OMMANEY BAY and transferred them to CVE MARCUS ISLAND.
Leyte Gulf/Samar - 17 - 25 October 1944
On 12 October HOEL was assigned to Task Group 77.4 for the invasion of the Philippines. Her task unit consisted of COMCARDIV 25's four escort carriers, two FLETCHER Class destroyers, veterans HEERMANN and JOHNSTON, and destroyer escorts SAMUEL B. ROBERTS and RAYMOND. Their group was then joined by COMCARDIV 26's two CVE's KITKUN BAY and GAMBIER BAY and their screen of two destroyer escorts, JOHN C. BUTLER and DENNIS, completing the task unit Taffy III.
Taffy III, one of three task units assigned to Task Group 77.4, was stationed off the coast of Samar. Here, from 17 to 25 October, they conducted daily air support operations for the amphibious landings on Leyte.
Shortly after sunrise on the morning of 25 October, HOEL and Taffy III were set upon by the vastly superior Imperial Japanese Navy Center Force. As 18-, 16-, 14-, and 8-inch shells fell among the American Task Unit, HOEL and the other screening ships laid protective smoke in defense of the escort carriers.
In the words of survivor Glen E. Foster, an Electrician's Mate Second Class, "....When GQ was sounded I took my station (in the emergency generator room) and donned the sound powered phones and heard that the whole Jap fleet was out there. Shortly thereafter we took a hit that knocked out the aft generator. The emergency diesel generator next to me started up and I was kept busy providing emergency power. I felt numerous hits that shook the whole ship and water started flowing into the compartment . . . . we tasted the water and found it to be fresh water so we surmised that a tank or pipe had sprung a leak . . . . by this time communications had been knocked out and I had no idea what was happening topside except I kept feeling the ship taking hits and I could hear and feel our forward guns firing... While I was working in front of the switchboard a hit into the forward fireroom buckled the bulkhead and knocked the switchboard onto me . . . . steam started pouring into the compartment. It was then I decided it was time to get the hell out..."
Although out-gunned by the heavy Japanese warships, HOEL was ordered to attack with torpedoes. The actions that transpired next are best explained by HOEL survivor LT Maurice F. Green, USN, "....We decided to fire a half salvo at the leading battleship and save the other half for the leading cruiser because it was definite that we would have to turn at least two columns of ships in order to be of any assistance in screening the CVE's. . . . At 0725 we received the first hit on the bridge which destroyed our voice radio communications and also the remote Radar PPI on the bridge. This shell also killed several bridge personnel...helmsman, captain's talker... It was less than five minutes later that we received a hit on the main battery director putting it out of action and also killing our anti-aircraft officer, making it necessary for the anti-aircraft guns to go into local control. We had an officer at each 40mm AA mount...there was nothing within range of the 40mm's to fire at..."
At 9,000 yards, HOEL fired five torpedoes at the IJN battleship KONGO, all missed. It was shortly after this point that she was hit on her bridge. With one engine lost, HOEL's speed was reduced to about 17 knots. She then turned to engage the heavy cruiser line. Shortly after 0750, HOEL launched her five remaining torpedoes at the IJN heavy cruiser HAGURO, scoring at least one hit.
Once again, LT Maurice F. Green, USN, "With our ten fish fired we decided it was time to get the hell out of there...this proved impossible because we were boxed in on all sides by enemy capital ships. We fishtailed and chased salvos and made all possible speed on one engine which enabled us to continue to remain afloat... The Jap battleships were 8,000 yards on the port beam. We had heavy cruisers 7,000 yards on the starboard quarter and we had only two guns left to fire. They were forward which made it difficult to continue firing while attempting a retirement..."
HOEL had suffered major material damage during her engagement with the Japanese battleships and cruisers. Fires blazed throughout the wrecked ship as the survivors went over the side. Glen E. Foster continues, "....When I pushed open the hatch all I could see was smoke and fire. I went up the ladder and tried to open the escape hatch to the next deck but it wouldn't open . . . . I was turning it in the wrong direction! I threw open the hatch and saw a shipmate running into the bulkhead screaming... I threw open the starboard escape hatch and crawled through a pile of bodies and body parts to the main deck. I looked around in shock and disbelief at the condition of the ship, the ship was listing badly to port . . . . when I was about midships we took another hit around the galley area that knocked me down. I got up and waded off the port side..."
With only half her original speed available and boxed in by the Japanese warships, HOEL was soon overwhelmed by the Japanese. At 0855 she rolled over on her port side and sank stern first.
USS HOEL (DD 533) received five Battle Stars for her service in World War II.
Source: Dictionary of American Fighting Ships, Vol. III, 1968, Navy Department, Office of the Chief of Naval Operations, Naval History Division, Washington, D.C. and The Battle Off Samar - The Tragedy of Taffy III, by Robert Jon Cox, 1996