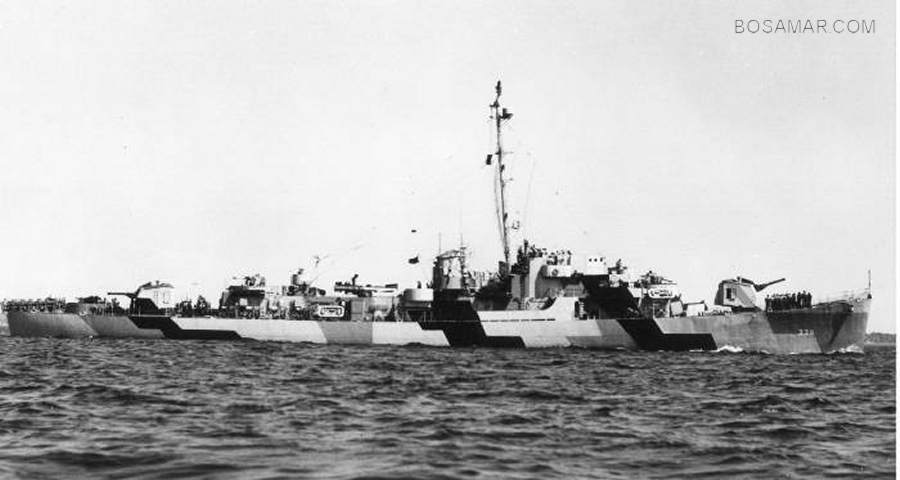 U.S. Navy Photograph
USS JOHN C. BUTLER (DE 339)

Lead unit in her class, this small, 1350 ton warship was not intended to fight direct naval engagements against heavy warships. Her maximum speed was 24 knots and her main armament consisted of two 5-inch general purpose guns, three torpedoes, and depth charges. BUTLER's duty off Samar was to lay defensive smoke in defense of the escort carriers. Nonetheless, she was ordered to conduct a torpedo attack against the heavy cruisers with her sister DE's. Unable to acquire a suitable firing position, she was the only screen ship of Taffy III not to fire her torpedoes.
Crew List
Action Report
Call-sign
OVERTURE
Class
JOHN C. BUTLER
Also known as a WGT (Westinghouse Geared Turbine) Class DE
Displacement
1,350 tons
Length
306 feet
Beam
36 feet 8 inches
Draft
9 feet 5 inches
Speed
24 knots
Complement
186
Armament
2 5-inch GP guns
4 40mm AA guns
10 20mm AA guns
3 21" torpedo tubes
Hedgehog ahead throwing weapon
8 depth charge throwers
2 depth charge racks
Laid Down
5 October 1943
Launched
12 November 1943
Commissioned
31 March 1944

Namesake Information
John C. Butler was born at Liberty, Arizona on 2 February 1921. He enlisted in the U.S. Naval Reserve on 19 February 1941. A Navy pilot, he was a member of Bombing Squadron 3 aboard the fleet carrier YORKTOWN during the Battle of Midway. Playing a pivotal role in the attack on three of the Japanese carriers at Midway, he gave his life for the American victory. As a result, he was posthumously awarded the Navy Cross. In part the citation noted, "...His gallant intrepidity and loyal devotion to accomplishment of a vastly important objective contributed in large measure to the success achieved by our forces and were in keeping with the highest traditions of the United States Naval Service...."
Career
USS JOHN C. BUTLER (DE 339) was built at the Consolidated Steel Company, Orange, Texas, first in a new class of destroyer escorts. Mrs. Walter C. Butler, mother of Ensign Butler, sponsored the ship at her commissioning. LCDR J. E. Pace was her commanding officer.
After conducting shakedown trials off Bermuda, BUTLER departed Hampton Roads on 5 June 1944 for the Pacific, her final home. Arriving at Pearl Harbor via the Panama Canal on 26 June, she was immediately assigned to convoy and training duties. Shortly thereafter, she headed for the war and was dispatched to screen transports for the invasion of Palaus.
Campaigns
Morotai and Peleliu - 15 September 1944
BUTLER operated with escort carriers out of Manus on preinvasion strikes. She provided anti-submarine and anti-air cover for the escort carriers.
Leyte Gulf/Samar - 17 to 25 October 1944
BUTLER sailed with Rear Admiral Oftsie's COMCARDIV 26 escort carrier group consisting of CVE's KITKUN BAY and GAMBIER BAY, and fellow DE DENNIS. Arriving at Leyte for the invasion of the Philippines, COMCARDIV 26 joined forces with Rear Admiral Sprague's COMCARDIV 25. BUTLER, now a part of "Taffy 3", screened the six escort carriers of Task Unit 77.4.3.
On the fateful day of 25 October 1944, during the Battle Off Samar, she was utilized to lay protective smoke and conduct torpedo and gunfire attacks against the vastly superior Imperial Japanese Navy Center Force. After the battle, she was utilized to rescue survivors of SAINT LO (CVE 63).
Luzon - 31 December 1944/17 January 1945
Operating off Lingayen Gulf, she screened carriers and help drive off several kamikaze attacks in support of the ground operations.
Iwo Jima - 19 February to 9 March 1945
Once again assigned to carrier escort duty, she was instrumental in driving off a severe air attack on 21 February 1945.
Okinawa - 28 March - April 1945
While escorting carriers, she rescued downed pilots and ferried men and supplies. Later she was assigned to dangerous picket duty. While on station she came under heavy kamikaze attack by six aircraft and downed five of the attackers. The last suicide plane only managed to damage her mast and antennas.
For the remainder of the Pacific War, BUTLER was utilized for convoy duty between Okinawa and the forward bases.
USS JOHN C. BUTLER (DE 339) received five Battle Stars for her service in World War II.
Source: Dictionary of American Fighting Ships, Vol. III, 1968, Navy Department, Office of the Chief of Naval Operations, Naval History Division, Washington, D.C. and The Battle Off Samar - The Tragedy of Taffy III, by Robert Jon Cox, 1996