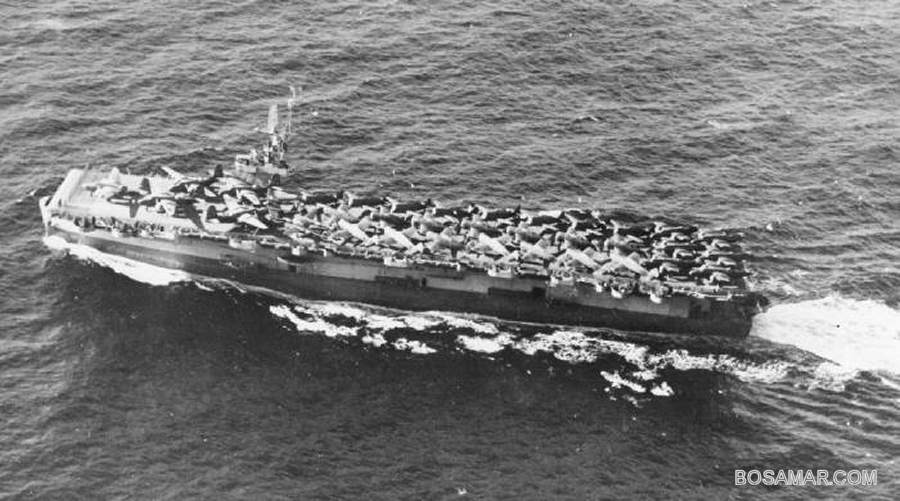 U.S. Navy Photograph
USS FANSHAW BAY (CVE 70)

Rear Admiral "Ziggy" C.A.F. Sprague commanded Taffy III from FANSHAW BAY. Shortly before contact with Centre Force, Japanese voice transmissions were heard on the flagships' inter-fighter direction network. This was the first indication the Americans had something was awry. Next, an aircraft on anti-submarine patrol spotted the Japanese ships closing on Taffy III and soon thereafter, battle was unexpectedly joined. FANSHAW BAY was straddled by 14-inch shells almost immediately, however, the quick response by RADM Sprague placed the CVE in a rain squall and temporary sanctuary.
Crew List
Action Report
Call-sign
BENDIX
Class
CASABLANCA
Displacement
7,800 tons
Length
512 feet 3 inches
Beam
65 feet
Draft
22 feet 6 inches
Flight Deck
498 x 108 feet
Speed
18 knots
Complement
764
Aircraft

16 FM-2 General Motors fighters




12 TBM-1C General Motors torpedo bombers

Armament

1 5-inch GP gun




8 twin 40mm AA guns




20 20mm AA guns

Laid Down
~
Launched
1 November 1943
Commissioned
9 December 1943

Namesake Information
FANSHAW BAY is named for a bay in the coast of Alaska.
The USS FANSHAW BAY (CVE 70) was launched on 1 November 1943 by Kaiser Shipbuilding Company, Vancouver, Washington. She was sponsored by Mrs. J. L. Kenworthy Jr. FANSHAW BAY was commissioned on 9 December 1943 with Captain D. P. Johnson in command.
After shakedown off the west coast she sailed from San Diego with RADM G. F. Bogan, Commander Carrier Division 25, embarked. Composite Squadron 68, commanded by LCDR R. S. Rogers, was assigned and consisted of 16 FM-2 Wildcat fighters and 12 TBM-1C Avenger torpedo bombers. After anti-submarine patrols she sailed on 29 May for Eniwetok and made final preparations for the assault on Saipan, for which she sailed 13 June.
Campaigns
Saipan - 15 through 22 June 1944
During the invasion of Saipan FANSHAW BAY initially avoided a torpedo attack, but two days later, in an attack by 70 Japanese planes, she was struck by a bomb after her anti-aircraft guns and fighter planes had downed many of the attackers. The bomb penetrated the aft elevator and exploded in mid-air above the hangar deck, killing 14 men and wounding 23 others. Fires broke out and the fire main was ruptured, flooding several compartments aft. In just under an hour the damage was brought under control, but her wounds were serious. FANSHAW BAY listed 3 degrees to port and settled 6 feet by the stern. Rear Admiral Bogan was transferred to a destroyer and the wounded CVE sailed for Pearl Harbor for battle damage repairs.
Peleliu - 15 to 28 September 1944
FANSHAW BAY arrived at Manus on 28 August 1944 and she sailed on 10 September with RADM C.A.F. "Ziggy" Sprague, the new carrier division commander embarked. Her composite squadron, VC-68. flew combat air patrol and support missions and on 16 September provided air cover for one of her pilots who was down just a few hundred feet off the enemy-held shore of Wasile Bay. Planes dove low while two motor torpedo boats were able to rescue the pilot. The escort carrier replenished at Manus from 7 October to 12 October then put out for the invasion of leyte.
Leyte Gulf/Samar - 17 to 25 October 1944
FANSHAW BAY and three division mates - SAINT LO, WHITE PLAINS, and KALININ BAY - comprising COMCARDIV 25, arrived on station at Leyte on 17 October, Rear Admiral Sprague commanding. The CVE's were accompanied by DESPAC '44 veteran FLETCHER Class destroyers HOEL, HEERMANN, and JOHNSTON and BUTLER Class destroyer escorts SAMUEL B. ROBERTS and RAYMOND. Upon arrival they soon joined up with Rear Admiral Ralph A. Ofstie's Carrier Division 26, consisting of two escort carriers - KITKUN BAY and GAMBIER BAY. COMCARDIV 26 was screened by two BUTLER Class destroyer escorts - JOHN C. BUTLER and DENNIS. Upon the merging of the two carriers divisions, Rear Admiral Sprague became its overall commander and the unit was designated as Task Unit 77.4.3, radio call sign "Taffy 3".
Through the first four days of the invasion, FANSHAW BAY operated with its task unit off Samar, launching combat air and anti-submarine patrols, observation flights, as well as raids and strikes in direct support of the troops ashore. On 24 October Taffy 3 was warned that Japanese surface ships were on the move in the Sibuyan Sea. Designated as "Centre Force," this Japanese fleet fell under heavy Third Fleet air attacks. By the end of the day on 24 October several of the Japanese ships had been sunk and the remainder damaged... Third Fleet then headed north that evening to engage the decoy Northern Force. Shortly after midnight the IJN Centre Force transit ed San Bernardino Strait and entered the Philippine Sea unseen by the Americans.
At 0630 on the morning of 25 October Rear Admiral Sprague aboard Task Unit 77.4.3 flagship FANSHAW BAY was planning another busy day for his escort carriers. Over the radio, an urgent report was received, "ENEMY SURFACE FORCE OF 4 BATTLESHIPS, 7 CRUISERS, AND 11 DESTROYERS SIGHTED 20 MILES NORTHWEST OF YOUR TASK GROUP AND CLOSING IN ON YOU AT 30 KNOTS." Annoyed, the admiral directed the pilot to "...check his identification....". Moments later, the pilot radioed back "...identification confirmed, the ships have pagoda masts....". So started the Battle Off Samar. The COMCARDIV 25 "Talk Between Ships" (TBS) radio log best explains the speed and fury of the battle, all names of course, in code:
TIME

TO/FROM

MESSAGE

0650
Taffy 3 v Overture

Antiaircraft bursts bearing 300, over.

v Taffy 3 roger out.

0650
Mercury v Taffy 3

Signal execute upon receipt shackle baker uncle easy unshackle turn. Fido and Nebraska acknowledge.

v Fido, Nebraska roger out.

0655
Mercury 3 v Taffy 3
Standby to launch all planes for attack on enemy fleet 15 miles astern.
0656
Mercury 3 v Taffy 3
Launch all planes as soon as possible.
0657
Mercury 3 v Taffy 3

Caution all pilots to identify all ships before attacking. Dexter acknowledge.

v Dexter wilco out.

0658
Taffy 3 v Juggernaught
We are under fire by enemy fleet.
0659
All carriers
Make full speed ahead 15 degrees on either side.
0700
Taffy 33 v Taffy 3
Make smoke astern of us.
0701
Taffy 2 v Taffy 3
Come in please.
Taffy 2 v Taffy 3
Come in please.
0701
Taffy 33 v Taffy 3

Lay smoke screen astern of us.

v Taffy 33 wilco out.

0703
Taffy 33 v Juggernaught

Do you want us to come back and help you on smoke screen?

v Taffy 33 affirmative.

0709
v Taffy 3
All carriers launch all aircraft.
0710
v Taffy 3
All ships in this group turn to course 050.
0710
Taffy 3 v Fido
I have been hit.
0711
Taffy 2 v Taffy 3
Enemy bears 090 speed 30, and 070 speed 30 knots, distance 20 miles.
0711
v Taffy 3
All ships of this command come to shackle jig baker unshackle.
0715
Taffy 2 v Taffy 3
Enemy composed of 6 battleships, 8 cruisers, accompanying destroyers. Please send all available planes to this area.

Just six minutes after FANSHAW BAY's planes were ordered away, she came under fire from the IJN Centre Force heavy cruisers, and although a heavy rain squall shielded the escort carriers briefly, she soon began receiving hits. By 0855, when she took her third hit, under fire from two cruisers and two destroyers. All through this battle the American destroyers fought gallantly to protect their vulnerable charges, and at 0924 the Japanese battle line at last broke formation to avoid air attack.
During the three-hour battle, Admiral Sprague kept a tight rein on his task unit, enabling five of the six escort carriers to survive the surface action. FANSHAW BAY lost 40 men during this engagement.
Late 1944
FANSHAW BAY replenished at Manus on 1 November to 7 November 1944, then returned by way of Pearl Harbor to her homeport in San Diego, California for battle damage repairs. She spent the remainder of 1944 at her homeport.
Okinawa - 21 March to 27 June 1945
After refresher training in Hawaiian waters, FANSHAW BAY arrived at Ulithi on 14 March 1945 to reembark Admiral Sprague, now Commander Carrier Division 26. She sortied for the invasion of Okinawa on 21 March, and four days later the planes of VC-68 began preinvasion attacks on the island. She continued daily operations in support of the advance troops on Okinawa until 28 May when she arrived at San Pedro to replenish. Between 9 June and 27 June she sailed off the Sakishima Gunto, between Okinawa and Taiwan, to provide air cover for minesweeping in the East China Sea through July.
Final Service
After calling Guam and Eniwetok to load aircraft and replenish, FANSHAW BAY sailed to Adak, and from there took part in the occupation of northern Japan until returning to Pearl Harbor on 24 September 1945. Here she landed RADM E.W. Litch, who had relieved Admiral Sprague during the Okinawa operation. She arrived on the west coast with Marine Corps passengers on 3 November and after a voyage to Tokyo Bay to return men of all military services to San Diego, she was placed out of commission in reserve at Tacoma, Washington on 14 August 1946. She was sold on 26 September 1959.
USS FANSHAW (CVE 70) received five Battle Stars for her service in World War II.
Source: Dictionary of American Fighting Ships, Vol. III, 1968, Navy Department, Office of the Chief of Naval Operations, Naval History Division, Washington, D.C.; and The Battle Off Samar - The Tragedy of Taffy III, by Robert Jon Cox, 1996