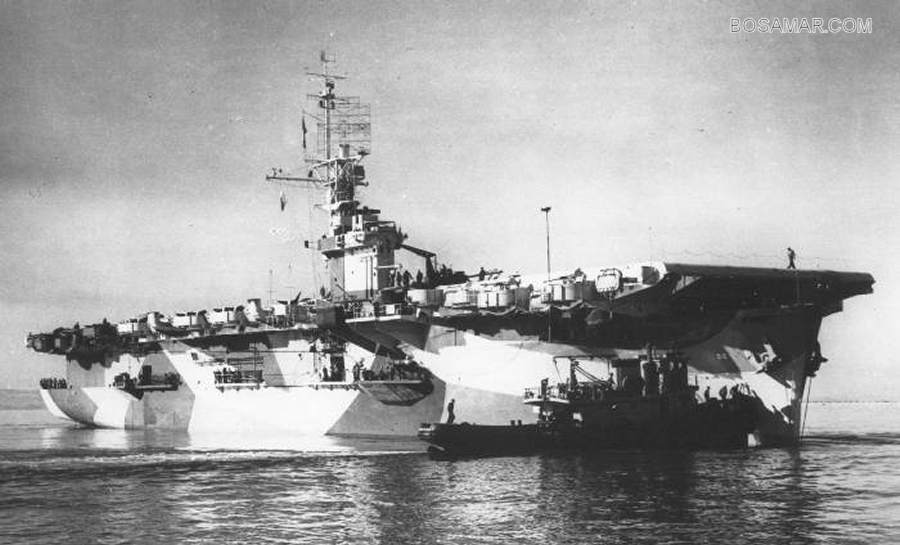 U.S. Navy Photograph
USS WHITE PLAINS (CVE 66)
When Centre Force initially attack Taffy III, WHITE PLAINS was the first CVE to come under intense heavy fire. Fourteen-inch battleship salvos landed close aboard, hurdling men off their feet. So violent were the explosions, electrical power and steering was temporarily lost. Her Action Report stated "photographs taken from this ship show about 180 splashes."
Crew List
Action Report
Call-sign
FIDO
Class
CASABLANCA
Displacement
7,800 tons
Length
512 feet 3 inches
Beam
65 feet
Draft
22 feet 6 inches
Flight Deck
498 x 108 feet
Speed
18 knots
Complement
52 Officers
777 Enlisted
Aircraft

18 FM-2 General Motors fighters




12 TBM-1C General Motors torpedo bombers

Armament

1 5-inch GP gun




8 twin 40mm AA guns




20 20mm AA guns

Laid Down
11 February 1943
Launched
27 September 1943
Commissioned
15 November 1943

Namesake Information
WHITE PLAINS is a city in and the seat of government for Westchester County, New York. It was named for the battle that took place on October 28, 1776 during the Revolutionary War.
The USS WHITE PLAINS (CVE 66) was laid down on February 11, 1943 at Vancouver, Washington by the Kaiser Shipbuilding Company as ELBOUR BAY; renamed WHITE PLAINS on April 3; launched on September 27, 1943 sponsored by Mrs. Marc A. Mitscher; delivered to the Navy on November 15, 1943 at Astoria, Oregon and commissioned the same day with CAPT Oscar A. Weller in command.
She concluded her shakedown cruise on December 12, 1943 and on the 30th she ferried aircraft to Tarawa Atoll, where she arrived on January 11, 1944. She provided aircraft logistics support for the Marshall Islands operation. She arrived at Majuro on February 5. Returning to the west coast, WHITE PLAINS conducted operational training for her own ship's company. In April she embarked her own permanently assigned air unit, Composite Squadron VC-4 composed of 16 Wildcat fighters and 12 Avenger torpedo bombers. LT E. R. Fickenscher was squadron commander.
Campaigns
Saipan - 15 through 22 June 1944
At the end of May she stood out of Pearl Harbor in company with units of the task force assembled to invade the Marinas. WHITE PLAINS' portion of the Fleet sortied from Eniwetok Atoll and during the voyage from there to the Marinas, her aircraft provided anti-submarine and combat air patrol. On June 17, her anti-aircraft gunners earned their first definite kill. Later, VC-4 Avengers successfully torpedoed an enemy transport during a sweep of the island of Rota. Peleliu - 15 to 28 September 1944
In July she supported the Tinian assault. WHITE PLAINS and ten of her sister ships provided a portion of the pre landing bombardment and support for the troops landing on Palaus in mid-September. In October, after repairs at Manus, WHITE PLAINS headed for the invasion of the Philippines at Leyte.
Leyte Gulf/Samar - 17 to 25 October 1944
Because of the strategic importance of the Philippines which lay athwart their lines of communication with the West Indies, the Japanese chose to oppose the Leyte landings with their surface fleet. They launched their surface counterattack in three distinct phases, intending to disrupt the landing at Leyte. Admiral Halsey's Third Fleet attacked the Centre Force, heavily damaging one heavy cruiser and sinking one battleship; several other capital ships were damaged. Shortly thereafter Halsey received information that a carrier force lay to the north. He left the Leyte area and steamed northward after Vice Admiral Ozawa's decoy force of four aircraft carriers and two hybrid carrier-battleships. Meanwhile, to the south at Leyte, RADM Oldendorf's Seventh Fleet old battleships and support forces in Surigao Strait obliterated VADM Nishimura's Southern Force Van in a brilliantly successful night action.
The IJN Centre Force, under the leadership of Vice Admiral Takeo Kurita, recovered from its pounding in the Sibuyan Sea, turned back toward San Bernardino Strait, and emerged undetected by the Americans at 0035 on October 25, 1944. Only the ships of "Taffy 3" lay between his still-formidable warships and the support craft and shipping in Leyte Gulf. WHITE PLAINS was an element of Task Unit 77.4.3, which bore the brunt of Kurita's surface onslaught.
WHITE PLAINS' call sign on TBS (Talk Between Ships) radio communications was "FIDO." Each of the thirteen ships in the task unit was given a specific code name; a sample of which follows. The other major players listed below are USS JOHN C. BUTLER (DE 339) code name "OVERTURE," USS SAMUEL B. ROBERTS (DE 413) code name "JUGGERNAUT," and USS HOEL (DD 533) code name "NEBRASKA."
USS WHITE PLAINS (CVE 66) TBS log - The Battle Off Samar unfolds....:
TIME

TO/FROM

MESSAGE

0631
Mercury 3 from Taffy 3

Set condition one at discretion.

FIDO and OVERTURE acknowledge.

FIDO
Roger out.
OVERTURE
Roger out.
Taffy 2 from GALLEY
Antiaircraft (fire) bearing three zero zero out.
0650
Taffy 3 from OVERTURE
Antiaircraft burst bearing three zero zero.
0650
Mercury 3 from Taffy 3

Execute upon receipt shackle baker uncle easy unshackle turn.

FIDO and NEBRASKA acknowledge.

This is FIDO
Wilco out.
This is NEBRASKA
Wilco out.
0655
Mercury 3 from Taffy 3

Standby to launch all planes on enemy fleet fifteen miles off stern.

All carriers launch as soon as possible.

This is FIDO

Wilco out.

Caution all pilots to identify these ships before attacking.

0656
This is JUGGERNAUT

We have splash off our stern out.

We are under fire by enemy fleet.

Full speed ahead.

Taffy 3 from JUGGERNAUT
Shall we make smoke over.
0700
This is Taffy 3

Make smoke fifteen degrees from our side.

Make smoke screen.

For two and one-half hours after the 0644 sighting, the Japanese force chased "Taffy 3" southward and subjected the escort carriers and their counterattacking screen to a murderous, but mercifully and frequently inaccurate, heavy-caliber cannonade. The carriers' aircraft fearlessly fought back, making dummy runs on the Japanese warships to slow their speed of advance after expending all their bombs, torpedoes, and ammunition. Throughout the surface phase of the action, WHITE PLAINS' leading position in the disposition protected her from any gunfire damage, but the ship still had an aerial ordeal to endure. Four American vessels were sunk by heavy caliber gunfire and four other ships suffered heavy damage from the enemy warships.
WHITE PLAINS' Action Report stated, "The results may indicate that the Jap surface gunnery is not very good as all 13 of our ships involved should have been sunk by the number of projectiles thrown at them. This ship was not hit but it received so many straddles that by the laws of chance it should have been hit several times. One...salvo...14-inch...was almost the gunners' delight with four close overs and two close shorts...the laws of probability and chance were not operating in favor of the Japs that day. The shooting was good but the percentage of hits was very low, at least on this ship. No accurate estimate of total number of rounds fired can be given but photographs taken from this ship show about 180 splashes..."
Miraculously, the Japanese Centre Force broke off its pursuit between 0912 and 0917 and after milling around in apparent confusion for a time, retired northward to San Bernardino Strait. After a 90-minute respite, the WHITE PLAINS and her surviving colleagues suffered harassment from a different quarter. At 1050 a formation of five "Zeke 52" fighters appeared and began simultaneous kamikaze attacks. Two of them singled out WHITE PLAINS as their victim. Her anti-aircraft gunners responded with a hail of gunfire and scored a hit on one of the attackers, and he immediately changed course and succeeded in fatally crashing into escort carrier USS SAINT LO (CVE 63). His comrade Explosion close aboard USS WHITE PLAINS continued on toward WHITE PLAINS, but her anti-aircraft finally brought him down mere yards astern. The subsequent impact with the water scattered debris all over the deck and sides and caused 11 relatively minor casualties. WHITE PLAINS steamed to Manus with the other surviving escort carriers and arrived there on October 31. The battered escort carrier was then returned to the United States for complete repairs. She arrived in her homeport of San Diego, California on November 27 and immediately began repairs.
1945
WHITE PLAINS departed San Diego on January 19, 1945; however, for the remainder of the war she carried out the relatively tame assignment of ferrying replacement aircraft from the U.S. to bases in the western Pacific. Her closest approach to the fighting she saw at Samar came just after the Okinawa landings in April when she steamed to within 100 miles of the island to launch two squadrons of Marine Corps F4U Corsairs for duty there.
Final Service
On September 6 she began "Magic Carpet" duty bringing American fighting men home from the Orient. The warship visited San Francisco for five days from 7 to 12 November and then headed across the Pacific once more. She returned fighting men to the west coast on numerous occasions and one such trip took her to Seattle, Washington, were she stayed from December 14 until January 30, 1946. She made a voyage to Boston on February 17 and began preparations for decommissioning, which took place on July 10, 1946. Her name was struck from the Navy list on July 1, 1958 and she was sold on July 29 for scrap.
USS WHITE PLAINS (CVE 66) received five Battle Stars for her service in World War II. She also shared a Presidential Unit Citation with the other twelve ships of Task Unit 77.4.3.
Source: Dictionary of American Fighting Ships, Vol. III, 1968, Navy Department, Office of the Chief of Naval Operations, Naval History Division, Washington, D.C.; and The Battle Off Samar - The Tragedy of Taffy III, by Robert Jon Cox, 1996