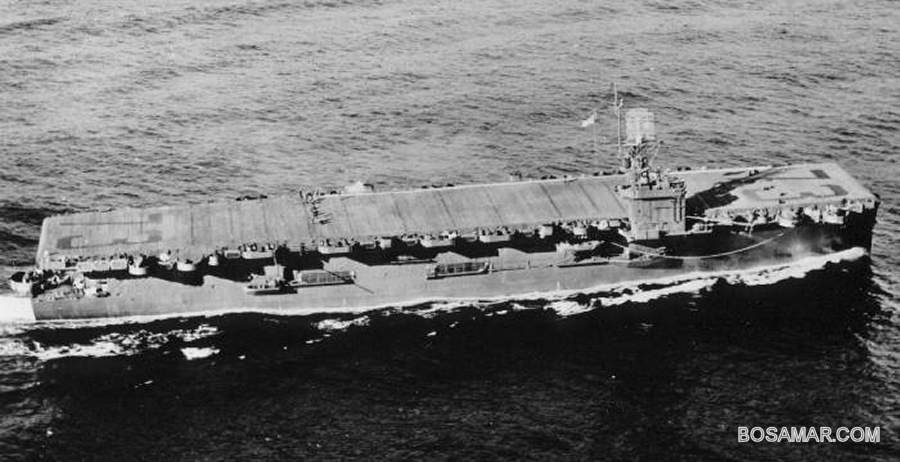 U.S. Navy Photograph
USS GAMBIER BAY (CVE 73)

For well over one hour, GAMBIER BAY survived the onslaught of the Imperial Japanese Navy Centre Force. At 0800, a single course change placed her nearest the advancing Japanese heavy cruiser line. At 0810 heavy cruiser HIJMS CHIKUMA found the range and set her aft flight deck afire. GAMBIER BAY received her fatal hit ten minutes later when an 8-inch shell exploded in the water and opened the bulkhead to her forward engine room. Flooding was uncontrollable and she lost the use of one engine. Her speed dropped off and she soon fell behind the other fleeing CVE's. Defenseless, she was quickly overwhelmed by the heavy Japanese warships and was hit repeatedly by 8-inch cruiser shell fire. GAMBIER BAY was the only U.S. carrier sunk by naval gunfire in World War II.
Crew List
Action Report
Call-sign
CATNIP
Class
CASABLANCA
Displacement
7,800 tons
Length
512 feet 3 inches
Beam
65 feet
Draft
22 feet 6 inches
Flight Deck
498 x 108 feet
Speed
18 knots
Complement
764
Aircraft

18 FM-2 General Motors fighters




12 TBM-1C General Motors torpedo bombers

Armament

1 5-inch GP gun




8 twin 40mm AA guns




20 20mm AA guns

Laid Down
10 July 1943
Launched
22 November 1943
Commissioned
28 December 1943

Namesake Information
GAMBIER BAY is named for a bay in the coast of Alaska.
First Duties
Homeported in San Diego, California, GAMBIER BAY departed for Pearl Harbor on 7 February 1944 with 400 U.S. Marine troops. Shortly thereafter she ferried 84 replacement aircraft to the carrier ENTERPRISE in the Marshalls. Returning to San Diego, she conducted pilot qualifications off the coast of Southern California before departing on 1 May 1944 for the Marshalls for the pre-invasions preps of the Mariannas.
Campaigns
Mariannas - 15 through 22 June 1944
Assigned to TG 52.11, GAMBIER BAY provided close air support to the amphibious landings on Saipan. Her aircraft were credited with destroying many enemy gun emplacements, tanks, and trucks. On 17 June 1944, her embarked composite squadron, VC-10, shot down all but a handful of 47 enemy planes headed for the U.S. task group and her gunners shot down 2 of the 3 planes that did break through to attack her.
The next day, another air attack materialized. Despite heavy flak, put up by the U.S. task group, eight pilots of VC-10 managed to get airborne. Once again, they were an integral part of repulsing the enemy.
GAMBIER BAY remained off Saipan, providing close air support. During the period 19-31 July, she operated off Tinian, and later served off Guam until 11 August 1944.
Peleliu - 15 to 28 September 1944
After a respite for logistics in the Marshalls, GAMBIER BAY spent two weeks supporting the amphibious attack of Peleliu and Angaur. She then moved on to Manus where the invasion of the Philippines was being staged.
Leyte Gulf/Samar - 17 to 25 October 1944
Assigned to Rear Admiral R. A. Ofstie's COMCARDIV 26, GAMBIER BAY and division mate KITKUN BAY (CVE 71) escorted transports and amphibious landings ships to Leyte Gulf. They were escorted to Leyte by two BUTLER class destroyer escorts....JOHN C. BUTLER and DENNIS. Upon arrival on October 17, COMCARDIV 26 was merged with RADM C.A.F. Sprague's COMCARDIV 25 and assigned as Seventh Fleet Task Unit 77.4.3, radio call sign Taffy 3.
GAMBIER BAY's performance off Samar was almost non-eventful until the morning of October 25. Shortly before 0700, the Imperial Japanese Navy Centre Force placed Taffy III under fire. The immediate actions by her crew are best explained by Composite Squadron VC-10 FM-2 Wildcat fighter pilot Dick Roby, "...after General Quarters was sounded Gene Seitz and I were the "ready" VF (fighter) pilots; there were no VT (torpedo) pilots in that status at approximately 0655. Elmo Waring alerted us that the Japanese fleet was 24 miles away and to man all aircraft. I took time to get him on the intercom and told him to get the pilots out of the wardroom. By this time I got to the flight deck. I discovered Dugan was in #2, I was #3, Rocky Phillips was in #4. We took off as the ship was getting into the wind and were vectored NW of the Task Unit to intercept two destroyers. We made two sets of strafing runs on them, going down through a thin cloud cover. They apparently had no radar fire controlled AA as their fire was very poor. After the second run they turned around and retreated on a course of about 350 degrees...."
GAMBIER BAY launched the aircraft of Composite Squadron VC-10 from within the safety of a driving rain squall. Unable to top 18 knots, the fleeing escort carriers should have been easy game for the much faster Japanese warships. This mis-match in speed soon became evident when the task unit exited the rain squall at about 0730.
From the period when GAMBIER BAY exited the rain squall and when she was first hit....about thirty minutes....she had to maneuver violently to avoid the heavy caliber shells being thrown at her. Captain W. V. R. Vieweg, USN, her Commanding Officer, explains, "...one could observe that the salvos would hit some distance away and gradually creep up closer and from the spacing on the water I could tell that the next one would be on if we did nothing. We would invariably turn into the direction from which the salvoes were creeping and sure enough the next salvo would land right in the water where we would have been if we hadn't turned. The next few salvoes would creep across to the other side and gradually creep back and would repeat the operation. The process lasted for, believe it or not, a half hour during which the enemy was closing constantly...."
USS JOHNSTON's gallant attempt to save GAMBIER BAY was outlined in her Action Report, "...This ship attempted to draw fire away from the GAMBIER BAY by taking the cruiser under fire at this time. The range was closed to 6000 yards and maximum fire was brought to bear on this heavy cruiser. This attempt, as was to be expected, was unsuccessful, despite numerous hits being observed...."
Radioman Louis Vilmer Jr., of GAMBIER BAY's Composite Squadron VC-10, "...Ensign Shroyer, John Britt, and myself were among the first to be launched when the order was given to clear the flight deck. When Ensign Shroyer made his first pass at a Japanese ship, he fired rockets and 50 caliber machine guns. Gunner Britt also fired his 50 caliber gun, from the ball turret. When we broke through the clouds we were extremely low and did not have enough power to pull up and away...we were finally able to pull away and gain altitude. Ensign Shroyer told me over the intercom that he had been unable to open the bomb bay doors with the control in the cockpit and instructed me to try the one in the radioman's compartment. It worked. Shroyer chose the TONE Class cruiser and began his run firing his 50 calibers. I opened the bomb bay doors when instructed. When the bombs cleared the bay, Shroyer was able to close the doors with his control. Britt began firing his turret gun as we pulled up and away. I immediately turned to the notch window under the planes tail to observe the hits. The bombs DID NOT hit the cruiser. They hit the water just a few feet behind it and went off as depth charges. Planes following us reported that the ship stopped dead in the water...."
Captain Vieweg continues, "...During the period from the first hit, which was around 0820 in the morning, until we sank, which was about 0910 in the morning, we were being hit probably every other minute. At about 0850 with the ship helpless in the water and with this division of cruisers passing close by and other ships of the main formation passing close by on the other side (destroyers), and being fired at from all sides, I ordered the ship abandoned. As we were abandoning ship the enemy ships in various directions were still firing...."
Norman Loats of GAMBIER BAY's "S" Division had this story to tell, "...just before we left the ship we released a life raft. The GAMBIER BAY had already began listing to starboard when we jumped, so the jump from the catwalk to the water seemed mighty long, and as we hit the water, I though I would never surface for I went down - down - down. But eventually I did come up; thank God I had loosened our straps on our helmets or we would have surely snapped our necks. As I surfaced, I swam to the life raft we had released as did the Chief Engineer. The two of us only sightly wounded began attempting to tow the raft away from CVE-73 before the undertow would get us. However our progress was nil, for after what seemed minutes of attempting to get away from the sinking ship, we noticed the raft was still secured to the sinking ship. It didn't take long to cut the line and be on our way...."
Although her seasoned crew did "everything right", the odds were not in their favor that day. Placed in the tail end position of the task unit, she was hit repeatedly by battleship and heavy cruiser shells. Overwhelmed by the superior Japanese force, she was eventually shot to pieces and sank beneath the waves at 0907, with the U.S. ensign still flying from her mast. The TU 77.4.3 Action Report stated, "...This ship was hit by gunfire and lost the use of one engine. Six Japanese heavy cruisers finally closed to 2000 yards, and the ship was sunk about 0900/25 October 1944 in Latitude 12 degrees 30'N - 126 degrees 30'E as the result of about twenty hits from 8 inch guns...."
USS GAMBIER BAY (CVE 73) received four Battle Stars for her service in World War II. She also received the Presidential Unit Citation as a member of Task Unit 77.4.3.
Source: Dictionary of American Fighting Ships, Vol. III, 1968, Navy Department, Office of the Chief of Naval Operations, Naval History Division, Washington, D.C.; and The Battle Off Samar - The Tragedy of Taffy III, by Robert Jon Cox, 1996