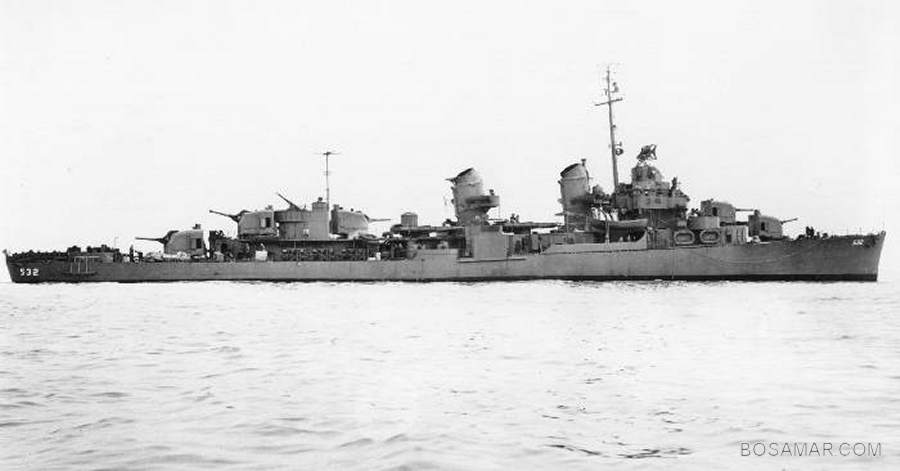 U.S. Navy Photograph
USS HEERMANN (DD 532)

HEERMANN was the only surviving destroyer of Taffy III. At the outset of the engagement she laid protective smoke in the rear of the escort carriers with the smaller DE's. When the word, "small boys - intercept," was ordered by RADM Sprague, she bravely turned to attack the heavy cruisers and battleships of Centre Force. Although none of her torpedoes found their target, almost better results were realized. The mighty Japanese battleship HIJMS YAMATO was forced to comb her torpedo wakes and was subsequently placed out of position for the remainder of the action. After her torpedoes were expended, she bravely engaged the Japanese warships with 5-inch gunfire. She was hit several times and was notably down by the bow before the action concluded. Her superb action in defense of the escort carriers proudly shows that she was most likely the only U.S. destroyer in World War II to engage heavy cruisers and battleships directly and survive.
Crew List
Action Report
Call-sign
DREADNAUGHT
Class
FLETCHER
Displacement
2,100 tons
Length
376 feet 3 inches
Beam
39 feet 8 inches
Draft
13 feet
Speed
33 knots
Complement
273
Armament
5 (5 x 1) 5-inch radar controlled GP guns
10 21" (2 x 5) torpedo tubes
6 40mm AA guns
11 20mm AA guns
6 depth charge throwers
2 depth charge racks
Sensors
SC air-warning radar
SG surface search radar
MK-4 fire control radar
sonar
Laid Down
unknown
Launched
5 December 1942
Commissioned
6 July 1943

Namesake Information
Lewis Heermann was born in Kassel, Germany on August 3, 1770 and commissioned Surgeon's Mate in the U.S. Navy on February 8, 1802. In the War with the Barbary States, Heermann was left in command of the bomb ketch INTREPID. In 1805 Heermann took a leave of absence to study in Europe until 1808, when he returned to active duty in Norfolk, Virginia. Largely due to his pleas for better medical care for the men of the Navy, Congress passed a bill authorizing the construction of hospitals at several naval stations. Heermann served for an unknown time as Fleet Surgeon in the Mediterranean. He remained there until he died in May of 1833.
Career
HEERMANN was built by the Bethlehem Shipbuilding Company of San Francisco, California. After shakedown training out of San Diego, she joined the U.S. Fifth Fleet on 21 October 1943 for the assault on the Gilberts.
Campaigns
Gilberts - 20 to 23 November 1943
Arriving off Tarawa in RADM Harry W. Hill's Southern Attack Force, HEERMANN soon saw action. Her guns sank a small enemy craft inside the lagoon. During the next two days, she supported the ground troops ashore with direct gunfire support. Upon completion of this assignment, she returned to Pearl Harbor for voyage repairs and training. Marshalls - 29 January to 23 February 1944
On 23 January 1944, HEERMANN sailed with the screen of an attack transport reserve force. This force steamed east of Kwajalein in support of amphibious landings. During the next two weeks, HEERMANN screened escort carriers which were launching strikes to support the landings. Next, she steamed to Eniwetok Atoll where she joined the preinvasion bombardment group and then patrolled off the atoll during mop-up operations.
The Admiralties - 18 March to 20 April 1944
Assigned to U.S. Third Fleet, HEERMANN joined Task Force 39 on 18 March 1944 for troop convoy and supply convoy escort duty. During this period, she made many transits back and forth and also hunted enemy supply barges along the coast of New Hanover.
Solomons, Admiralty Islands, Carolines, and Marshalls - Summer of 1944
Arriving at Port Purvis on 3 June 1944, HEERMANN participated in the bombardment of a tank farm on Fangelewa Bay, New Ireland on 11 June. She then searched for submarines along the sealanes separating the Solomons, Admiralty Islands, Carolines, and Marshalls, until 26 June 1944. For the remainder of the summer, HEERMANN escorted convoys bound for various ports including Espiritu Santo, New Hebrides Islands and Noumea, and New Caledonia Island.
Leyte Gulf/Samar - 17 - 25 October 1944
HEERMANN screened transports and landing ships safely to the beaches of Leyte and then joined Rear Admiral Thomas L. Sprague's Escort Carrier Task Group 77.4 which was made up of three escort carrier task units, known as the three "Taffies" because of their radio call signs: "Taffy 1", "Taffy 2", and "Taffy 3". Destroyers HOEL and JOHNSTON joined her in screening Rear Admiral Clifton A. F. Sprague's unit, "Taffy 3" which also included his flagship FANSHAW BAY (CVE-70) and three other escort carriers.
Dawn of October 25, 1944 found Taffy 3 east of Samar steaming north as the Northern Air Support Group. Taffy 2 was in the central position patrolling off the entrance to Leyte Gulf, and Taffy 1 covered the Southern approaches to the Gulf some 130 miles to the southeast of HEERMANN. At 0645 Taffy 3's lookouts observed antiaircraft fire to the northward and with 13 minutes later were under heavy fire from Vice Admiral Takeo Kurita's powerful Centre Force of four battleships, 6 heavy cruisers, 2 light cruisers, and 11 destroyers. The battle off Samar was thus joined.
The only chance for survival of the little group of light American ships lay in slowing the advance of the enemy warships while withdrawing toward Leyte Gulf and hoped-for assistance. The carriers promptly launched their planes to attack the Japanese vessels, and the escorts promptly set to work generating smoke to hide the American ships.
HEERMANN, in a position of comparative safety on the disengaged side of the carriers at the start of the fight, steamed into the action at flank speed through the formation of "baby flattops" who, after launching their last planes, formed a rough circle as they turned toward Leyte Gulf. Since smoke and intermittent rain squalls had reduced visibility to less than 100 yards, it took alert and skillful seamanship to avoid colliding with friendly ships during the dash to battle. She backed emergency full to avoid destroyer escort SAMUEL B. ROBERTS and repeated the maneuver to miss destroyer HOEL as HEERMANN formed column on the screen flagship in preparation for a torpedo attack.
As she began the run, dye from enemy shells daubed the water nearby with circles of brilliant red, yellow, and green. HEERMANN replied to this challenge by pumping her 5-inch shells at one heavy cruiser, CHIKUMA, as she directed seven torpedoes at another, HAGURO. When these "fish" had left their tubes, HEERMANN changed course to engage a column of four battleships whose shells began churning the water nearby. She trained her guns on the battleship KONGO, the column's leader. Then she quickly closed HARUNA, the target of her of her last three torpedoes, which were launched from only 4,400 yards. Believing that one of the "fish" had hit the battleship, she nimbly dodged the salvoes which splashed in her wake as she retired. Japanese records claim that the battleship successfully evaded all of HEERMANN's torpedoes, but they were slowed down in their pursuit of the American carriers. The giant, YAMATO, with her monstrous 18.1-inch guns, was even force out of the action altogether when, caught between two spreads, she reversed course for almost 10 minutes to escape being hit.
HEERMANN sped to the starboard quarter of the carrier formation to lay more concealing smoke and then charged back into the fight a few minutes later, placing herself boldly between the escort carriers and the column of four enemy heavy cruisers. Here she engaged Japanese cruiser CHIKUMA in a duel which seriously damaged both ships. A series of 8-inch hits flooded the forward part of the plucky destroyer, pulling her bow down so far that her anchors were dragging in the water. One of her guns was knocked out but the others continued to pour a deadly stream of 5-inch shells at the cruiser, which also came under heavy air attack during the engagement. The combined effect of HEERMANN's guns and the bombs, torpedoes, and strafing from carrier-based planes was too much for CHIKUMA who tried to withdraw but sank during her fight.
As CHIKUMA turned away, heavy cruiser TONE turned her guns on HEERMANN who replied shell for shell until she reached a position suitable to resume laying smoke for the carriers. At this point planes from Admiral Stump's "Taffy 2" swooped in to sting TONE so severely that she too broke off action and fled. The courageous attacks of the destroyers and aircraft thus saved the outgunned Taffy 3.
Temporary battle-damage repairs were applied at Kossol Passage. From there, she was sent to Mare Island, California for a much-needed overhaul. She would not return to the Western Pacific until January 1945.
Iwo Jima - 19 February to 24 March 1945
Quickly transiting to the battle area, HEERMANN was then assigned to picket and anti-submarine duty in support of the Iwo Jima landings. On 20 March she sank a small surface vessel and rescued seven of the crew.
Okinawa - 26 March - April 1945
Assigned to aircraft carrier escort duty, she took part in downing several enemy planes which threatened the invasion force. With the assistance of her task unit, on 18 April HEERMANN was credited with sinking the Japanese submarine I-56. She continued to support carrier operations until late June, when she steamed to Leyte for replenishment and voyage repairs.
Summer of 1945
On 1 July, HEERMANN was assigned to a fast carrier strike force which kept the pressure on the Japanese home islands. This assignment lasted for five weeks.
On 15 August 1945, while on radar picket duty, 200 miles off the coast of Tokyo, Japan, HEERMANN was attacked by a suicide plane. Her gun crew splashed the attacker which cumulated in one of the last actions of the Pacific war. The end to hostilities had been announced only a few hours earlier.
On 16 September 1945, veteran HEERMANN entered Tokyo Bay as part of the U.S. occupation force. She departed for home on 7 October 1945, nearly one year after her action off Samar.
USS HEERMANN (DD 532) received nine Battle Stars for her service in World War II.
Source: Dictionary of American Fighting Ships, Vol. III, 1968, Navy Department, Office of the Chief of Naval Operations, Naval History Division, Washington, D.C. and The Battle Off Samar - The Tragedy of Taffy III, by Robert Jon Cox, 1996